Migos Rapper Takeoff Accused Of Rape At LA House Party In Lawsuit
KEY POINTS
Migos rapper Takeoff has been accused of rape in a civil lawsuit filed in Los Angeles
A woman alleged that Takeoff raped her during a house party in Encino, California, in late June
Takeoff's lawyer said the rapper was a "target of an obvious exploitative money grab"
Migos member Takeoff has been accused of rape in a civil lawsuit filed in Los Angeles on Wednesday.
The victim, identified only as Jane Doe in court papers, said she was assaulted by the rapper, born Kirshnik Khari Ball, at a house party in Encino, California, on June 22, USA Today reported. The lawsuit, filed in the Los Angeles Superior Court, said that Takeoff assaulted her in an upstairs bedroom despite the woman stating that she did not want to have sex with him.
The woman said she had been invited to the party by DJ and producer Daryl McPherson, who works with Migos. The rapper, who arrived after her, approached her and made her uncomfortable with his advances over the course of the evening, the suit said.
When she told McPherson about her discomfort, the DJ offered to take her to his room upstairs. They ran into Takeoff on the way, and the two men got into an argument. The woman said that shortly after, Takeoff followed her into the room, where she had been lying down on the bed, and raped her.
She went to a hospital for medical treatment the same day, and staff alerted the Los Angeles police department upon noticing "physical evidence of forceful rape," the suit said.
No criminal charges have been filed yet, but the claims stated in the lawsuit include sexual battery, assault, false imprisonment, gender violence and interference with civil rights.
"Our client is terrified," the woman's attorney, Neama Rahmani, said in a statement. "She has already been victimized because of the incident, and continues to be victimized because Takeoff is a free man and has yet to be arrested. We hope that law enforcement pursues its investigation more aggressively, so she can receive the criminal justice she deserves."
Responding to the allegations, Takeoff's lawyer, Drew Findling, said in a statement obtained by The New York Times that the claims were "patently and provably false." He added that the rapper, known for his "quiet, reserved and peaceful personality," was the "target of an obvious exploitative money grab."
This is not the first scandal involving the Atlanta-based group Migos, whose other members include Offset (Kiari Kendrell Cephus) and Quavo (Quavious Keyate Marshall).
Offset was arrested for felony gun charges in Georgia in 2018. In the same year, the Washington Avenue Armory in Albany, New York, sued the group for allegedly inciting a riot at the venue in 2015.
Migos also landed in trouble in April 2018 when the rap group's tour bus was pulled over by police as they left the Holmes Convocation Center following a performance at the campus of Appalachian State University. Police found 420 grams of marijuana, 26 ounces of codeine and an undisclosed amount of Xanax pills in their vehicle.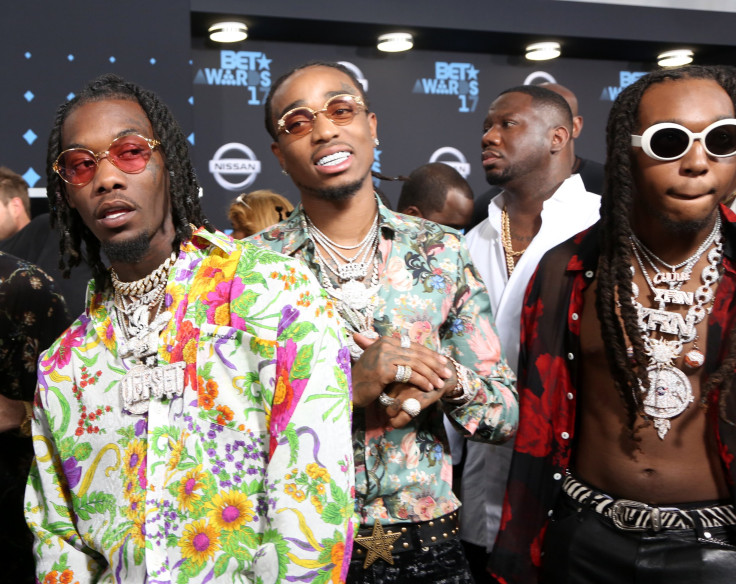 © Copyright IBTimes 2023. All rights reserved.