Mike Tyson 'WWE 13' Trailer Brings Back Attitude Era [VIDEO]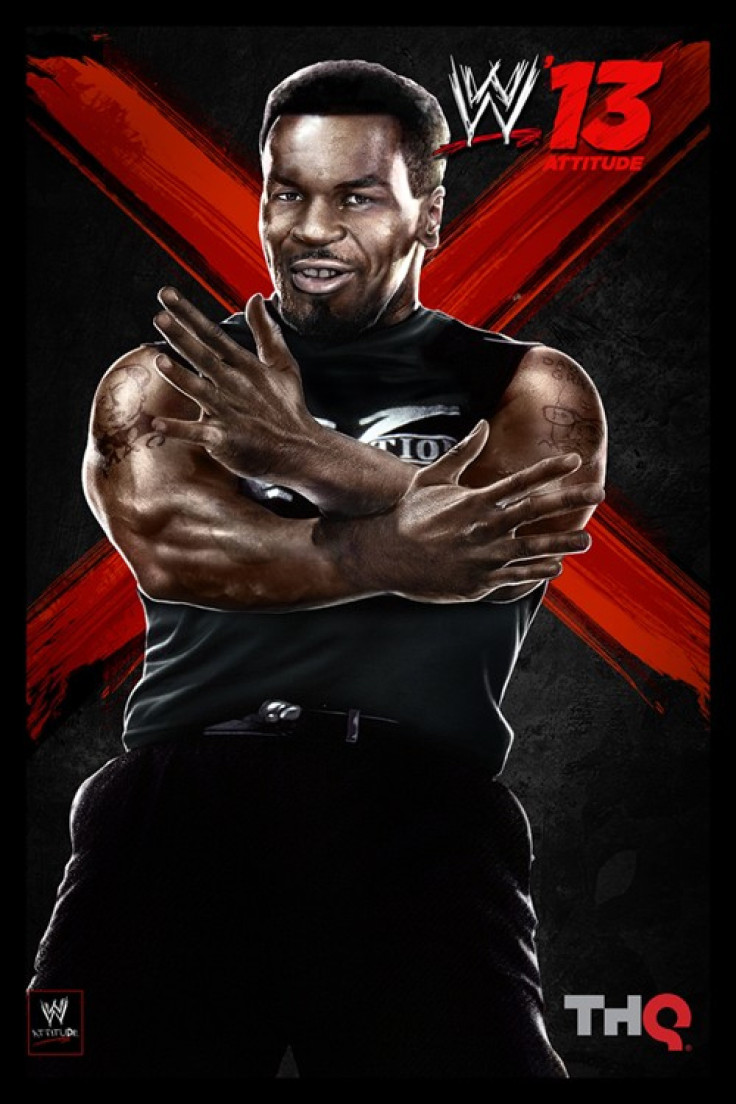 The new "WWE 13" video game brings back a time when World Wrestling Entertainment was less about John Cena bringing family-friendly entertainment, and more about Stone Cold Steve Austin drinking beer and flipping off his boss. Mike Tyson brings back that Attitude Era sentiment stronger than ever in the new "WWE 13" trailer.
Mike Tyson doesn't seem to realize how much times have changed in the world of professional wrestling since the late 1990s, judging by a trailer for "WWE 13" where he dropped several f-bombs. The expletives were censored, but they still capture the essence of a time past.
Tyson is best known as boxing's undisputed heavyweight champion of the world, but the Baddest Man on the Planet had a run in WWE (then WWF) in the midst of the Attitude Era, and will be returning in the "WWE 13" roster. Iron Mike is even an honorary inductee in the WWE Hall of Fame for the time he spent with the company.
"I'm Mike Tyson. I've always dreamed of being a WWE Superstar and now I can," proclaims the former D-Generation X enforcer. "There's only one place Mike Tyson belongs, and that's the motherf---ing ring."
Aside from Tyson's presence on the roster, and his choice of language, the game encourages fans to recreate classic moments from the mid to late '90s with the help of arenas, attires and superstars from one of the most celebrated eras in professional wrestling history. The game also has a special Austin 3:16 edition to commemorate the flagship superstar of the era, Stone Cold Steve Austin.
"WWE 13" is to be released Oct. 30 and will feature an extensive roster from the past and present.
Going about 15 years back in time, the Attitude Era roster includes Big Boss Man, Billy Gunn, Bradshaw (APA), Bret Hart, British Bulldog, Cactus Jack (Mick Foley), Chris Jericho (Y2J), Christian (Edge & Christian), Dude Love (Mick Foley), Eddie Guerrero, Edge (Edge & Christian), Faarooq (APA), The Godfather, Kane, Ken Shamrock, Mankind (Mick Foley), Mark Henry (Nation of Domination), Mike Tyson, Mr. McMahon, "The Big Show" Paul Wight, Road Dogg Jesse James, Road Warrior Animal, Road Warrior Hawk, The Rock, Shane McMahon, Shawn Michaels (D-Generation X), "Stone Cold" Steve Austin, Triple H (D-Generation X), Triple H (Hunter Heart Helmsley), The Undertaker (The Lord of Darkness), Vader, X-Pac, Lita (Attitude Era), Stephanie McMahon (The Billion Dollar Princess) and Trish Stratus.
The modern roster consists of today's superstars, divas and legends. This year's offers Alberto Del Rio, Big Show, Booker T, Brock Lesnar, Brodus Clay, Chris Jericho, Christian, CM Punk, Cody Rhodes, Daniel Bryan, David Otunga, Dolph Ziggler, Edge, Epico, The Great Khali, Heath Slater, Hunico, Jack Swagger, JBL, Jinder Mahal, John Cena (plus Doctor of Thuganomics attire), John Laurinaitis, Justin Gabriel, Kane, Kevin Nash, Kofi Kingston, Mark Henry, The Miz, Primo, Randy Orton, Rey Mysterio, The Rock, R-Truth, Santino Marella, Sheamus, Sin Cara, Ted DiBiase, Triple H, The Undertaker, Wade Barrett, Zack Ryder, AJ Lee, Alicia Fox, Beth Phoenix, Brie Bella, Eve, Kelly Kelly, Kharma, Nikki Bella.
© Copyright IBTimes 2023. All rights reserved.