Miley Cyrus Partying With Friends Behind Liam Hemsworth's Back As He Thinks They Are 'Bad Influence'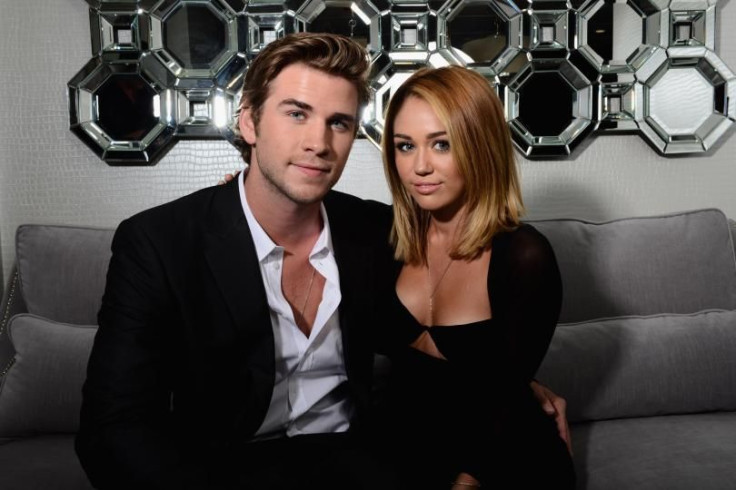 Miley Cyrus has been partying with her old friends who Liam Hemsworth think are "bad influence," a source told Hollywood Life. Since the two rekindled their romance last year, the "Wrecking Ball" singer has reportedly cut down on her bad habits to keep Hemsworth happy.
"Her life has changed dramatically but it's not a bad thing. It's not like Liam is telling who she can be friends with, but there are certain people she does tend to party pretty hard with and she's not going out with them the way she used to," the source told Hollywood Life. "She's still friends with them but she doesn't hang out like she used to. When she's home and Liam is away she has them over, but if he's around they don't really come around because he doesn't like them and thinks they are a bad influence."
The news comes just after Cyrus once again sparked engagement rumors with Hemsworth after flashing her diamond ring while walking through Los Angeles airport after a trip to Australia earlier this week. The two were seen holding hands and showing off some PDA at the airport.
Several rumors about Hemsworth and Cyrus started making the rounds since the latter was spotted last year sporting the 3.5-carat engagement ring that the Melbourne actor gave her in 2012.
However, in an interview last month, "The Hunger Games" star said that he was not engaged to Cyrus. After making the statement, Cyrus and Hemsworth were spotted together on several occasions, and the 23-year-old singer also spent time with his family.
Over the last few months, rumors surfaced that Hemsworth was unhappy with Cyrus' bad habits and also warned her of ending their relationship if she did not give up her addiction. According to reports, their relationship also got strained after she sent Hemsworth a sext meant for her former rumored girlfriend, Victoria's Secret model Stella Maxwell.
© Copyright IBTimes 2023. All rights reserved.