Miley Cyrus, Patrick Schwarzenegger Relationship On The Rocks? Singer Vacations Without Boyfriend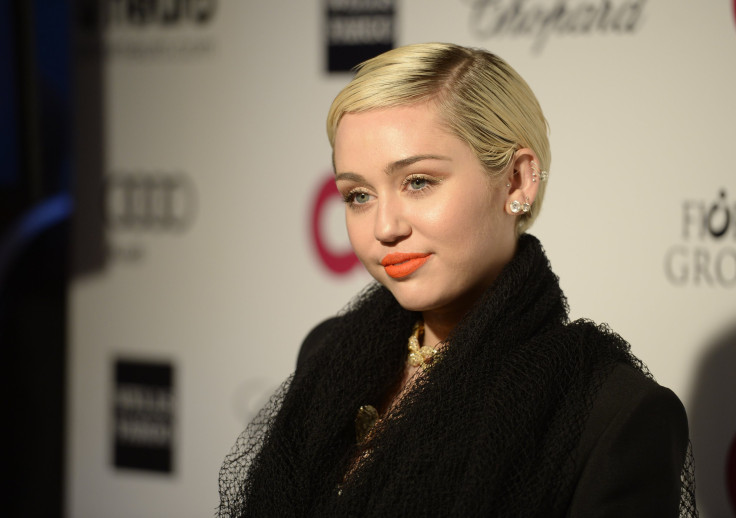 Miley Cyrus is soaking up the sun in Big Sur, California, alongside best friend Cheyne Thomas. The pair were photographed strolling the streets, grabbing lunch together and checking out an art gallery. One person noticeably absent from their vacation? Cyrus' boyfriend, Patrick Schwarzenegger.
The singer's solo vacation comes just one week after she and Schwarzenegger were spotted showing some serious PDA in Studio City, California. The pair went out for a romantic dinner, during which they kissed and held hands, defying breakup rumors. Speculation of their split began after photos from the 21-year-old's wild spring break surfaced, showing him taking body shots off a fellow partygoer. Former Gov. Arnold Schwarzenegger's son tweeted that the girl was one of his "best friends girlfriend," adding that he wouldn't dream of hurting Cyrus like that.
The "We Can't Stop" singer's father, Billy Ray Cyrus, came to Schwarzenegger's defense, saying, "he had fun," and assuring TMZ's cameras that "he's a good boy." And Billy Ray isn't the only Cyrus that's on Team Schwarzenegger. Miley's younger sister Brandi is speaking out in support of the couple, saying "they are a good team."
"I think she met him through her mutual friend, but we've hung out with him a ton since. He's been great. He's such a nice guy. He's easy to hang out with and be around. He has great friends. He's a good dude," she told Us Weekly. "I like that they balance each other out. Miley is like a big personality, high energy, and he's super laid-back and easygoing."
Brandi assured the magazine that, to her knowledge, her sister and Schwarzenegger were still going strong, despite vacationing separately. She did, however, add, "but you know you never know. Things change every day with everybody. It's hard to keep up."
Miley has not commented on her current relationship status.
© Copyright IBTimes 2023. All rights reserved.