Millennials Are On Instagram, Their Parents Play Words With Friends And Everyone Is On Facebook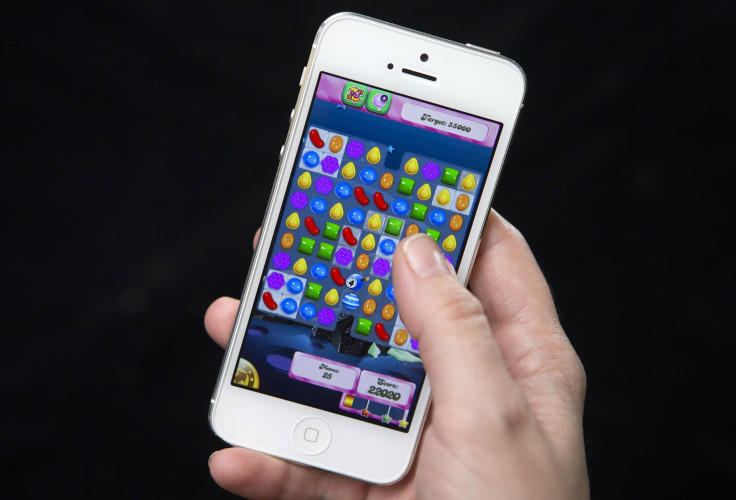 Turns out your parents really are using different apps than you are, except for Facebook. That was among a number of findings in a new report from comScore Inc. (NASDAQ:SCOR), which examined the ways Americans are using their smartphones in 2014. According to the study released on Thursday, more than half of U.S. digital media consumption time is now spent through mobile apps, leaving desktop media consumption in the dust with a mere 40 percent.
For younger Millennials, Instagram was the third most popular app. But as you go further down the list, you find a number of apps uniquely popular to the demographic, namely Snapchat and Kik, a messaging app that lets users share links and photos. Another app called iFunny, which features memes and GIFs, also makes the list.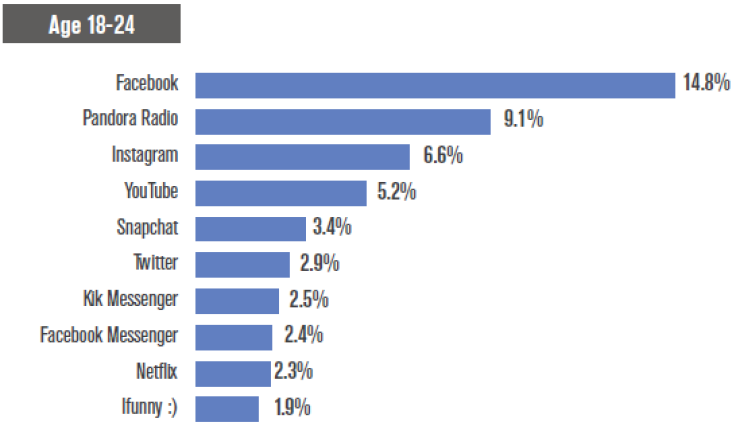 As the age groups get older, the list of most popular apps begins to shift. For 25-34 year olds, YouTube takes greater priority over Instagram with Netflix sneaking into the No. 5 slot; also making an appearance is Skype and Pinterest.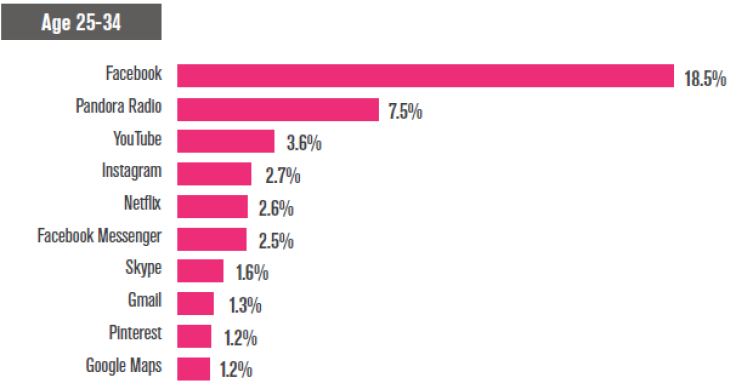 Generation X is still hooked on Candy Crush, but also spends more time chatting with friends on Facebook messenger. Viggle, an app that offers free gifts for watching television, also makes an appearance on the list.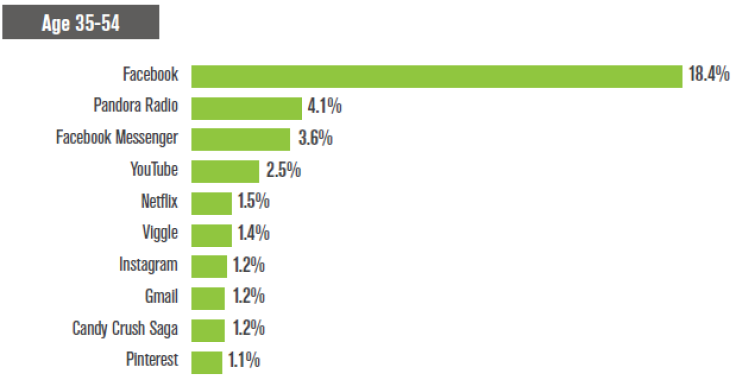 Some habits don't change despite the shift of digital media consumption from PC to mobile. Turns out Baby Boomers still enjoy playing Solitaire even on a mobile device. Words With Friends, a Scrabble clone, is another popular app among the demographic. While app usage for the 55+ demographic differs from the rest, it shares a similar interest in Skype, with 25-34 year olds likely to keep in touch with family and friends.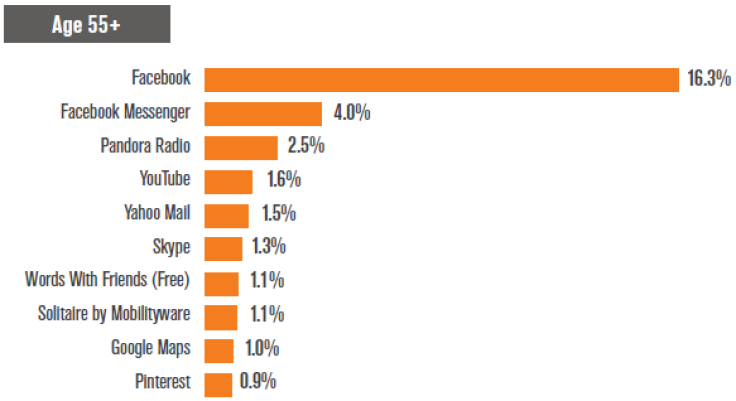 What comes as no surprise is Facebook Inc. (NASDAQ:FB) is by far the most popular app across all demographics. For 25-34 year olds, 18.5 percent of their mobile consumption was dedicated to the social networking app. No demographic spent less than 14 percent of their time on Facebook.
Following Facebook, Pandora Media Inc. (NYSE:P) was also highly popular among all demographics, which all enjoy streaming music.
Even more surprising is most apps used across all demographics were dominated by just six companies -- Facebook, Google Inc. (NASDAQ:GOOGL), Apple Inc. (NASDAQ:AAPL), Yahoo Inc. (NASDAQ:YHOO), Amazon.com Inc. (NASDAQ:AMZN) and eBay Inc. (NASDAQ:EBAY).
© Copyright IBTimes 2023. All rights reserved.