Minimum Wage Ballot Initiatives 2014: Arkansas, Nebraska Lead States Seeking To Raise Minimum Wage In 2014 Midterm Elections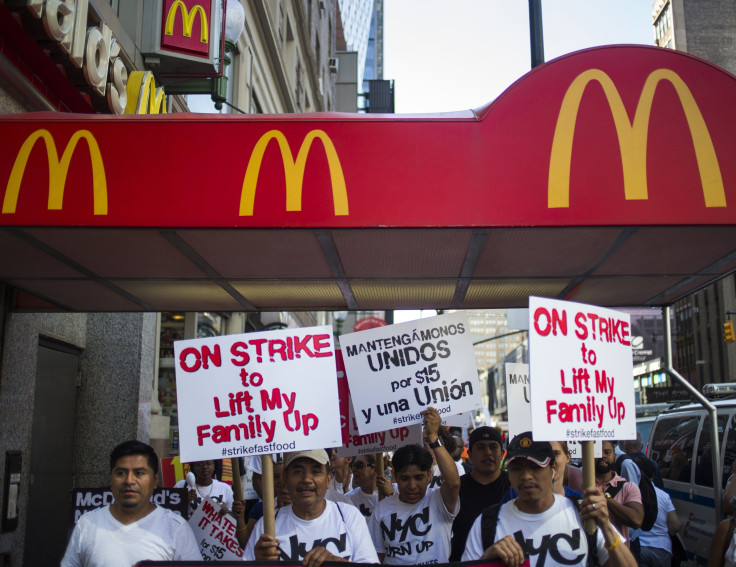 Update 11/5/14: South Dakota passed its minimum wage ballot measure with over 53 percent of the vote, according to official election figures.
Arkansas and Nebraska voters resoundingly approved minimum wage hikes Tuesday night, and South Dakota and Alaska seemed likely to follow suit. All four conservative states had measures on their midterm ballots that would raise pay above federal levels established by the U.S. Congress.
The Arkansas initiative passed by a 2 to 1 margin, according to early returns reported by Huffington Post. The measure will gradually increase the state's minimum wage from $6.25 an hour to $8.50 by 2017. (The federal wage, by comparison, is $7.25 an hour). Both Democratic and Republican leaders in Arkansas expressed broad support for the wage hike, and polls in the other states suggested that voters would back those measures.
In Nebraska, voters passed by about 60 percent a proposal to increase the minimum wage from $7.25 an hour to $8.00 starting next year, and to $9.00 by 2016.
President Barack Obama has called on Congress to lift the national minimum wage to $10.10 an hour, an act he said will "increase earnings for millions of workers, and boost the bottom lines of businesses across the country." Yet congressional Republicans have so far blocked the proposal, and some prominent GOP leaders in recent weeks have come out against minimum wage hikes.
In Wisconsin, Republican Gov. Scott Walker's administration found there was "no reasonable cause" to raise the standard above $7.25, despite a complaint from low-wage workers that it doesn't constitute a "living wage," as mandated by state law. New Jersey Gov. Chris Christie, also Republican, said he was "tired" of hearing about the minimum wage, arguing that parents don't see it as an important issue.
Twenty-three states and Washington, D.C., have already set minimum wages above the federal level, and Maryland and Hawaii are slated to join them starting Jan. 1.
South Dakota could raise wages from $7.25 an hour to $8.50 in 2015, while Alaska's minimum wage would rise gradually to $9.75 by 2016. The South Dakota measure was leading with 54 percent of the vote, with 79 percent of the vote in, at press time. Polls in Alaska had not closed yet.
© Copyright IBTimes 2023. All rights reserved.