Minimum Wage: New York City Raising Pay For City Employees To $15 An Hour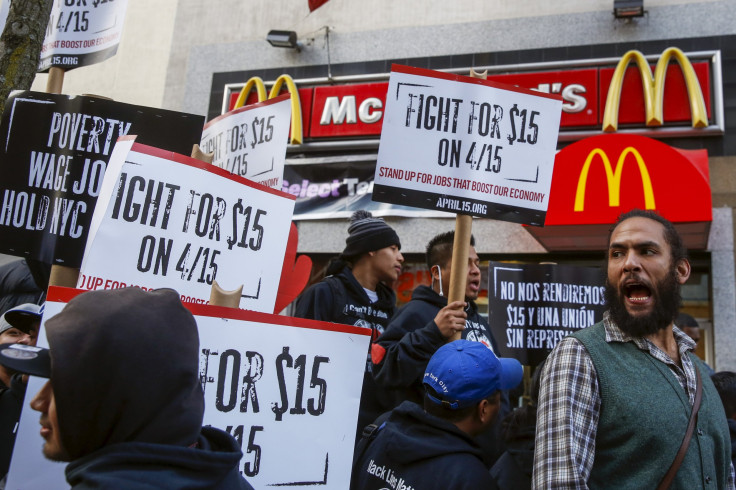 New York City is preparing to raise wages for all city employees to at least $15 an hour. Mayor Bill de Blasio is expected to announce the move Wednesday afternoon, lifting pay for about 50,000 workers overall, according to city officials.
The wage hike, which will take effect by 2019, comes amid a flurry of pay raises in New York State. Earlier this week, New York Gov. Andrew Cuomo boosted the minimum hourly wage for state university workers to $15. Last summer, the state approved a phased-in minimum wage hike for all fast-food workers. Cuomo has said he is prepared to push for a statewide minimum of $15, although that effort faces an uphill battle in the Republican-majority Senate.
The current New York state minimum wage is $9 an hour. The federal rate is $7.25.
New York City lacks authority to set its own minimum wage and most of the city's 300,000 employees already earn more than $15 an hour, according to the New York Times. But New York City officials say they will negotiate the new pay floor into contracts with nonprofit groups and labor unions that cover 30,000 and 20,000 workers, respectively. Crossing guards, seasonal workers, janitors and park aides, among others, will see raises.
Minimum Wage by State | InsideGov
Over the past couple of years, a number of major cities have lifted their pay floors, including Chicago and Oakland, California. Seattle, San Francisco and Los Angeles are all in the process of phasing in $15 minimum wages. Those have come amid high-profile protests and strikes backed by the Service Employees International Union (SEIU), dubbed the "Fight for $15."
"When New York City fast-food workers launched their fight for $15 three years ago they started a movement that swept through our city and our country," Hector Figueroa, president of SEIU Local 32BJ told the Daily News. "Mayor de Blasio stood on the picket line with the first strikers and now he's putting his steadfast support of fair pay in action with his plan to raise the minimum wage for city employees and city-contracted employees."
Nicole Gelinas of the conservative Manhattan Institute bemoaned the move. "The mayor has been lucky so far with the economy," Gelinas told the New York Times. "If a recession comes, higher wages will have to mean more layoffs."
© Copyright IBTimes 2023. All rights reserved.
FOLLOW MORE IBT NEWS ON THE BELOW CHANNELS