Miss USA 2014 Interview Segment Less Cringe-Inducing Than Usual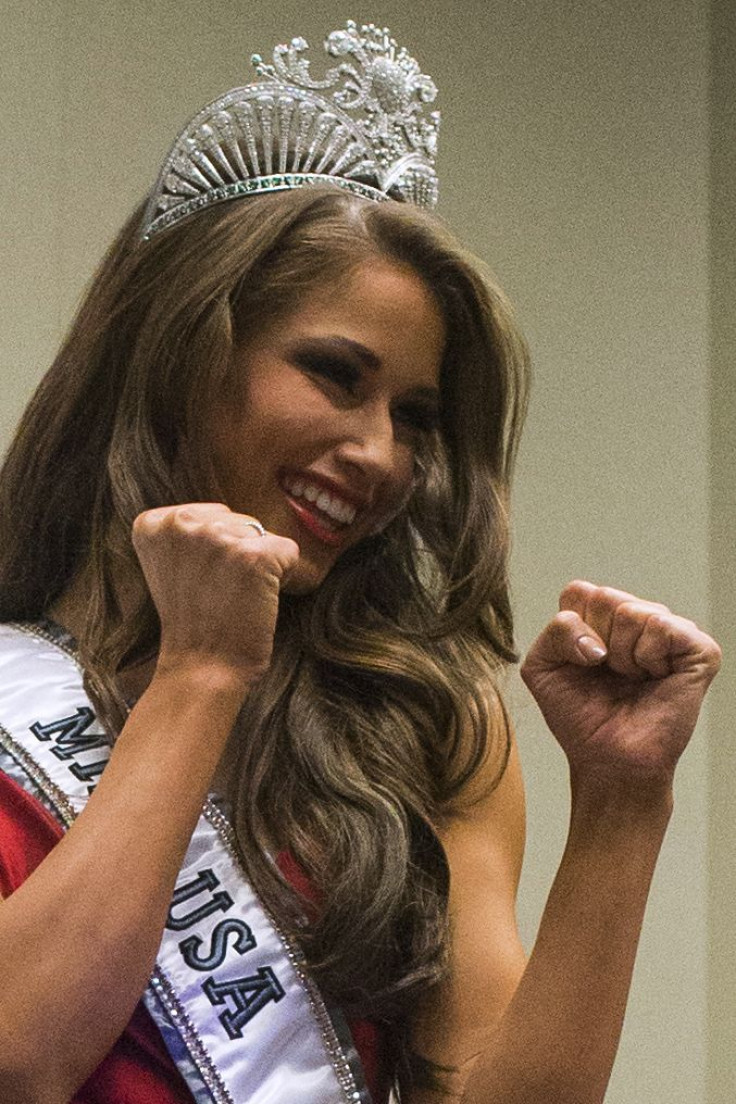 It seems that every time beauty pageant season rolls around, the world watches with baited breath, waiting for the beautiful, statuesque contestant on stage to embarrass herself during the interview segment.
But the closest thing to a made-for-YouTube moment during Sunday night's Miss USA pageant was compliments of a somewhat coherent answer to a relatively challenging question: Miss Louisiana, Brittany Guidry, was asked for her thoughts on Afghan POW Bowe Bergdahl's negotiated release. Actor Ian Ziering, a member of the judging panel, asked Guidry if she felt it was the right decision to give up five detainees from Guantanamo in order to hold up the "no soldier left behind" policy.
Miss Louisiana responded: "I am glad that we got our guy back. However, I do not feel it is right that we subject ourselves to these acts of terrorism." The Baton Rouge, Louisiana, audience then erupted in applause – it's unclear if the cheering was a result of agreement with her answer or relief that she actually understood the question (assuming she actually did).
She continued: "I do agree with our guy being back but, however, I do not think we should subject ourselves. Thank you."
It's clear from watching the segment on YouTube that not everyone in the audience had faith Guidry would be able to answer the question. An audience member sitting directly behind Ziering can be seen covering his face as the question is asked, as if he's afraid of the answer to come.
You can't blame anyone watching for having low expectations. Arguably the most memorable moment from last year's Miss USA pageant came via Miss Utah 2013, Marissa Powell, who botched her answer to a question about income inequality. Judge NeNe Leakes asked the 21-year-old brunette about women earning less than men and Powell tied herself in humiliating knots trying to relate the question to education.
"I think we can relate this back to education, and how we are continuing to try to strive . . . to . . ." Powell said, pausing for a long moment. "Figure out how to create jobs right now. That is the biggest problem right now. I think, especially the men are . . . um . . . seen as the leaders of this, and so we need to see how to … create education better. So that we can solve this problem. Thank you."
But this year's education question went to Audri Mari, Miss North Dakota 2014, who clearly did her homework.
Asked if college is still relevant today considering how difficult it is to get a job post-grad, she answered, "I do think going to college is relevant at this point…"I know [in] my parents' generation, there are a lot of people who are extremely successful who never did get a college degree, but in this day and age I know it's extremely hard to find a job, even after four years of college. So I do think it's extremely important to go and get your education and, I guess, further your education after high school."
Hardly presidential debate material, but her answer was safely forgettable, which is probably the most anyone can ask for given the interview segment track record.
Miss USA 2013, Erin Brady, told The Associated Press she worked hard all year while wearing the crown to rid of negative stereotype associated with pageants and pageant queens. "We're very intelligent women with great personalities," Brady said a week before relinquishing her crown.
"There's a lot that goes in to competing in these pageants," Kim Gravel, star of Lifetime's "Kim of Queens," owner and coach at The Pageant Place and 1991 Miss Georgia America, told IBTimes. Gravel said many women are more worried about how they look than "building their political knowledge, current events or watching news."
"You know the dreaded question on stage when people look like fools because they can't answer the question? That's because they're worried about the dress more than their current events," said Gravel.
Current events are often included in the question portion of pageants. Last year, topics included whether or not criminals should be subjected to DNA testing, should people who leak classified documents "in the name of public information" should be charged with treason and if government tracking of phone records is an invasion of privacy.
The Miss USA and Miss Universe pageants, which The Washington Post said have "some of the most controversial questions" compared to other pageants like Miss America, have gotten contestants into political hot water before.
One of the most infamous answers in Miss USA history nearly led to the dethroning of Miss California USA 2009, Carrie Prejean. The blonde, who finished as a runner-up for Miss USA, was asked if states should move to allow same-sex marriage, and she answered that "marriage should be between a man and a woman…no offense to anybody."
In a press conference announcing that Miss California would be keeping her title after calls for her firing, Miss Universe organization owner Donald Trump said Prejean was "a bit unlucky" to have received such a difficult question and "was going to get killed" no matter how she answered.
In 2012, Trump admitted to Fox News that he vets all questions before they are asked. His confession came after Miss USA 2012 Olivia Culpo answered a question he signed off on whether or not it's fair for transgender contestants to win the Miss USA title over a "natural-born woman." Culpo, who said it would be fair because "it's a free country," later said it was "really an easy question."
This year's winner, Miss Nevada, Nia Sanchez, got off easy, asked a relatively straight-forward question about sexual assault among college students being underreported.
"I believe that some colleges may potentially be afraid of having a bad reputation and that would be a reason it could be swept under the rug, because they don't want that to come out into the public," she said. "But I think more awareness is very important so women can learn how to protect themselves. Myself, as a fourth-degree black belt, I learned from a young age that you need to be confident and be able to defend yourself. And I think that's something that we should start to really implement for a lot of women."
Below are videos of the six 2014 contestants during their Q&A, followed by Miss Utah 2013 Marissa Powell and Miss California 2009 Carrie Prejean.
© Copyright IBTimes 2023. All rights reserved.