Missing Argentine Submarine Latest: 'New Objects' Discovered In ARA San Juan Search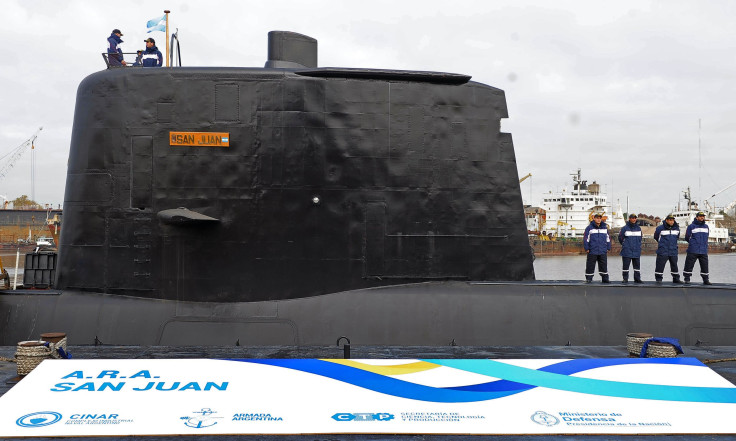 Almost two months after an Argentine military submarine went missing, "new objects" were discovered in the search for the vessel. The Argentine navy said in a statement it was investigating the new contacts using two Argentine vessels and a Russian vessel.
The Argentine ship Islas Malvinas was equipped with a Russian submersible capable of operating deep water searches.
"The vessel Islas Malvinas is current exploring the new objects," a statement released Monday said, according to Russia's Sputnik News. "Tonight, the vessel San Blas will arrive in the search area to refuel [the] Sarandi destroyer."
Since the ARA San Juan went missing Nov. 15, a multinational search has scoured hundreds of thousands of nautical miles. Thus far, no trace of the submarine had turned up. The navy has, however, encountered other objects and sonar detections in the search that ultimately turned out not to be the vessel.
The United States recently pulled out of the search efforts, leaving Argentina and Russia to conduct the searches. The U.S. Navy said it would continue to help from North America by providing data and planning analysis.
The fate of the ARA San Juan and its 44 crew members remains shrouded in mystery. The father of one crew member recently alleged that the disaster had been covered up by officials. Luis Tagliapietra, the father of crew member Alejandro Damian, told the U.K.'s The Times the navy was hiding things from the families.
"Something very serious must have happened for so many lies to be told and for the total lack of effort to find it," he said.
Among the last known contacts from the ship was a message relaying a battery failure. Officials maintained the crew died in an explosion on board the ship and said no one was left alive on board.
Following its disappearance, accusations of bribery and corruption surrounding the vessel's battery replacement surfaced. Argentine authorities reportedly raided the offices of German industrial contractor Ferrostaal and naval headquarters as part of the investigation into the ARA San Juan's disappearance. A report alleged Ferrostaal and battery maker EnerSys-Hawker may have paid bribes to secure a $6 million contract to replace the battery cells on board the vessel in 2011.
"There is a suspicion that the batteries that have been replaced were partly or not of the quality that they should have [been]," Cornelia Schmidt-Liermann, chair of the Foreign Affairs Committee of the Argentine Parliament, told German public radio outlet BR. "We also do not know where they came from, Germany or any other country, so we want to know what technicians were there and those who signed."
© Copyright IBTimes 2023. All rights reserved.