Missy Elliott Super Bowl Appearance Marks The End Of A Difficult Decade Out Of The Spotlight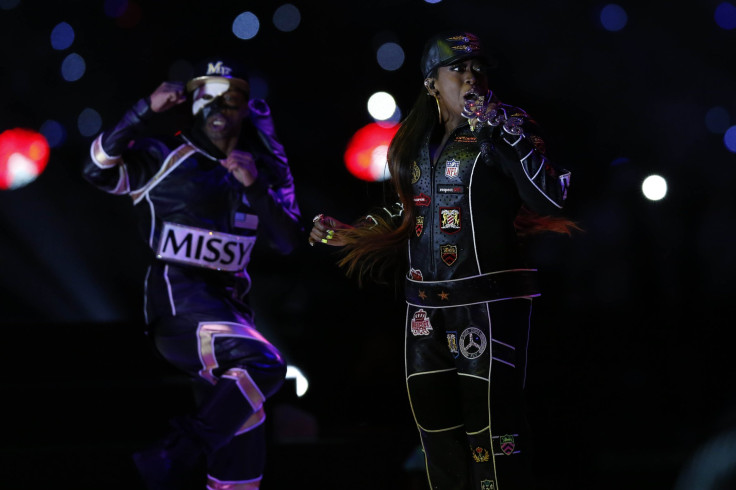 Super Bowl XLIX had a lot of incredible moments both on the field and during the commercial breaks. However, perhaps the biggest surprise of the night came when Missy Elliott made her triumphant return to the grandest of stages at the halftime show, led by Katy Perry.
The 43-year-old rapper surprised the throngs of fans when she took the stage to sing, not one, but three of her songs alongside Perry -- "Lose Control," (2005) "Get Ur Freak On" (2001) and "Work It" (2002). Elliott has worked with Perry in the past. According to Billboard, the two collaborated on the remix to "Last Friday Night (T.G.I.F.), which helped the pop star score a record-tying fifth No. 1 single on her "Teenage Dream" album.
The five-time Grammy winner's appearance was a welcomed shot of nostalgia from a performer who has remained largely out of the spot light since the release of her last album, "The Cookbook," in 2005. Still, this has caused many to wonder exactly what she's been up to in the past decade that's kept her off the stage. Unfortunately, it hasn't been an easy hiatus for Elliott.
In 2011, Elliott revealed to People Magazine that she took a break from performing as a result of her private battle with an autoimmune illness known as "Graves' Disease." The condition affected her thyroid and muscles, causing her motor skills to diminish. Reportedly following an incident in which she almost crashed her car due to an inability to break, the rapper started feeling symptoms like dizzy spells, lumps in her throat, mood swings, hair loss, a faster heart rate and bulging eyes.
The condition contributed to a weight gain for Elliott but, after consulting her doctor, she learned to beat her illness and has been off medication and treating herself with diet and exercise since her 2011 reveal in People Magazine. In 2012, she poked her head back in the spotlight again, releasing two singles with Timbaland, "9th Inning" and "Triple Threat." This past October, Elliott cleared up rumors about her weight loss in a tweet to her fans after she appeared at the 2014 Soul Train Awards.
"Didn't lose 70 pounds. That was during my 'Under Construction album," she said, according to Us Weekly. Elliott later added, "This time I lost 30 eating healthy/work out to @ShaunTFitness T25 videos. I do the Insanity Workout. Sweets/bread/fried foods is my weakness. It's not easy but health comes first."
Not only was she looking fit during the Super Bowl haltime Show, her comeback reignited a dormant fandom that even she thought was lost to her. ABC News reported that in the hours following Elliott's performance at the Super Bowl her songs became among the most popular downloads on iTunes. Elliott took to Twitter to express her overwhelming emotions and gratitude after the show.
You can check out a clip of Elliott and Perry at the Super Bowl 49 Half Time Show below.
© Copyright IBTimes 2023. All rights reserved.