More Latin America Catholics Are Leaving The Church For Protestant Denominations: Report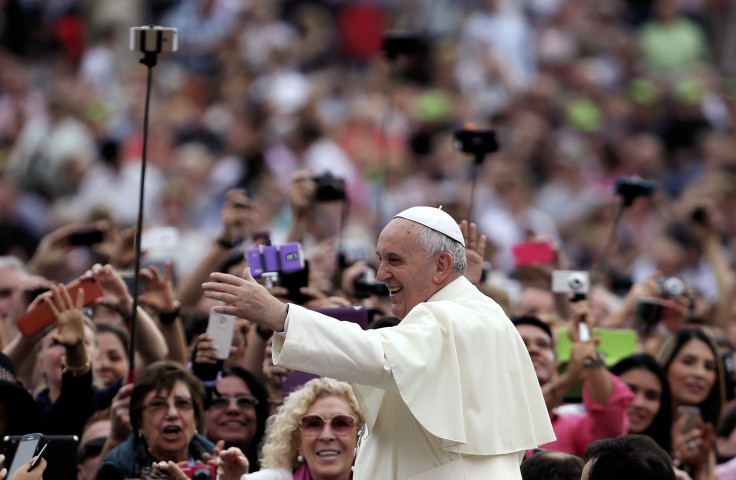 While it may be too soon to tell whether Pope Francis has influenced more followers to return or convert to the Catholic Church, a new Pew Research Center survey published Thursday says he might have a tough road ahead. The survey confirmed a trend that has been taking place for decades: More Latin American Catholics are leaving their faith to join Protestant churches.
The report shows 69 percent of adults across Latin America identify as Catholic. This is down from most of the 20th century, when at least 90 percent of the region's population was Catholic.
The survey says the movement away from the Catholic Church stems from people converting to Protestant denominations -- a trend that began in the 1970s, when Pentecostal, Baptist and Methodist churches grew in the region. Unlike Catholicism, in which members are baptized into the faith at birth, Protestant denominations involve members making an active choice to embrace Jesus Christ as their savior. A personal relationship with God is given precedence. In the Catholic Church, priests and members of the church's hierarchy are the ones responsible for interpreting the Bible and are seen as God's representatives.
It's this difference that has led most Latin Americans to abandon the Catholic Church. Whereas just 9 percent of Latin Americans were raised in Protestant churches, now nearly 19 percent describe themselves as Protestants. For many, the decision to leave the Catholic Church came from a desire to seek a more personal connection with God, the survey said.
Samuel Escobar, an Evangelical scholar who specializes in missionary studies, says the trend could be caused by a "pastoral failure of the Catholic Church, which does not have the resources to educate the people in the faith," he told the National Catholic Reporter. He says Latin Americans have a "religious sensibility" but are oftentimes disconnected from a church and look for alternatives. Another reason, Escobar says, is how Protestant churches are organized.
"For one thing, evangelical Christianity in Latin America is very much a movement of laypeople," he said. Many pastors do not have theological training as priests but rely on their interpersonal skills to mobilize people. And unlike Catholic priests who get stationed across the world, Protestant pastors are homegrown.
"In Peru, for example, 60 percent of Catholic priests are foreigners -- Spaniards, Americans, Canadians and so on. The number is just 10 percent in the Protestant churches," Escobar said.
The new Pew report says converts to Protestantism also cited health and family problems and marriage to non-Catholics as reasons for leaving the faith. More than half of those surveyed said they switched because their new church reached out to them -- a sign that evangelization efforts have made an impact. For the most part, in most countries Protestant converts switched their faith before the age of 25.
And despite Pope Francis' heritage, few non-Catholics see him as a major change for the Catholic Church. In most of the countries surveyed, about one-third or fewer former Catholics said Francis is a pope who represents major change. Only in Argentina, Pope Francis' home country, and Uruguay did a majority of ex-Catholics express a favorable view of the pope, the report said. The majority of Catholics surveyed, however, say Francis represents a watershed moment in the Catholic Church. In Francis' native Argentina, more than three-quarters of those surveyed (88 percent) shared this view.
The survey used 30,000 in-person interviews with adults in 18 countries and Puerto Rico between October 2013 and February 2014. The margin of error for each country ranges between 2.8 and 4 points.
© Copyright IBTimes 2023. All rights reserved.
FOLLOW MORE IBT NEWS ON THE BELOW CHANNELS