Vatican Cookbook Reveals Pope Francis' Favorite Dishes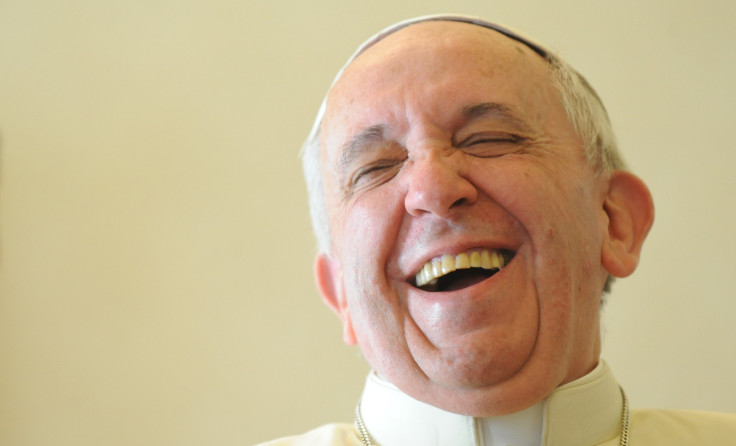 The Swiss Guards at the Vatican don't just protect the pope; they cook for him, too. A newly released cookbook by the Vatican's corps of elite soldiers reveals some of the favorite pontifical recipes, informing us that Pope Francis eats like a fairly typical Argentinian: He loves a good steak, empanadas and dulce de leche.
Available only in German, although with a half-Italian title, the cookbook, "Buon Appetito, Swiss Guard," features recipes by 24-year-old soldier David Geisser. He joined the Swiss Guard in February 2013 after leaving civilian life as a professional chef. The text was written by Sgt. Erwin Niederberger, a trained pastry chef in Zug before joining the guard in 1999, the Guardian reported.
"The idea came from our commandant about two years ago. He checks out the background of new recruits, and he saw that Geisser had published a couple of cookbooks in Switzerland," Niederberger told The Telegraph.
The cookbook reveals Pope Francis' culinary tastes. Turns out the pontiff has a sweet tooth. One of his favorite dishes is dulce de leche, a caramel milk pudding from his native Argentina. Francis also enjoys spicy empanadas, and "colita de cuadril," or grilled sirloin steak, a classic Argentinian preparation -- the country is one of the world's biggest producers of beef.
His predecessor Benedict XVI enjoyed dishes from his native Bavaria: wurstel salad, a pork dish called "schweinsbraten" and baked cherries topped with whipped cream. Before him, John Paul II enjoyed his Polish pierogis -- dumplings stuffed with potato, sauerkraut, meat, cheese or fruit.
But not all Vatican leaders stick with their national gastronomy. For example, Bishop Georg Gänswein, a German who was Benedict's close adviser, has a soft spot for a very local Roman dish: saltimbocca alla Romana, veal rolls with prosciutto -- the Italian name implies that they are so tasty they literally "jump into your mouth." Pietro Parolin, Francis' secretary of state, likes a recipe known as "gnocchi al Vaticano" -- the classic Italian potato dumplings, but with a twist, the addition of a basil pesto and pancetta sauce.
This is still a Vatican cookbook, though, so besides the recipes, it also contains prayers the guards say before eating in their barracks. The Swiss Guards, a corps formed in 1506, began as mercenary fighters hired by Pope Julius II for the then-State of the Church. Today, the 110 officers and enlisted men act as the Pope's security detail and the Vatican's security force in general. While the Swiss Guard has not seen military engagement for hundreds of years, food is a central part to any soldier's life.
"A soldier can only fight and wage war when he has eaten well, and enough," Daniel Rudolf Anrig, the head of the Swiss Guards, said.
© Copyright IBTimes 2022. All rights reserved.
FOLLOW MORE IBT NEWS ON THE BELOW CHANNELS