Motorola Droid RAZR vs Apple iPhone 4S: Comparison of Specs and Features
ANALYSIS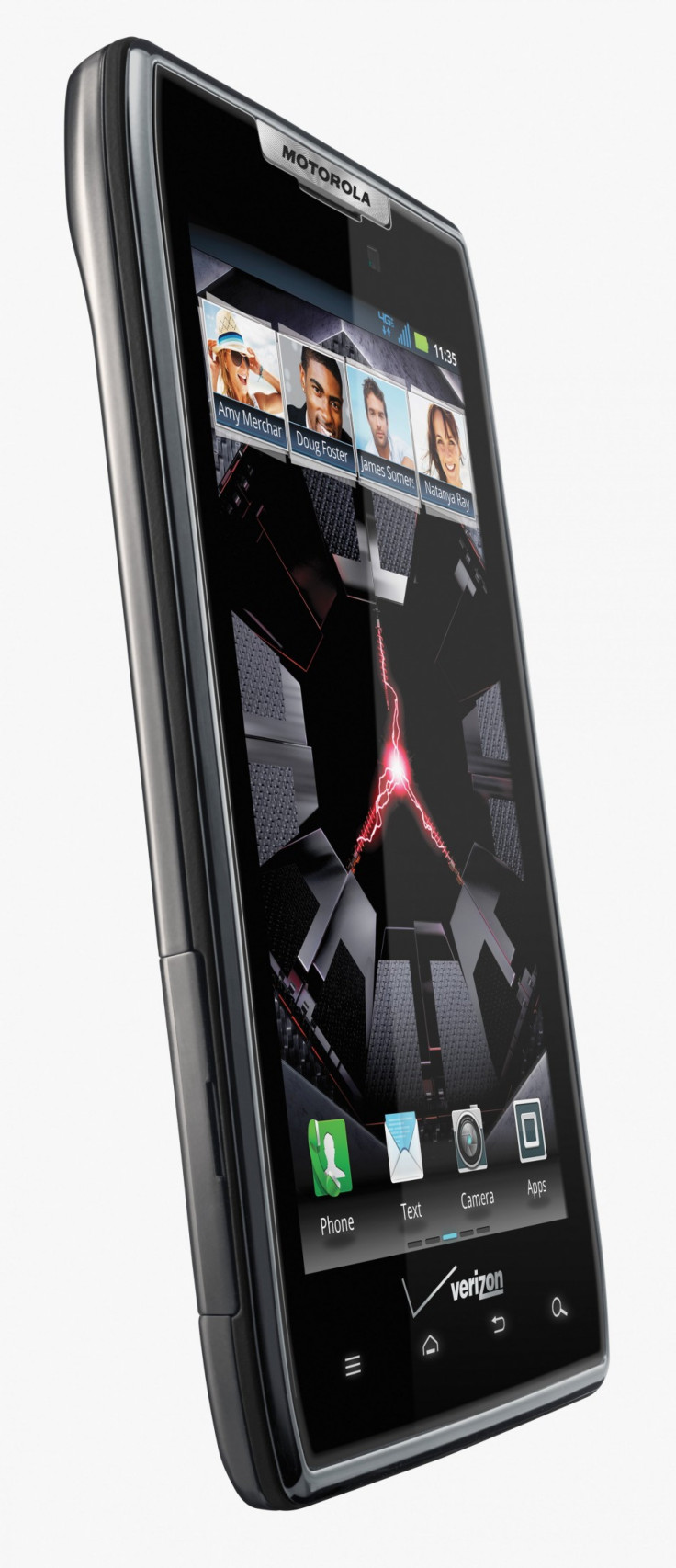 Motorola introduced the new Droid RAZR Tuesday, adding a new smartphone to the competition after the iPhone 4S was released in stores on Friday. Motorola's Droid RAZR will be available for pre-order October 27 and in Verizon Wireless stores early in November.
We wanted to create a true object of desire, Motorola Mobility chairman and CEO Sanjay Jha said at a Tuesday press conference. Not only is it a marvel of modern engineering, it is beautiful.
The iPhone 4S was sold-out in pre-orders and quickly sold out in stores across the world. Motorola seeks to target this market of die-hard smartphone fans, but can the new Motorola Droid RAZR compete with the popular iPhone 4S? We look at the expected specs and features of the new Motorola Droid RAZR and compare it with the current iPhone 4S.
Design / Size
Motorola's Droid RAZR has been called an impossibly thin smartphone. It is 7.1 mm (0.28 in) thick and weighs 127 grams (4.5 ounces). The RAZR is built on a stainless steel core with a gorilla glass screen resistant to scratches and a splash-guard protector on the inside of the smartphone. Jha also claims the phone will be wrapped in woven Kevlar fabric (the same material used for bullet-proof vests).
Apple's iPhone 4S, on the other hand, is an upgrade of its previous versions. It measures 115.2 x 58.6 x 9.3 mm and weighs 140 grams.
Display
The Droid RAZR has a 4.2 inch screen, qHD resolution, paired with Super AMOLED. Jha claims the new RAZR has higher contrast and richer color than the iPhone 4S.
The iPhone 4S has a marginally smaller screen - at 3.5 inches - but boasts a Retina display of 960x640-pixel resolution at 326 ppi.
Operating System
The Droid RAZR will use the Android 2.3.5 software, nicknamed Gingerbread, even though Google plans to announce its new Ice Cream Sandwich software Tuesday evening. The new Droid RAZR will not be launched with Ice Cream Sandwich.
Apple's iPhone 4S comes equipped with the recently announced iOS 5. The important features of iOS 5 are already found in the Android, except iMessage that is copied from RIM's BlackBerry and the hot new personal assistant program, Siri. The iOS 5 important features include the notification bar, cloud synchronization, wireless syncing, Twitter integration and Widgets.
However, much like the new iOS 5 and Siri, the RAZR will come with a host of new software perks. The MotoCast app will allow users to share content, much like cloud computing, between computers and smartphones via Wi-Fi. Moreover, the RAZR seeks to compete with RIM's BlackBerry and Apple's iMessage program with a suite of business-ready features. The RAZR seeks to allure corporate and government employees with remote wipe, PIN lock, data encryption, and syncing programs.
Processor, RAM, and Memory
Motorola's Droid RAZR features a 1.2 GHz dual-core processor and 1GB of RAM, as well as 16GB of on-board storage with another 16GB in an included microSD card. More memory can be added in the form of a 32GB microSD card in the card slot.
The iPhone 4S features a 1GHz dual-core ARM Cortex-A9 processor, PowerVR SGX543MP2 GPU and an Apple A5 chipset. The iPhone 4S comes in 16GB, 32GB and 64GB models. It doesn't support a microSD card slot, which many iPhone users are unhappy about.
3G/4G Capabilities
The Droid RAZR will be exclusively available on Verizon Wireless' 4G LTE network. Jha claims that the RAZR will only take three seconds to load compared to the 20 seconds required for the iPhone 4S. He also said that a 5MB video can be uploaded in 12 seconds on the Droid RAZR compared to 76 seconds on the iPhone 4S.
The Apple iPhone 4S, on the other hand, has HSDPA 14.4 Mbps and HSUPA 5.8 Mbps support. The iPhone 4S also has CDMA EV-DO Rev. A (800, 1900 MHz) technology.
Battery Life
The RAZR has a 1780 mAH battery, which is expected to mean 12.5 hours of 3G talk time and 8.9 hours of video playback. The RAZR software comes with Smart Actions, which seeks to save up to 30% of battery life by automatically turning off Bluetooth and GPS when the tools aren't necessary.
The iPhone 4S has a Li-Po 1,420 mAh battery, with 8 hours of talk time on 3G and up to 14 hours on 2G networks (GSM).
Price
The Droid RAZR will cost $299 with a two-year plan. It will be sold exclusively at Verizon Wireless.
The iPhone 4S costs $199 for the 16GB model, $299 for the 32GB model and $399 for the 64GB model. It is available with AT&T, Sprint, and Verizon Wireless.
Cool Factor
While the Motorola Droid RZR might have higher technical specs than the Apple iPhone 4S, Apple has a large number of die-hard loyalists, who claim the company's products are cool.
Can Motorola's specs and features beat out Apple's monopoly on cool?
3 Unique Droid RAZR Factors: Open Source, WebTop Application, and Netflix Streaming
Although Apple may have a cool reputation, the Google Android OS is an open source system, which means greater liberty and transparency for its users. Anyone can access Android's source to improve the OS. Weakness in the phone's OS can be quickly fixed by programmers in the open source system. The iPhone 4S is in a closed Apple system that does not include this option.
Motorola's Droid RAZR also has a revolutionary WebTop application that allows the smartphone to extend far beyond its average usage. The RAZR can be connected to a HD Multi-Media dock accessory and the WebTop application does the rest. Via an HDMI connection to HDTV or PC monitor, the user can launch a full Firefox 4.0 browser that gives access to the phone's interface as well as 200,000 Android Marketplace apps. The user can then use the Droid RAZR as a computer-phone cyborg, surfing the Web, making calls, running GoogleDocs, and other web applications. The RAZR comes with high security programs as well to make sure the information shared is secure and protected.
The RAZR will also be the first phone in the US to stream Netflix in HD, said Jha in the press conference.
© Copyright IBTimes 2023. All rights reserved.