'Mount And Blade II: Bannerlord' Leak Reveals When Closed Beta Is Happening
It's been nearly nine years since "Mount and Blade: Warband" came out and fans are more excited than ever for the newest installment in the series, "Mount and Blade II: Bannerlord." TaleWorlds Entertainment, the developer of both games, is notorious for being extremely reserved when it comes to release date information, however, fans now know that there a closed beta is coming for the game.
"Mount and Blade II: Bannerlord" was announced way back in 2012 and 7 years later, details about the game's release are still scarce and few and far in between. However, an announcement, which comes in a developer blog posted on the game's Steam page, has stated that a closed beta for "Mount and Blade II: Warband" will be taking place.
Additionally, a recent leak may provide some insight as to when the closed beta will be taking place.
A leak of an e-mail reportedly sent by Callum McGlinchey, community manager at TaleWorlds Entertainment, contained details regarding the closed beta and when it would take place. Read it below: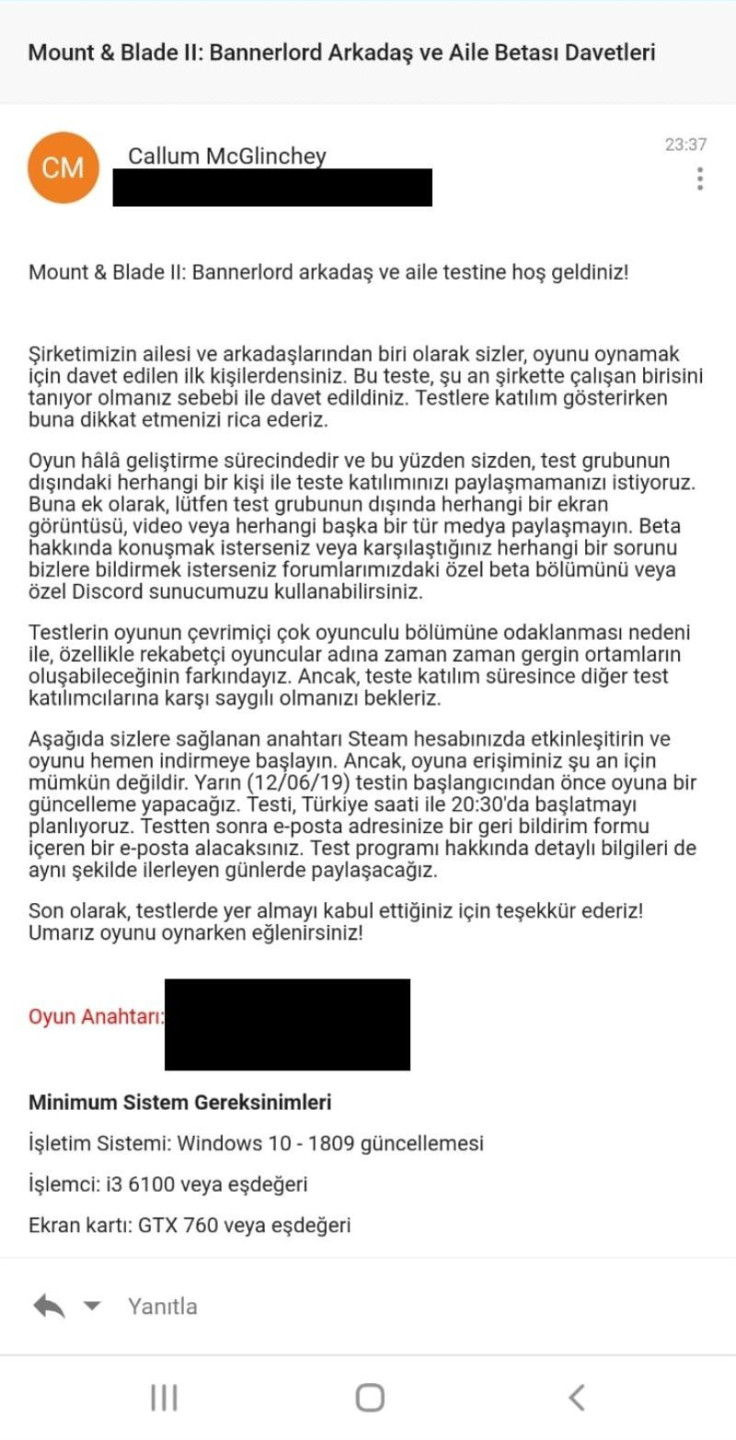 Mount & Blade lI: Bannerlord Friends and Family Beta Invitations 23:37

Callum McGlinchey CM Mount & Blade II:

Welcome to the Bannerlord friends and family test! As one of the family and friends of our company, you are one of the first people invited to play the game. You have been invited to this test because you know someone who is currently working for the company. Please pay attention to this when participating in the tests.

The game is still in the process of development, and so we ask you not to share your participation in the test with anyone outside the test group. In addition, please do not share any screenshots, videos or any other type of media outside the test group. If you want to talk about beta, or if you want to let us know of any issues you may have, you can use the special beta section on our forums or our dedicated Discord server.

Due to the fact that the tests focus on the online multiplayer part of the game, we recognize that tense environments can occur from time to time, especially for competitive players. However, we expect you to be respected against other test participants during the test.

Activate the key provided below to your Steam account and start downloading the game right away. However, your access to the game is not currently available. Test will begin Turkish timezone with 20:30 has the game with a hand plan. After the test, you will receive an email with a feedback form at your email address. We will also share detailed information about the test program in the following days.

Finally, thank you for agreeing to take part in the tests! We hope you enjoy playing the game!
As seen in the letter, it looks like the closed beta already took place on June 12 or will take place on Dec. 6, depending on how the dates are read.
© Copyright IBTimes 2023. All rights reserved.