Musk, Bezos, Gates, Other Tech Moguls Lose Billions As Stocks Suffer Slump
KEY POINTS
Nasdaq composite index is in correction territory
The market index is mostly made up of tech stocks
World's richest tech moguls collectively lost $96 billion so far this year
Some of the biggest names in tech, including Tesla CEO Elon Musk, Amazon CEO Jeff Bezos, Microsoft co-founder Bill Gates and Meta (formerly Facebook) founder Mark Zuckerberg, have lost billions since the beginning of the year with cryptocurrency and tech stocks continuing to slump.
Tech billionaires are seeing a rough start to the year with the Bloomberg Billionaires Index showing the moguls have collectively lost $95 billion of their personal wealth. The sharp decrease is because their wealth is associated with the shares they own in their respective companies, which have taken a hit in recent days.
The losses reduced the wealth of Tesla CEO and Time Magazine 2021 Person of the Year Elon Musk by $27 billion. Amazon CEO and founder Jeff Bezos lost almost $25 billion while the wealth of Microsoft co-founder Bill Gates dropped by $9.5 billion.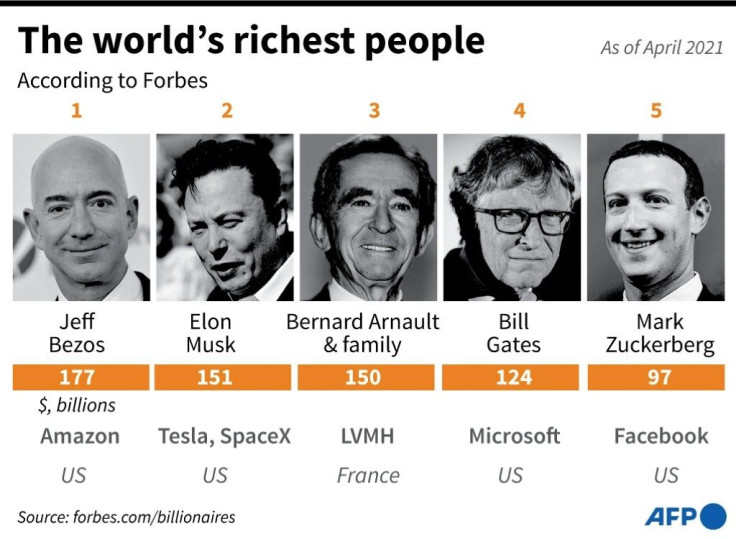 Google co-founder Larry Page lost $11 billion while the company's other co-founder, Segey Brin lost $12 billion. Meta founder Mark Zuckerberg lost $12 billion.
The net worth of Bernard Arnault, CEO and chairman of French luxury conglomerate LVMH, dropped by $10.5 billion.
Several factors are behind the drop in the fortunes of the world's richest tech moguls.
One such factor is that tech stocks have been hit hard amid speculation about emerging interest rate increases.
Currently, the Nasdaq composite index, which is made up of a huge number of technology stocks, is in correction territory. Based on its all-time closing high in November 2021, Nasdaq's stock market index plummeted almost 14%.
When markets closed on Jan. 21, Nasdaq was down 7.6% for the week, its biggest slump since March 2020. The index also experienced its fourth successive weekly plummet, which was the longest decline over the past nine months.
Investors are also reacting to the scheduled meeting of the Federal Open Market Committee and the scores of bluechip earnings. The increasing geopolitical tension between Moscow and Washington is also seen as a factor affecting the ongoing tech stocks slump.
New York Stock Exchange senior market strategist Michael Reinking said in a note to clients last week that "the move in interest rates is going to remain a focal point, but at least until next Wednesday when Fed Chair Powell will provide an update." He added that "the focus should start to shift to corporate earnings."
© Copyright IBTimes 2023. All rights reserved.