Muslim-Dominated Nations Hold Overwhelmingly Negative Views Of ISIS, Pew Survey Finds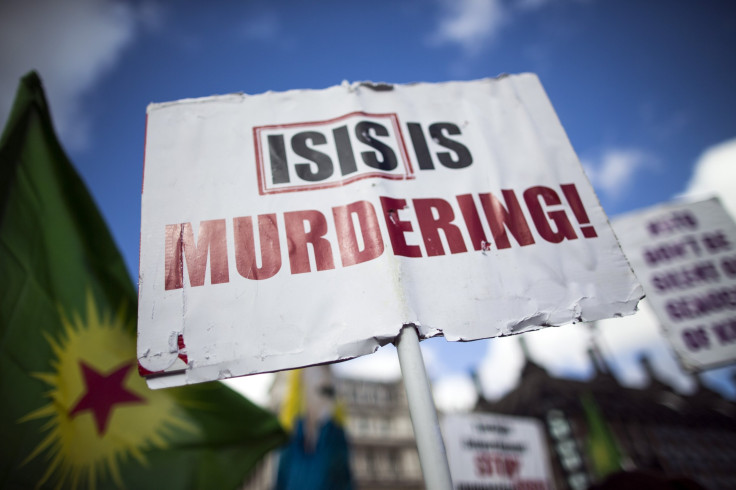 With the recent spate of deadly attacks in Beirut, Paris, and most recently, in Nigeria, global attention has, in earnest, focused on the rise of extremist organizations such as the Islamic State group. Many have now urged Muslim leaders, scholars and leaders of Muslim-dominated nations to do more to tackle radicalization within their communities, indicating growing global fears over the rise of Islamic extremism.
According to a new survey by the Pew Research Center, the overwhelmingly negative perception of ISIS is not limited to Western nations alone. Data collected in 11 countries with a significant Muslim population shows that the Sunni militant group is almost universally hated.
The survey was conducted in April and May this year, and asked people in these countries -- which include several Middle Eastern and African nations -- to categorize their opinion of ISIS as unfavorable or favorable. It found that nowhere did more than 15 percent of the population show favorable attitudes toward the militant group. Moreover, in countries with mixed religious and ethnic populations, such as Indonesia, Nigeria and Malaysia, negative views of ISIS "cut across these lines."
For instance, in Lebanon, which boasts of a significant Christian population, and where Shia and Sunni Muslims are present in almost equal numbers, 100 percent of those surveyed had an unfavorable view of ISIS, including 99 percent with very unfavorable opinion. As much as 98 percent of Lebanese Sunni Muslims, and 100 percent of Shiites and Christians expressed hostility and distaste for ISIS.
"Israelis (97 percent) and Jordanians (94 percent) were also strongly opposed to ISIS as of spring 2015, including 91 percent of Israeli Arabs. And 84 percent in the Palestinian territories had a negative view of ISIS, both in the Gaza Strip (92 percent) and the West Bank (79 percent)," Pew said, in a statement.
The two outliers were Nigeria -- victim of a recent attack by the ISIS-affiliated Boko Haram -- and Pakistan.
"In Nigeria, there was somewhat more support for ISIS (14 percent favorable) compared with other countries, but attitudes differed sharply by religious affiliation," the survey found. "An overwhelming number of Nigerian Christians (71 percent) had an unfavorable view of ISIS, as did 61 percent of Nigerian Muslims. However, 20 percent of Nigerian Muslims had a favorable view of ISIS when the poll was conducted in the spring of this year."
In Pakistan, only 28 percent expressed unfavorable views for ISIS, with the majority -- 62 percent -- offering no definite opinion.
Given that the survey was carried out long before the recent spate of attacks by the extremist group, and that nations across the globe have since vociferously condemned its actions, hostility toward ISIS is likely to have risen significantly over the past week.
© Copyright IBTimes 2023. All rights reserved.