Myanmar Delays Telecom Licenses Award To Foreign Firms Until A New Telecoms Law Is In Effect
Myanmar is delaying the awarding of two telecoms licenses, originally scheduled for Thursday, until a new telecommunications law comes into effect. The licenses will allow two foreign companies to tap into one of the last telecommunications frontiers by operating new mobile networks in the previously isolated country.
The bidding for the licenses had been enthusiastic. As only around 5 percent of the country's 60 million people currently have mobile phones, and the government is hoping to raise the mobile penetration level to 80 percent in the next three years, Myanmar represents a lucrative market for telecom companies.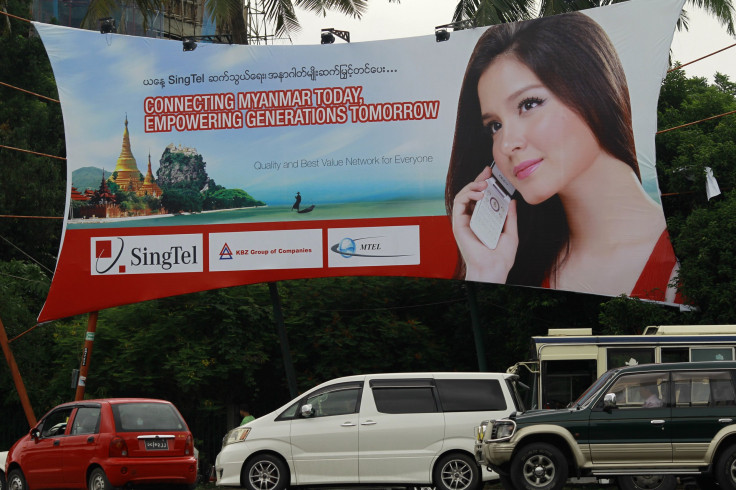 Eleven companies have been shortlisted from the 90 that submitted bids initially. Some finalists have begun opening offices and even recruiting staff in anticipation of the announcement, the Associated Press reported.
However, as Myanmar's lower house of parliament agreed on Wednesday to delay awarding the business until the new telecommunications law comes into effect, these companies may have to wait a while longer to get started in the country.
The law is still stuck in parliament currently.
"A lower house lawmaker tabled an important motion suggesting that choosing the two telecoms operators should be postponed until the new telecoms law is enacted," Thein Nyunt, a lawmaker and chairman of the New National Democratic Party, told Reuters, adding that no objection was raised in parliament.
The draft bill that is slowing down the process incorporated proposals drawn up under the junta that violate freedoms of expression, according to Human Rights Watch. Firms might be required to restrict or intercept communications or let the government "utilize telecommunications equipment" during any public emergency, Reuters quoted a confidential tender invitation.
While Myanmar's mobile penetration rate is lower than North Korea's currently, rapid development in the country's infrastructure and its economy is expected as foreign investment pours in, following the lifting of Western sanctions against it in recent years.
''It's a great first start,'' said Richard Dobbs, director of the McKinsey Global Institute, according to AP. ''My only hope is that the winners will move quickly to get broadband — either 2G, 3G or 4G — rolled out countrywide.''
''This should not just be about profit maximizing,'' Dobbs said. ''It should be about enabling other services,'' Dobbs said.
Foreign companies' bids are not without risks, as the country has yet to pass a law to govern the sector, and where opaque, state-owned enterprises, which have until now dominated the market, will remain powerful players, Reuters reported.
The winners of the bid will also have to start from scratch in Myanmar. The telecommunications industry has long been neglected by the country's former military regime, according to AP, and the original network set up by military-owned enterprises was only intended for a small percentage of the population – mostly the rich. As such, SIM cards in Myanmar cost up to $2,000 just a few years ago.
Faced with large investments and uncertain returns, Vodafone Group and China Mobile have already dropped their joint bid for a license, saying it did not meet their "internal investment criteria." Other bidders are rightly nervous about how political reforms will evolve, and how regulation and ownership rights will develop.
The government plans to create a new regulator by 2015, Reuters reported, and will transform the current one, Myanmar Post and Telecommunications (MPT), into a majority state-owned company.
© Copyright IBTimes 2023. All rights reserved.