NASA Mars Rover Looks Like It Came From The Future To Explore An Alien Planet
The first astronauts who visit and explore Mars could be traversing the rugged landscape in a vehicle that rivals the Batmobile. NASA has officially debuted a prototype Mars rover that looks ready to chase after the Joker.
In a post on Facebook, NASA's Kennedy Space Center called it a "fierce new Mars rover concept vehicle" as a video showed the rover rolling along the pavement, clad in black with the exception of its front windows.
The rover was "designed for navigating the demanding landscape of Mars," NASA explained. "Based on NASA science, it functions as both a working vehicle and laboratory. The next generation of space explorers could be traveling and working in a high-tech mobile lab similar to it. The rover features life support systems, navigation and communication systems, and design and materials that relate to conditions and resources on Mars."
And it doesn't hurt that it resembles the Tumbler that Christian Bale's Batman drives in the movie, "Batman Begins."
Read: NASA Launches Student-Designed Mars Rovers
Parker Brothers Concepts and SeaDek designed the four-seater model rover out of aluminum and carbon-fiber. It measures 28 feet long, 14 feet wide and 11 feet tall, and has "massive wheels designed to travel over dunes, rocks and craters," NASA said.
CBS News reports that inside, it has the feel of an SUV. Well, an SUV with a lab in its rear half.
The Parker brothers behind the eponymous company previously have designed and built vehicles for movies, such as the motorcycles in Tron.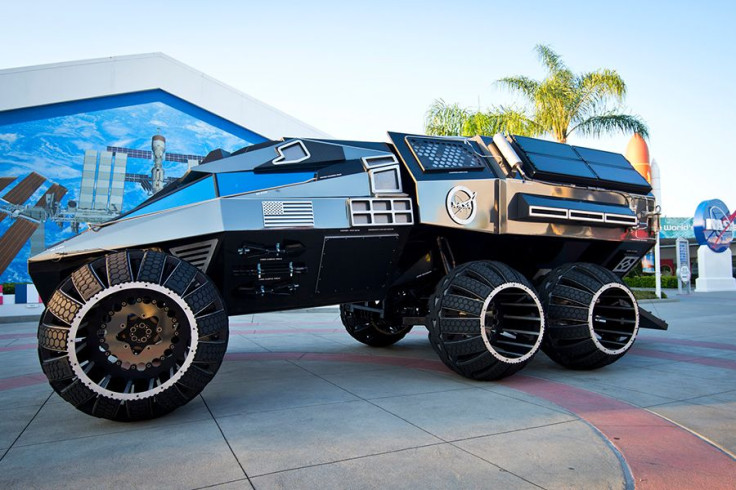 "Some of this was just for design. You know, just for it to look cool," Shanon Parker told CBS News. "Other things that I thought, you know, this is kind of important to have."
Nerdist reported the rover could go 60 to 70 mph.
NASA previously gave a sneak peek of the rover concept at Kennedy. It was revealed that the 5,000-pound vehicle could split in two to separate the lab in the back from the scouting vehicle at the front.
Read: Humans on Mars Might Evolve into a New Species
Although it might be a hint of future manned rovers to come, this particular concept is not currently slated to roam on Mars. Instead, the rover concept will be on display at the space center in Florida until July 4 before going on tour as part of NASA's Summer of Mars program, which is geared toward educating people about Earth's neighboring planet.
Whether it goes into space or not, it's just one of many Mars-themed technologies NASA is involved in developing. Earlier this year the space agency revealed its Puffer robot — full name Pop-Up Flat Folding Explorer Robot — which is small, agile and can fold up into itself to squeeze into tight spaces that need to be explored on Mars. NASA had explained a fleet of Puffers could accompany a larger rover to the Red Planet to share the workload, including tag-teaming in locations the more cumbersome main vehicle cannot reach.
© Copyright IBTimes 2023. All rights reserved.
FOLLOW MORE IBT NEWS ON THE BELOW CHANNELS