Nathan's Hot Dog Eating Contest 2014 Live Stream: Where To Watch Fourth Of July Competition On TV And Online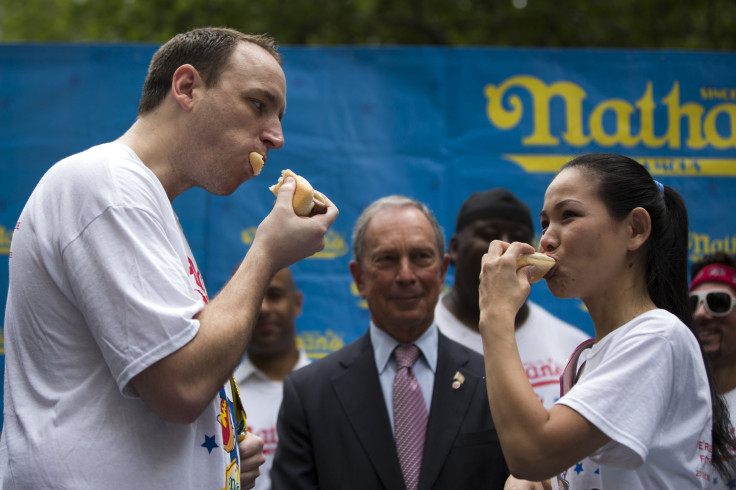 The 2014 Nathan's Hot Dog Eating Contest will commence this Friday on the Fourth of July.
As many as 40,000 people are expected to gather at the famed corner in Brooklyn's Coney Island, the site of the original Nathan's Hot Dogs. Revelers will watch Joey "Jaws" Chestnut, the reigning champ, and dozens of other competitive eaters gorge on hot dogs.
Coverage will begin at 10 a.m. EDT on Friday for the competition, held yearly on the corner of Surf and Stillwell avenues. But for those not in New York City's summertime hotspot, Nathan's Hot Dog Eating Contest will be televised live on ESPN 2 at noon and again on ESPN at 2 p.m. following Wimbledon. There will also be a live stream of the competition to watch here at WatchESPN online.
ESPN said the one-hour show garnered over one million viewers.
The winner of the men's and women's 10-minute all-you-can-eat competition will be awarded $20,000 each as well as bragging rights for a year.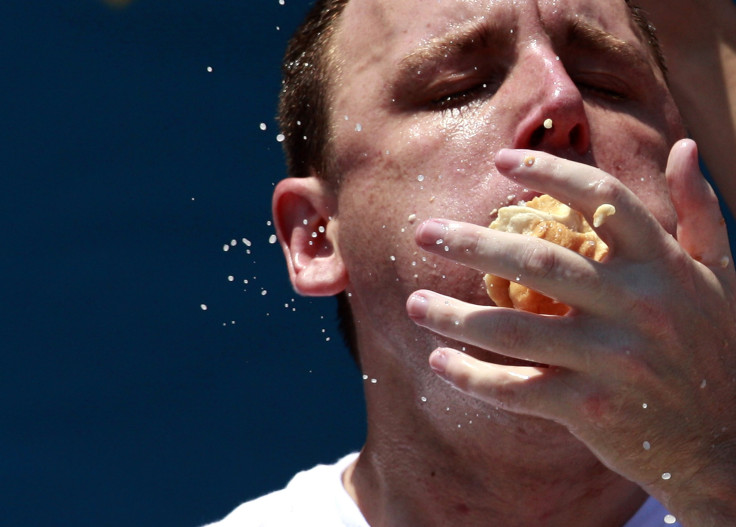 The biggest name in Friday's competition, and the frontrunner to win the whole thing, is Chestnut, a San Jose, California-native who has won the competition for the past seven years. Last year, Chestnut devoured 69 hot dogs with buns to win the 2013 Nathan's contest while his competitor, Takeru Kobayashi, ate 67 at a rival event across town. Chestnut broke his own record of 68 hot dogs. The New York Post reported that though he fell short of his 70 hot dog goal, he did consume his 400th hot dog since he started competitive eating.
According to CBS New York, 28-year-old Chestnut has set a goal of 72 hot dogs this year, adding he has been preparing for six weeks.
"It'd be great to not only break the record, but smash it," Chestnut said. "I know I can do 72, I've done it comfortably and clean in 10 minutes. It'd be nice to even eat the last hot dog with some mustard on it."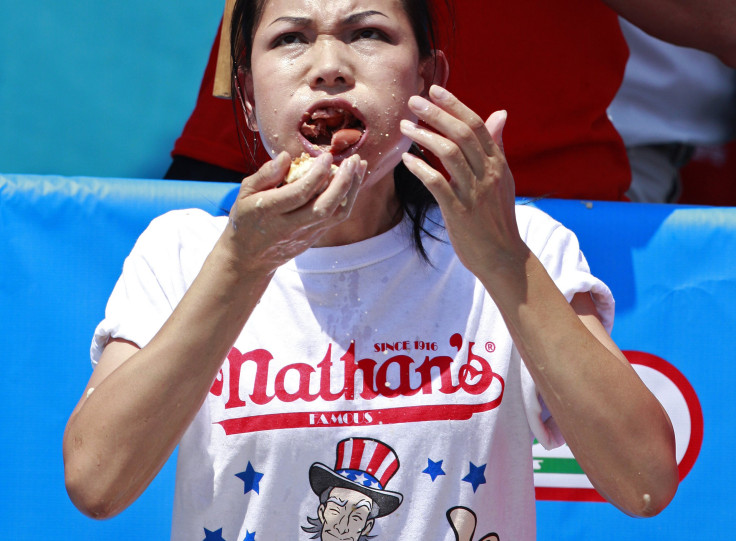 In the female category, three-time winner Sonya "The Black Widow" Thomas, 43, is defending her title after eating 37 hot dogs in 10 minutes at last year's event.
According to Nathan's Hot Dog legends, the first hot dog eating contest was held in 1916 on July 4 by four European immigrants to determine who was the most patriotic. An Irish immigrant named James Mullen won by eating 13 hot dogs in 12 minutes. The first official contest was held on Independence Day 1972, which was won by Brooklyn college student Jason Schechter with 14 hot dogs.
A total of 28 will compete in this year's contest—16 men and 12 women.
For those heading to Coney Island for the event, which is open to the public for free, entertainment begins at 10 a.m., the women's contest begins at 11:30 a.m. and the men's contest begins at 12:40 p.m. More information is available on the Nathan's website.
If you plan on watching the wiener-eating competition from, here's where and when you can watch Nathan's Famous July 4 International Hot Dog-Eating Contest.
July 4 11:15 AM EDT: Nathan's Famous Hot Dog Eating Contest - Women's Championship (ESPN3)
July 4 11:15 AM EDT: Miki Sudo Camera - 2014 Nathan's Famous Hot Dog Eating Contest (ESPN 3)
July 4 12:00 PM EDT: Nathan's Famous Hot Dog Eating Contest (ESPNEWS)
July 4 12:00 PM EDT: Joey Chestnut Camera - 2014 Nathan's Famous Hot Dog Eating Contest (ESPN3)
July 4 2:00 PM EDT: Nathan's Famous Hot Dog Eating Contest (ESPN2)
July 4 6:00 PM EDT: Nathan's Famous Hot Dog Eating Contest (ESPN2)
July 5 12:00 PM EDT: Nathan's Famous Hot Dog Eating Contest (ESPN2)
July 6 1:00 PM EDT: Nathan's Famous Hot Dog Eating Contest (ESPN2)
FOLLOW MORE IBT NEWS ON THE BELOW CHANNELS