National Cathedral Installs Netting Before Obama Visit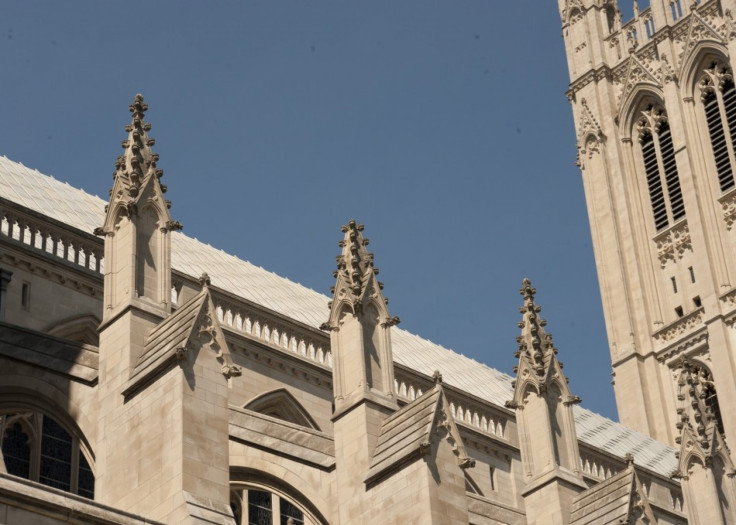 The Washington National Cathedral, which will be visited by President Obama on Sept. 11, is installing safety netting across its interior vaulting to protect visitors from falling debris.
The netting runs across the nave and choir areas of the massive cathedral, damaged in last week's earthquake. Since the 5.8-magnitude quake hit the nation's capital last week, the limestone structure has been closed to the public.
President Obama and other dignitaries are scheduled to attend memorial services on Sunday, Sept. 11 to commemorate the 10th anniversary of the 2001 terrorist attacks. We don't anticipate any additional elements to fall, the cathedral spokesman, Richard Weinberg, told The Washington Times. He said that the netting is strictly a precautionary measure.
The earthquake damaged three of four spires atop the cathedral's 300-foot-tall central tower and caused major cracks in the building's exterior. Cathedral officials said it also shook loose mortar between interior bricks, causing small pieces of mortar to fall from the ceiling.
The Cathedral Church of St. Peter and St. Paul was designed by the architectural firm of Frohman, Robb & Little and construction began in 1907. President Theodore Roosevelt laid the cornerstone. Construction continued on the cathedral through 1990, when President George H.W. Bush attended the ceremonial laying of the last limestone brick.
Although technically affiliated with the Episcopal Church, the cathedral has positioned itself in recent decades as a leftwing interfaith center open to people of all faiths and perspectives. It is known for welcoming controversial Muslim clerics, including the former president of Iran, Mohammad Khatami.
© Copyright IBTimes 2023. All rights reserved.