NBCUniversal CEO Says New CBS, HBO Streaming Services Won't Disrupt TV Ecosystem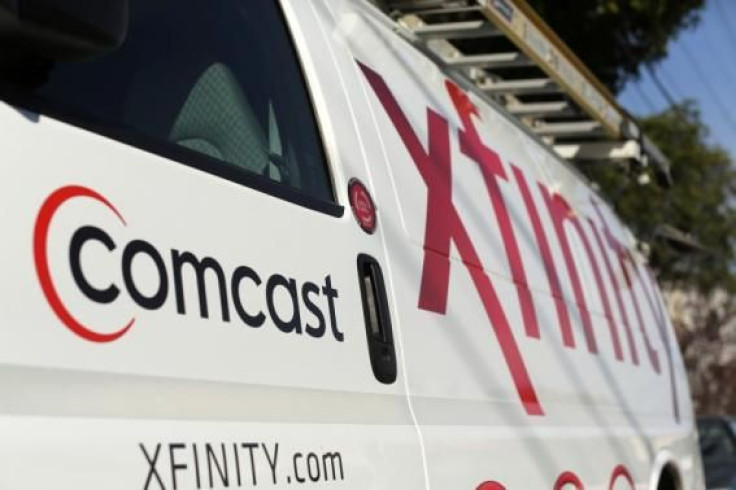 Comcast Corporation reported 50 percent higher quarterly profits due to strong performances from both its broadband and network TV businesses. The cable and entertainment conglomerate benefited from better-than-expected additions of new high-speed Internet customers and higher ratings at its venerable broadcast network NBC.
The Philadelphia-based company posted a fiscal third-quarter profit of $2.59 billion, or 99 cents per share, on revenue of $16.79 billion, compared with earnings of $1.73 billion, or 65 cents per share, on revenue of $16.15 billion a year ago. Excluding a one-time tax settlement, Comcast reported EPS of 73 cents, 2 cents above analysts' estimates.
Wall Street had expected Comcast to turn in earnings of 71 cents a share on nearly $16.82 billion in revenue, according to analysts polled by Thomson Reuters. Comcast's stock rose over 2 percent, to $52.85, in morning trading.
Comcast is in the approval process for its takeover of Time Warner Cable, a $45 billion deal that the company said will be completed in 2015 despite the U.S. Federal Communications Commission hitting the pause button on its 180-day review. "We received overwhelming support from our shareholders this month, with over 99 percent of the votes cast approving our merger with Time Warner Cable," said Michael Angelakis, chief financial officer at Comcast.
This past week, both CBS and HBO announced video services that bypass the traditional cable package and go directly to consumers. As the largest cable-and-entertainment conglomerate in the U.S., Comcast theoretically has the most to lose from the erosion of the pay-TV business that has been so lucrative for so many years.
Steve Burke, CEO of Comcast's NBCUniversal unit, said that he was "surprised" by CBS and HBO's new cable-free subscription streaming services but doesn't think it will disrupt the television ecosystem. "I think it is going to be such a challenge for them [HBO] to not cannibalize what is already a really, really good business," he said. "Both HBO and CBS are trying to add to their existing ecosystem."
Because these companies are so early in the transition to Internet television, the chief executive officer thinks there are more surprises to come in the industry. Broadband is Comcast's most lucrative service, but it is also earning programming fees from companies streaming NBC Universal content. "It's surprising to me that we're making hundreds of millions of dollars from Hulu and Netflix and Amazon, businesses that we didn't even think about five years ago," he said.
Comcast's two main divisions, Comcast Cable and NBCUniversal, both saw positive gains in the quarter. The company added 315,000 high-speed Internet customers since the previous quarter, up almost 6 percent from a year earlier, bringing the total number of customers to 21.6 million.
Comcast lost 81,000 video subscribers in the quarter, bringing its total to 22.4 million. That was the fewest video customers lost in a third quarter in seven years. Next quarter Comcast expects to have more high-speed Internet customers than cable TV subscribers.
Meanwhile, revenue at Comcast's NBCUniversal segment jumped 7.7 percent, to $1.8 billion, compared with $1.6 billion a year earlier, driven by an increase in advertising revenue due to strong ratings at the NBC broadcast network. Ad revenue at NBC rose 4.4 percent, to $1.15 billion, due to strong performances from "The Voice," "The Blacklist" and "Sunday Night Football."
© Copyright IBTimes 2023. All rights reserved.