Netanyahu, Samantha Power AIPAC Speech: Israel, Iran, US Relations Dominate Policy Conference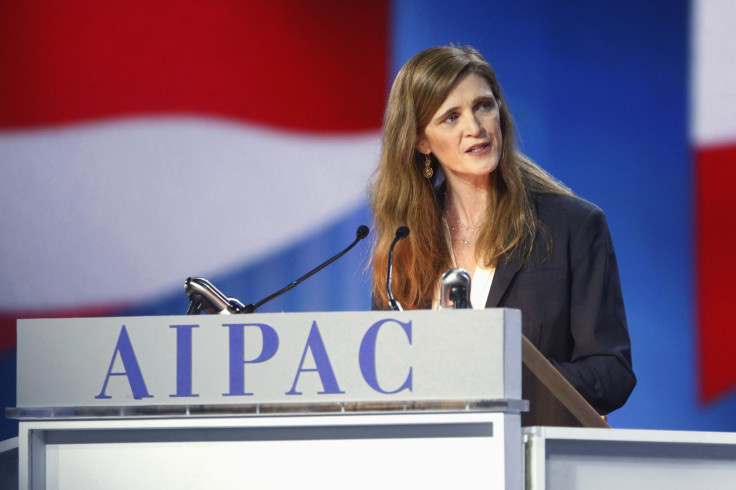 The Obama administration's ambassador to the United Nations defended relations between the U.S. and Israel Monday amid growing tensions between President Barack Obama and Israeli Prime Minister Benjamin Netanyahu. "Israel's security and the U.S.-Israel partnership transcend politics and it always will," U.N. Ambassador Samantha Power said at the annual policy conference of the American Israel Public Affairs Committee, the largest pro-Israel lobby in the U.S. "There will never be a sunset to America's commitment to Israel's security. Never."
Power also defended Obama's efforts to finalize a nuclear deal with Iran a day before Netanyahu was scheduled to blast the negotiations before Congress at the invitation of Republican leaders. Her speech came minutes before Netanyahu also spoke at the AIPAC event Monday morning. He said the friendship between the U.S. and Israel "will weather the current disagreement to grow even stronger."
Susan Rice, Obama's national security adviser, has called Netanyahu's plans to address Congress "destructive" to the fabric of the U.S.-Israel relationship. But Netanyahu officials have said his trip to Washington, D.C., was not aimed at offending Obama. "The prime minister is here to warn, in front of any stage possible, the dangers" of the agreement that may be taking shape with Iran, an adviser said, speaking anonymously under a policy that bars the official from speaking on the record.
Obama has said he will not meet with Netanyahu in Washington this week to avoid the appearance of influencing Israeli elections scheduled for later this month.
The U.S., along with Britain, France, Germany, Russia and China, is seeking to curtail Iran's nuclear program in exchange for sanctions relief ahead of a late-March deadline. Netanyahu opposes the deal. "We believe diplomacy is the preferred route to secure our shared aim. But if diplomacy fails, we know the stakes of a nuclear-armed Iran as well as everyone here. We will not let it happen," Power said at the conference Monday, according to the New York Times.
Obama, Vice President Joe Biden, and Secretary of State John Kerry have addressed the AIPAC conference in the past.
© Copyright IBTimes 2023. All rights reserved.