Nevada 'Union Armageddon' Bill Targets Public Sector Collective Bargaining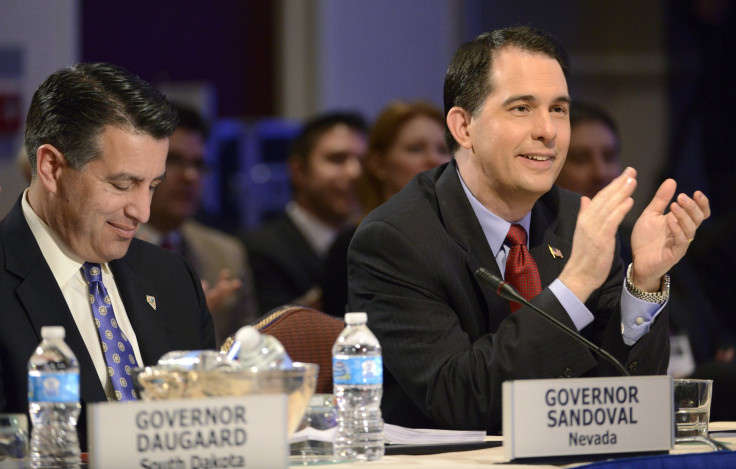 Nevada may soon have its Scott Walker moment. Wednesday, state legislators will hold their first hearing on legislation that would introduce sweeping changes in collective bargaining in the public sector. Critics call it the "union armageddon" bill.
"It's stopped short of prohibiting collective bargaining entirely, but would make it so onerous that the system as it has functioned would grind down," says Ruben J. Garcia, a law professor at the University of Nevada, Las Vegas.
Focusing on the public sector, the proposal would prevent unions from automatically deducting fees from the paychecks of their members, prohibit collective-bargaining agreements from halting layoffs during budgetary crises and put a stop to paid leave for union members so they can conduct bargaining with employers. It also would block the use of so-called evergreen language that permits labor contracts to remain in place until they are replaced by successor agreements, a practice that unions say discourage employers from intentionally dragging out negotiations.
The bill's leading sponsor, state Assembly Member Randy Kirner, a Republican, contends he's just attempting to cut wasteful spending. "We've lost the balance between the interests of the taxpayer and the union," he says.
Enactment of the bill would have a clear impact on Nevada's public-sector unions -- similar to the one in Wisconsin when its Gov. Scott Walker successfully pushed to limit the collective-bargaining rights of most public employees in 2011. If the bill were to pass, political leaders would be less likely to see public-sector unions as a relevant force, dooming labor's agenda over time, Garcia says. Meanwhile, workers would be less likely to support unions if they are unable to deliver and enforce good contracts.
Since 1952, Nevada has been a right-to-work state, which means that workers covered by collective-bargaining contracts are not required to financially support the unions that won them. Labor advocates say the so-called union armageddon bill could sting just as badly as that reform did.
"You have to go back to the battles around right-to-work in the '50s to find something this vicious," says Andrew Barbano, a columnist and longtime labor consultant in Nevada.
Like other state-level bills putting unions on the defensive across the country, the proposal's immediate roots lie in the GOP's takeover of the Nevada Legislature. For the first time since 1929, Republicans now control both legislative chambers and the governorship.
In his state-of-the-state address, Gov. Brian Sandoval called on the Legislature to enact "collective-bargaining reform." But he's kept his distance from Kirner's bill so far.
"It is premature to comment on this bill due to its early stage," Sandoval representative Mari St. Martin says. "If a final version of this bill makes it to his desk, he will give it the thorough review that it deserves."
Sandoval has already signed one controversial bill fiercely opposed by unions this session. That legislation eliminated the state's prevailing-wage law -- which sets pay floors in the construction industry -- as it applied to school building projects. He's also advocated overhauling the public-employee pension system.
"He hasn't come out for this in a Scott Walker anti-union kind of way," says Yvanna Cancela, political director for Culinary Workers Union Local 226 of Unite HERE, a powerful force in state politics that most famously represents Las Vegas casino workers. "That said, it's hard for him to justify to his party not to pass these bills."
Barbano says the collective-bargaining reforms -- much like a proposed voter-identification law and election redistricting plan -- are part of the GOP's broader effort to reshape state politics through at least the next census, in 2020.
"What the Republicans are trying to do is give themselves governmental hegemony through 2022," Barbano says. "They have a chance to cripple organized labor in Nevada, which is a powerful political force."
Although it is a right-to-work state, Nevada's unionization rate of 14.4 percent is above the national average of 11.1 percent. That's due to powerful private-sector unions in the hospitality and construction industries, but also to fact a large proportion of public-sector workers choose to join unions. By weakening organized labor, the GOP hopes to remove a reliable obstacle to its conservative agenda, Barbano says.
"I don't speak to people's motivations, but there's a pretty clear correlation between GOP takeovers of state legislatures and quote, unquote collective-bargaining reforms," says Garcia, the UNLV law professor.
After Republican statehouse takeovers in 2010, Indiana, Michigan and, most recently, Wisconsin have passed right-to-work legislation.
For his part, Kirner flatly denies his bill is about weakening opponents of his party's agenda. "This is not a politically motivated thing," he says. "That's nonsense."
© Copyright IBTimes 2023. All rights reserved.
FOLLOW MORE IBT NEWS ON THE BELOW CHANNELS