The New iPad Release Date March 16, 2012; Pre-Order at Apple Store Online Now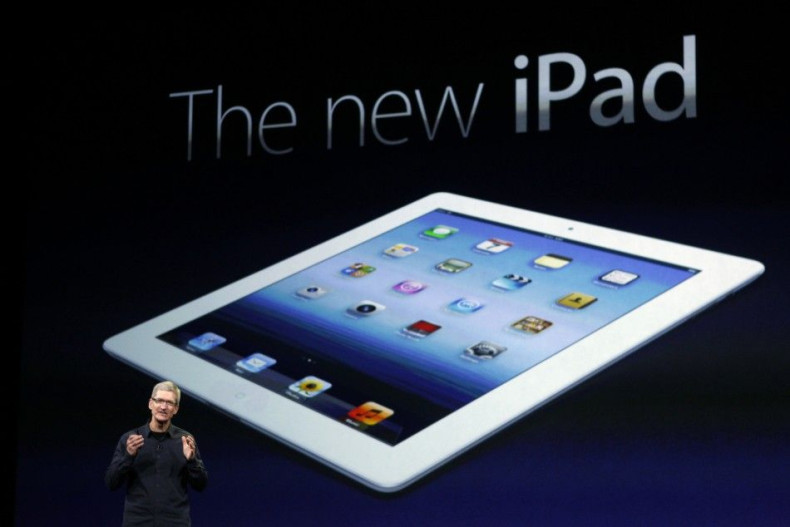 Apple's third-generation iPad, formally known as the new iPad, will officially go on sale March 16, 2012, around the world. This will be Apple's biggest roll-out ever. Apple will release the new iPad in brick and mortar stores as well as on its online store on that date, but pre-orders start Wednesday. If you want one as badly as I do you'll be happy to know that the pre-orders start today, said Apple VP Phil Schiller. Pricing for the iPad the new iPad will start at $499 for 16GB.
Click here to pre-order Apple's new iPad.
Apple unveiled the new iPad , which many speculators previously dubbed iPad 3 and iPad HD, at the Yerba Buena Center of the Arts in San Francisco, Calif., on Wednesday at 10 a.m. PST/1 p.m. EST. Apple's new CEO Tim Cook took to the stage to show the world the tech-giants newest product.
Apple first announced the new iPad unveiling on Feb. 28, delivering a simple invitation to members of the media: We have something you really have to see. And touch.
The new iPad Features
We think that iPad is the poster child of the post-PC world. The momentum behind iPad has been incredible, and it surprised virtually everyone, Cook said. Now when we set out to create the iPad, we set out to create not just a new product, but a new category and we said that in order to do that, the iPad had to be the best device for doing the kinds of things you do the most often, things like browsing the web or checking e-mail.
Three of the biggest uses for the iPad, as reported by owners, are books, email and games. When we asked iPad users who had an iPad, notebook, and phone what their favorite device for email was, and they said iPad. Same for books. Users with a gaming console and portable console said the iPad was their favorite for gaming, added Cook. There will be over 200,000 bundled apps custom-built for the bigger screen of the new iPad.
Along with the app and gaming possibilities, the new iPad will feature:
4G LTE, all iPads will be 3G world-ready
9.4 mm thin, 1.4 lbs
Retina display for stunning visual imagery with 264ppi
A 2048 x 1536 resolution and 3.1 million total pixels
A5X processor and quad-core graphics
iSight camera 5-megapixel backside illuminated sensor on the back, 5-element lens, IR filter, ISP built into ?the A5X chip, auto-exposure/auto-focus, face detection
Upgraded iPhoto editing capabilities (available 3/7 for $4.99)
Voice dictation with a microphone built-in on bottom of keyboard
10 hours of battery life
New exclusive iOS available in April
The new iPad Pricing
The new iPad with WiFi prices include: $499 for 16GB, 32GB is $599 and 64GB for $699. The new iPad with WiFi + 4G LTE prices include: $629 for 16GB, $729 16GB and $829 for 32GB. Sorry, no 128GB yet.
By keeping the new iPad priced at $499, Apple can then reduce the prices of its previous tablets. Industry insiders predicated the decreased cost of an iPad 2 in unison with the new iPad release. The once-$499 iPad 2 will drop to $399, while the original iPad may become obsolete. Though this is mere speculation, Apple has removed the original iPad from its online store.
Jason D. O'Grady of ZDNet predicted before the unveiling that a low-cost iPad 2 will decimate the tablet market.
Imagine what a $399 (or even $349) iPad 2 would do to the rest of the market, said O'Grady. It would simply obliterate it. It would make the decision between a $200 Kindle Fire and a cheap iPad 2 much, much harder. It would also make the decision to go with an iPad much easier for parents and grandparents who are uneasy about spending $500+ on what's perceived to be a 'premium' priced or luxury product.
Market Competition
The new iPad release finally silenced the many rumors being whispered about Apple's newest tablet, following the hugely successful iPad 2. According to one report released on Tuesday, analysts expect consumers to clamor for the new iPad and this excitement will boost iPad sales up to 60 million for 2012. If realized, this would bring the total number of iPads sold to over 100 million since April 2010.
The new iPad release date of March 16 makes perfect sense. Just nine days after the official March 7 unveiling, the new iPad will ride the buzz into what will surely be a shelf-clearing seller for Apple. Waiting the nine days also gives Apple employees time to learn how to use the device and acquire necessary knowledge to teach new customers.
With the in-store release date inching closer, the new iPad is prepping to enter the tablet market as yet another competitor in the ring. This ring, however, is getting increasingly crowded and the new iPad's success is not 100 percent fail-proof.
Amazon's Kindle Fire is a popular item, priced at just $199. Barnes & Noble's Nook is another inexpensive alternative with the same price tag as the Kindle Fire. Microsoft recently revealed its Windows 8 operating system, which was purposefully designed to work in unison with tablets, according to The New York Times. Technologically advanced individuals have also been using Google's Android platform to create newer tablet models as well, cited The Times.
However, as Cook highlighted on Wednesday, the iPad has a leg up with its display and app. This is a key reason why momentum on iPad continues to build and the competitive tablets aren't gaining traction, he said. He later ended his presentation by thanking Apple, calling it the privilege of a lifetime to work with the? most innovative [people] on earth.
Will Apple's new iPad slay the competition and reign as tablet king?