A New Low For Nigeria As Oil Thieves Drag National Economy, Global Markets Down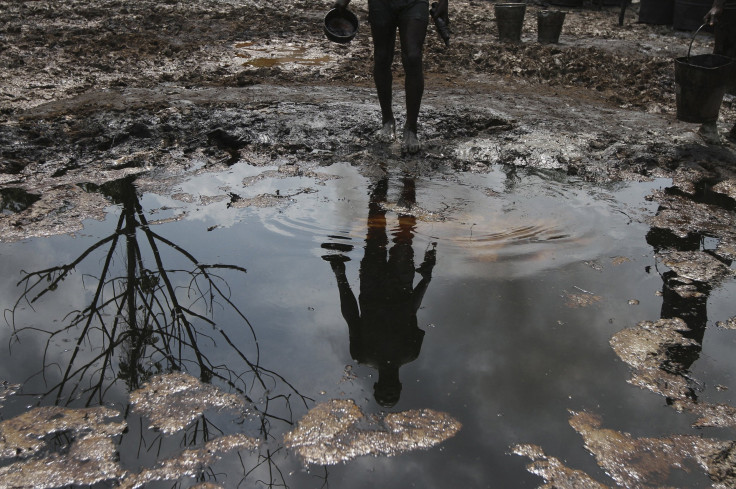 Hidden by mangrove trees in the murky swamps of Nigeria's southern Delta region, a thief stealthily bores a hole into a giant oil pipeline. The crude he siphons off might be on its way to a domestic makeshift refinery, or shipped to buyers abroad. Either way, the illicit income earned will help this criminal to keep his head above water in a nation wracked by poverty.
It's hard to believe this type of crime could have a significant impact on global oil markets. But in Nigeria, the scale of oil theft is massive. The people who participate in this underground market are called bunkerers, and the central government is doing its best to combat what has lately become the greatest threat to its export economy.
Recently, Nigeria reached a low point. Production this summer is at 1.9 million barrels per day, or bpd, which is down from an average of more than 2.5 million bpd last year. This is the lowest output Nigeria has seen since 2009. The country boasts the second-largest economy on the African continent, and is still the biggest oil producer in Africa -- but just barely. Angola, which is striving toward a goal of 2 million bpd, is on track to surpass Nigeria's production as early as next year if current trends continue.
"Output has been less than 2 million barrels a day for several months," Rolake Akinkugbe, head of energy research at Ecobank, told Financial Times. "It's a reflection of the headwinds facing oil companies in Nigeria."
As crude spills in the south, officials in Nigeria's capital city of Abuja are becoming desperate. The government's approach is two-pronged: It is already paying some would-be thieves in order to de-incentivize bunkering, but that stop-gap measure isn't holding up. The military, meanwhile, is taking a much more aggressive tack.
"Illegal refineries are not far away from the communities. We will not allow them to continue to operate. When we locate them, we destroy them," said Maj. Gen. Bata Dabiro, commander of the Joint Task Force in Niger Delta, according to Nigerian newspaper The Punch. "We also destroy their tanker trucks and... boats. Thousands of illegal refineries have been destroyed and 24 vessels arrested."
Despite all this, Nigeria loses at least $7 billion annually to oil theft and illicit refining, according to the latest Oil Market Report from the International Energy Agency, and it's only getting worse each year. Officials reported a whopping 17 percent drop in official oil sales as a result of theft in the first quarter of 2013, which amounts to a loss of $1.2 billion over the course of a single month.
Oil thieves do more than just siphon crude for themselves. Their activities can also introduce pollutants into the crude, damage infrastructure or cause fires and explosions. That scares off investors and major companies including Royal Dutch Shell PLC (NYSE:RDS.A) and Chevron Corporation (NYSE:CVX) have faced setbacks as a result of thievery-related damages in Nigeria and are increasingly favoring offshore projects.
The ripple effect is huge. Nigerian production losses are having a significant impact on total output for Organization of Petroleum Exporting Countries, or OPEC, of which Nigeria is a member. Last month, the bloc's output was 30.31 million bpd, down 1.1 million bpd year-on-year, due largely to stability problems in member countries including Libya, Iraq and Nigeria. That only adds to OPEC's ongoing problems of faltering demand and stiffer competition from North America. The U.S. in particular has been ramping up exports to China, one of the biggest consumers of OPEC petroleum.
To top it all off, oil companies are at odds with the Nigerian government over a proposed plan to increase taxes for foreign investors. Abuja sees the Petroleum Industry Bill -- which could entitle the government to around 75 percent of oil profits -- as a way to replace funds that have been lost to bunkering. The revenues would ostensibly be spent on development but oil company representatives have argued that the bill would only deter investment and thereby cut profits for everyone involved.
Mark Ward, managing director of the Nigerian unit of Exxon Mobil Corp (NYSE:XOM), argued that the bill might bring down oil production by as much as 25 percent. "The terms proposed increase royalties, increase taxes and lower allowances or incentives all at the same time," he said, according to Bloomberg, adding that the law would "create one of the world's harshest fiscal regimes."
As oil corporations wrestle with officials in Abuja over how to distribute the spoils of dwindling petroleum supplies, Nigerian citizens are focused on a deeper issue: development. Oil, which makes up 95 percent of Nigeria's export revenues and gives the country a per capita GDP of $1,555, has so far failed to lower poverty, which affects more than half of the population. Corruption in government has confounded development efforts for years, creating an enormous wealth gap that has angered citizens. In that context, thievery becomes all the more enticing to Nigerians with nowhere else to turn.
Nigeria is already on the brink of losing its title as Africa's biggest oil producer, especially as investors begin to back away. And, if Abuja cannot address its oil theft problem soon, petroleum production levels -- and with it, Nigeria's entire economy -- have little hope of a rebound.
© Copyright IBTimes 2023. All rights reserved.