New Renderings Confirm The Beauty And Power Of The B-21 Raider
KEY POINTS
The renderings show the plane in 3 locations
The aircraft will replace the aging B-1 and B-2 bombers
The B-21 will be nuclear-capable
The USAF wants to buy 100 B-21 planes
It is no secret that the United States Air Force has been developing a new bomber to replace its aging fleet. Those rumors have been confirmed for years, and the public is aware that the B-21 Raider is on the horizon. There have been no direct pictures, but the U.S. Airforce does confirm the existence of the B-21 Raider, and on Friday, they took to social media to show off artist renderings of the plane in three locations. All of the renderings show the B-21 housed in hangers.
According to a report by Defense Blog, the new bomber will be housed at the Dyess Air Force Base in Texas, Ellsworth Air Force Base in South Dakota, and Whiteman Air Force Base in Missouri. There is not a lot of information available on the bomber yet but here is what we do know about it:
The Secretary of Defense stated that the B-21 Raider will support America's defense strategy by forming the backbone of the Air Force's future strike and deterrence capabilities. Aircraft such as the B-1 Lancer and the B-2 Spirit are aging and falling behind in the technology race, so the Air Force has created a replacement.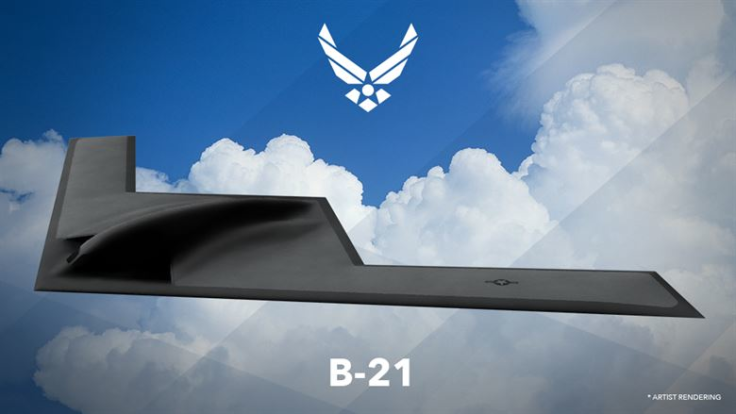 The B-21 Raider will emerge as America's next nuclear-capable aircraft and has been designed to be a long-range, highly survivable bomber. It is described as being able to carry a variety of mixed conventional munitions and nuclear ordnance. This is very important as the Air Force has been manipulating its fleet and removing nuclear capabilities from aircraft such as the B-1 and the B-52 Stratofortress.
There is no direct technical information available on the B-21 Raider. Still, it must be rather impressive to replace aircraft such as the B-1 and the B-2 Spirit, which have been a visual representation of U.S. military force throughout the years. The new aircraft has been designed to be a visible yet flexible nuclear deterrent that will assure U.S. allies and partners as well as supporting other national security objectives. As of now, the Air Force intends to produce a hundred of the aircraft.
© Copyright IBTimes 2023. All rights reserved.