New York City Democratic Presidential Debate Watch Party 2015: The Best Bars, Restaurants To View First Sanders Clinton Showdown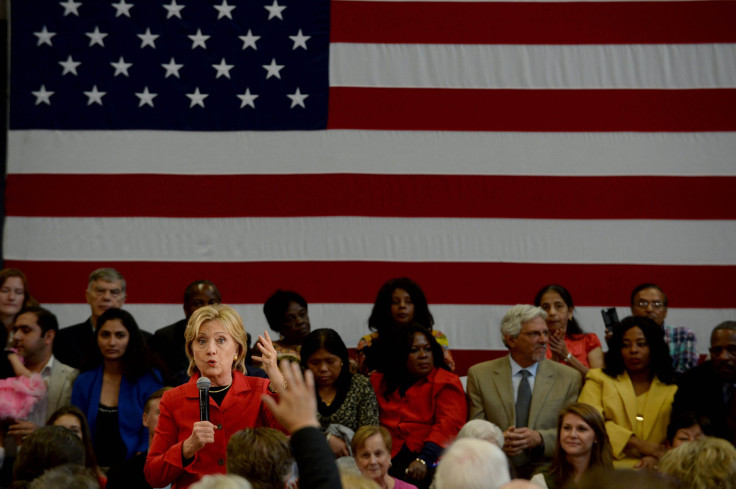 The first Democratic presidential debate is set to take place Tuesday night, beginning at 8:30 p.m. EDT on CNN. With a lively race between top contenders Hillary Clinton and Bernie Sanders and Martin O'Malley, Jim Webb and Lincoln Chafee trailing behind, the candidates are set to face off on everything from healthcare to national security to the economy. If you're a New Yorker who wants to "feel the Bern" or have a beer with "Chillary Clinton," check out some of the best bars and restaurants to watch the showdown in New York City.
Manhattan: East Village dive the 12th Street Ale House (at Second Avenue) will be hosting an alternative debate watching party in which actors from the Theater Asylum will improvise a short play following the debate based on its content. If you're not interested in seeing multiple Bernie Sanders or an avant-garde Hillary Clinton, the Ale House will still be serving up its usual cheap beer throughout the proceedings.
The Stonewall Democratic Club will be clinking glasses to celebrate the first debate at the Stonewall Inn, 53 Christopher St. in the West Village, the famed watering hole that was the location of the Stonewall Riots, which are credited with launching the gay rights movement in 1969.
The Harlem Tavern, located at 2153 Frederick Douglass Blvd, will be serving happy hour special drinks during its viewing party, including $5 beers, wine and well drinks.
Brooklyn: The Brooklyn Young Democrats are hosting an event starting at 7 p.m. at Die Koelner Bierhalle, 84 St. Mark's Place, Park Slope, a craft beer hall. Haven't had chance to register to vote yet? The Young Democrats will be registering people to vote all night, and you can fulfill your patriotic duty while drinking a beer and watching the debate.
Queens: Q.E.D. Cafe and comedy club will host a debate-viewing party at its location in Astoria, 27-16 23rd Ave. Political commentators and comedians will be making jokes and giving their notes on the candidates' performances throughout the night. Kate McKinnon, the current SNL cast member that plays Hillary Clinton in sketches, has performed at this location in the past. Maybe lucky debate viewers will even get to see the comedian dressed in her signature Clinton pantsuit if they're lucky...
© Copyright IBTimes 2023. All rights reserved.
FOLLOW MORE IBT NEWS ON THE BELOW CHANNELS