New York Fashion Week Review: The Gold Standard Of Badgley Mischka Fall 2014 [PHOTOS]
Review
Mark Badgley and James Mischka, of the eponymous line Badgley Mishcka, have achieved grand success in their 25-plus years in the fashion business. They're an authority in the evening wear market, with creations that always amp up the glamor. Of course, these gowns and dresses have been worn on nearly every red carpet by the likes of Sarah Jessica Parker, Madonna, and many more top celebrities. And business isn't too shabby, either; they've opened standalone stores and delved into handbags, shoes, jewelry and even a contemporary-priced collection, Mark+James. So what else could be on the agenda?
Backstage at Mercedes-Benz Fashion Week on Tuesday, the designers told International Business Times they were most excited this season about their fabric, which allowed them to experiment with new shapes for their Fall 2014 collection, like voluminous full skirts and ball gowns.
"All the pieces, we incorporated volume. We're not always known for volume, and it was cool to work the silhouettes like that in day and evening," Mark Badgley told IBTimes backstage. "Our fabrics were so weightless this season. Even the tweed, it still just weighs ounces."
The cohesive collection revolved around the luxe textiles—Austrian boucle, the lightest of wools and tweed, brocade and cashmere knit—in a soft palate of ebony, slate, copper, petrol, blush and ivory. There were even some subtle prints like a delicate plaid, floral brocade and leopard.
But this collection had a gold standard like no other: A step up from adding just embellishments or jeweled detail, the fabrics were treated to look gilded, making us wonder if they commissioned Rumpelstiltskin to do some gold spinning on the collection.
"We did a wash in gold on some of the surfaces just to give every fabric a really special couture touch," Badgley explained. "Everything is slightly gilded. Everything is gold washed, even simple day fabrics."
The gilded detailing came from the designers' inspirations for the season, turn-of-the-century Vienna. Artwork by the likes of Gustav Klimt influenced the texture of the gowns, since the Austrian artist is best known for his painting, The Kiss, finished with gold leafs.
Most impressive was the designers' attempt to isolate and attack their biggest weakness, daywear separates, since Badgley Mishcka's bread and butter has always been evening attire.
"Evening gowns will always be our core business," Badgley said, "but you really need to dress your girl by day, as well. So we're really spending a lot of time and energy on that."
One thing the designers don't have to waste energy on at all is getting their designs on the red carpet this season. There were countless Oscar-winning dresses like the slate empire-waist cap sleeve gown (perfect for highlighting a pregnant belly), the ivory gown with gilded halter top and the full gold hand-beaded finale gown.
"We're thinking we're going to get a couple phone calls this afternoon," James Mischka admitted of the stylists scouting from the front row alongside Giuliana Rancic, Kristina Bowden and Petra Nemcova. "We have some people already who are …. but we can't tell secrets."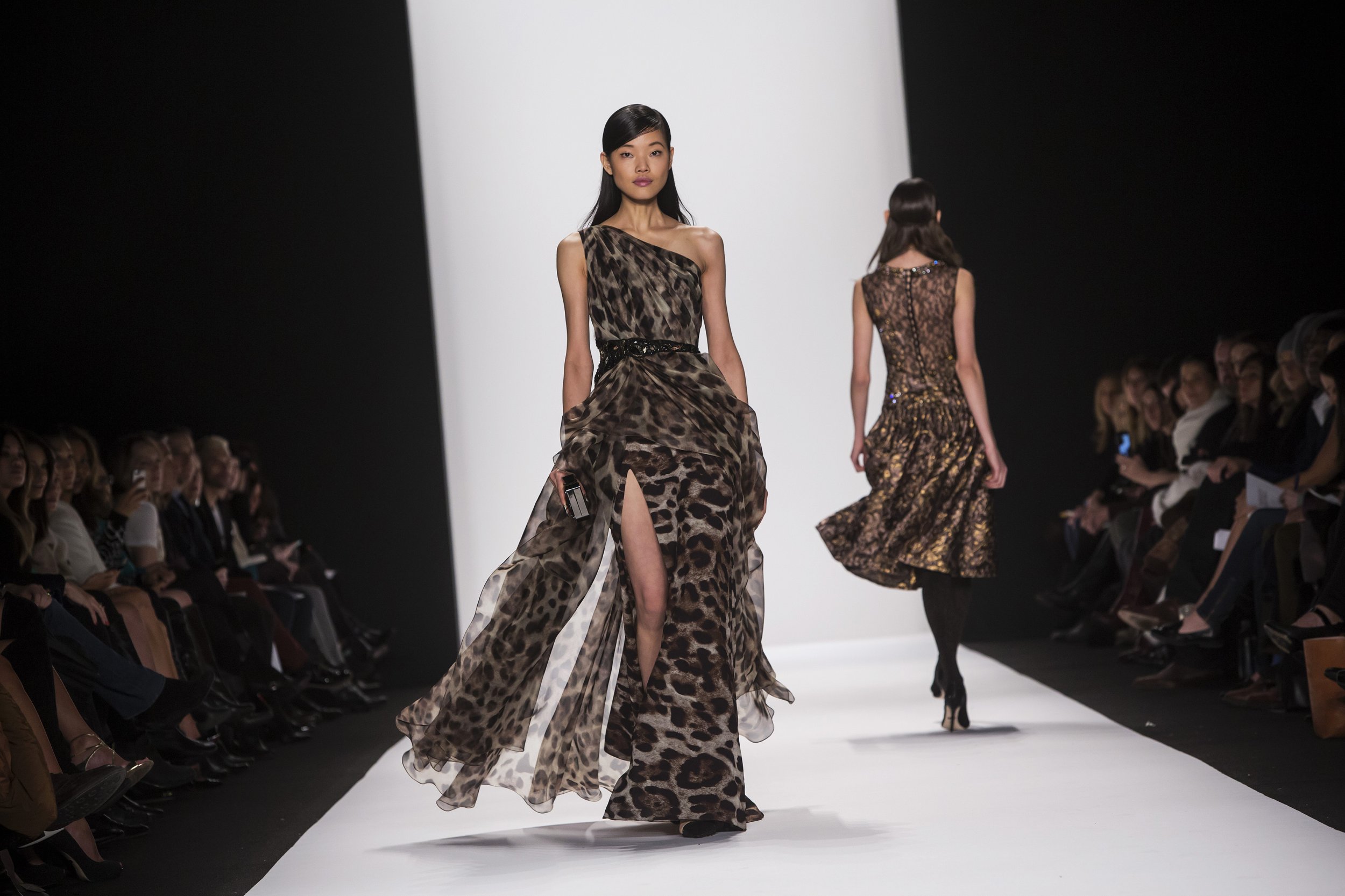 © Copyright IBTimes 2023. All rights reserved.