The New York Times, With No Plans To Sell Out, Will Issue A Dividend For First Time In Five Years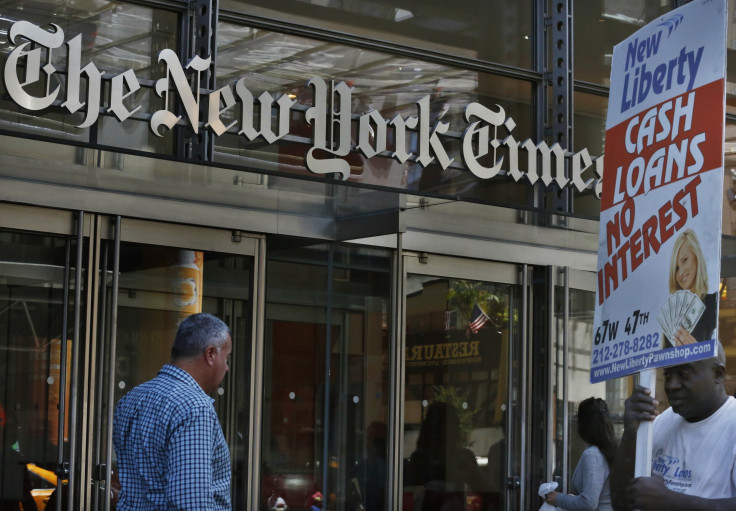 In a sign of renewed financial confidence and independence The New York Times Company (NYSE:NYT) said Thursday that it plans to pay a quarterly dividend to shareholders for the first time in five years.
The move is yet another sign that the newspaper of record is not courting a deep-pocketed buyer.
"The strength of the balance sheet justified the restoration of a dividend," Mark Thompson, the president and chief executive of the Times, said in a statement.
Speculation over whether a wealthy suitor would buy the Times swirled last month after Amazon.com, Inc. (NASDAQ:AMZN) founder Jeff Bezos purchased the Washington Post in a sale that blindsided media watchers.
Arthur Sulzberger Jr., the company's chairman, said the company would not "seek to sell the Times" and Thompson has reiterated – repeatedly, it seems – his strategy for growth, including streamlining the Times brand and selling off the Boston Globe and affiliated properties to billionaire John Henry last month.
While analysts and other experts in the company resoundingly told International Business Times last month that they believed the Times would not be sold, they said the suspended dividends could jeopardize the Sulzberger stewardship.
Many in the Sulzberger clan have forgone careers and lived off the company's once-lucrative dividends, leading some to sell their controlling Class A shares for cash. The family's ownership of Class A stock has dropped from 19 percent to 13 percent since 2010.
"Since there aren't any dividends it looks like they are selling their shares," Bill Grueskin, a dean at Columbia University Graduate School of Journalism, told IBTimes last month. "At a certain point, when you go from 19 percent to 13 – what happens when that goes to 5 percent or 2 percent?"
But, despite the dividends, Thompson urged caution going forward.
"Given the expectation of continued volatility in advertising revenue and the fact that our growth strategy is at an early stage of development," he said, "we will maintain a prudent view of both the balance sheet and free cash flow."
Indeed, the company's operating results, buoyed by some growth among digital subscribers, are still worse than they were before the recession, an analyst said.
"It's still not too large," Liang Feng, an analyst at Morningstar, told IBTimes of the dividend. "It's a good first step to showing their progress."
The board voted to approve a dividend of 4 cents per share to all shareholders as of Oct. 9. It will be paid on Oct. 24, a week before the Times announces its third-quarter earnings. The dividend, which applies to both Class A and Class B shares, will cost the company about $24 million a year.
Updated at 9:58 a.m. ET with a statement from Morningstar analyst Liang Feng.
© Copyright IBTimes 2023. All rights reserved.