Nexus 5 Release Date Approaches: Device Remains Unofficial As Photo Leaks, Pre-Registration Leaks, Spec Leaks, And Inventory Leaks Surface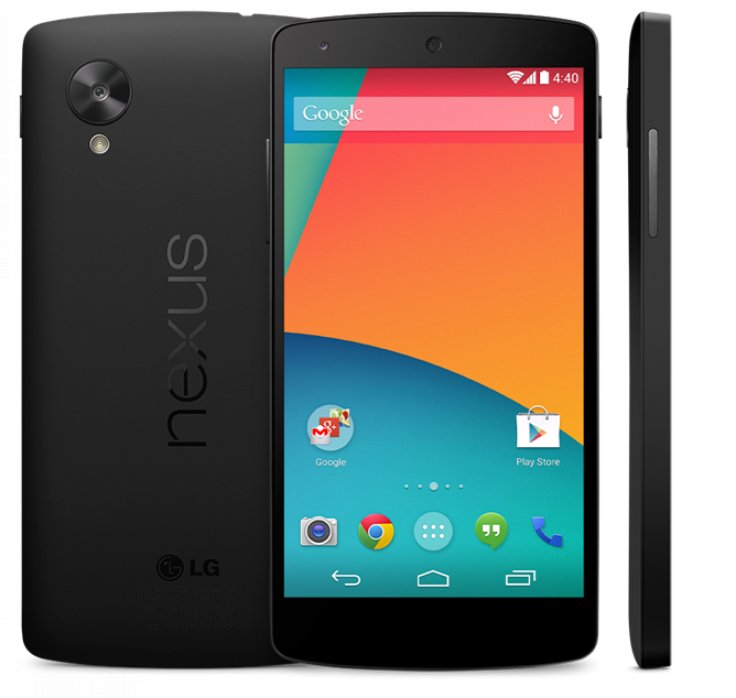 As the Nexus 4 and Android 4.4 KitKat "release-gate" continues and the device and operating system remain unofficial, many tidbits have surfaced in the past day that lead us to believe a launch is still imminent.
Nexus 5 Image Capture Leaks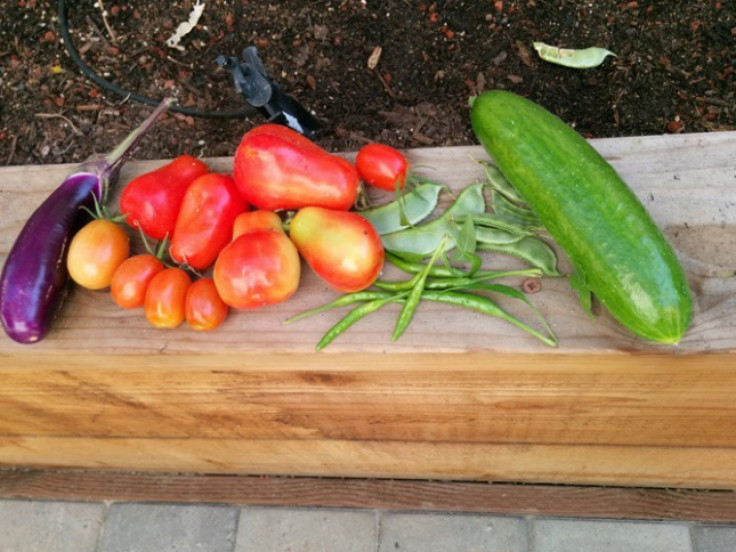 First, an image, which was reportedly captured with a Nexus 5 handset, was discovered on Google +. The picture of some garden vegetables, probably taken by a Google employee, was quickly taken down; however, EXIF data for the image was collected, and indicates that the image was taken with the Nexus 5. The image is supposedly 3264 by 248 pixels and was captured by an 8-megapixel camera featuring f/2.4 aperture and high-dynamic ranging (HDR). Assuming the image is real, we should be expecting an impressive shooter on the Nexus 5.
Nexus 5 Specs Leaked Through Carrier Pre-Registration Page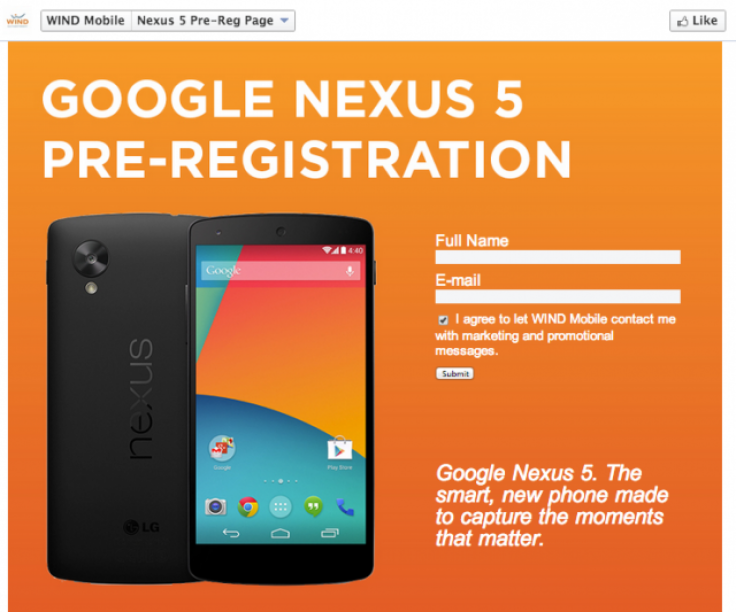 While images taken with the Nexus 5 were being loaded to Google +, a Canadian carrier, Wind Mobile, also loaded its Nexus 5 pre-registration page to their Facebook page. The leak included an extensive list of specs, which we can supposedly expect to see on the Nexus 5.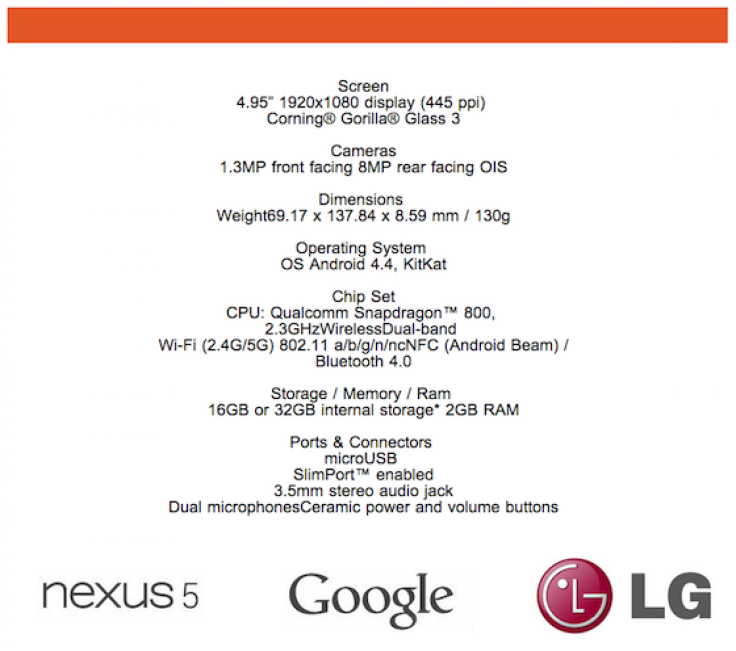 According to Wind, the Nexus 5 will feature 4.95-inch 1920×1080 display protected by Corning's Gorilla Glass 3, a 2.3GHz quad-core Qualcomm Snapdragon 800 processor, 2GB RAM and 16GB or 32GB internal storage options, an 8-megapixel main camera featuring optical image stabilization (OIS), and a 1.3-megapixel front camera, connectivity including Wi-Fi (2.4G/5G) 802.11 a/b/g/n/nc, NFC and Bluetooth 4.0, and the Android 4.4 KitKat operating system.
The Nexus 5 will reportedly be 130 grams in weight and will have dimensions of 69.17 x 137.84 x 8.59 mm. It is expected to include ports and connectors such as microUSB, SlimPort enabled, 3.5mm stereo audio jack, Dual microphones, Ceramic power and volume buttons.
Notably, specs indicate that the Nexus 5 will feature an 8-megapixel camera, as was determined by the EXIF data. Keep in mind that megapixels do not determine photo quality on a device, but rather what a photo will look like printed. The OIS and possibly also HDR would be the technology enabling improved on-screen photo quality.
LG Canada Warehouse Nexus 5 Inventory Leaked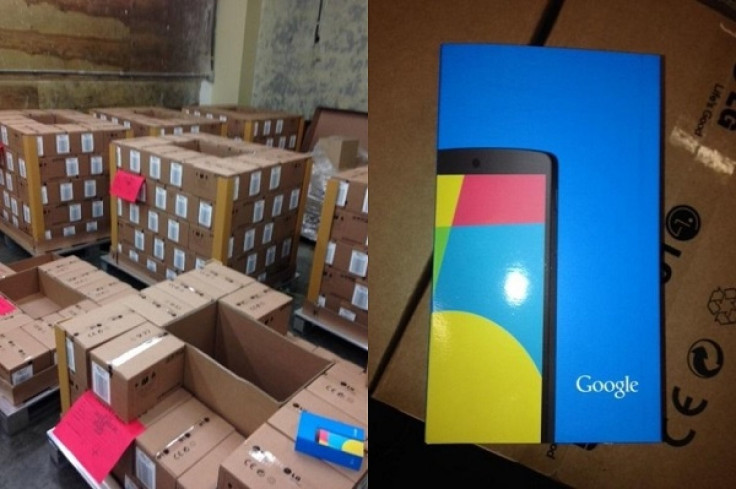 Canada must be extremely anxious to release the Nexus 5 as not only have pre-registration pages for Canadian carriers popped up, but so have images of what may be Nexus 5 inventory at a LG warehouse in Canada. One image notably shows the supposed Nexus 5 box, which was previously leaked.
The images, which were shared on Reddit, where reportedly taken by an LG employee, who says approximately 30,000 Nexus 5 handsets will ship to Canadian carriers and retailers this week. The employee at the "LG western Canadian Distribution Center" details that 26,000 Nexus 5 units will supply Eastern Canada, primarily the carrier Rogers, while 4,000 units will supply Western Canada, mostly going to carriers Bell and Telus. It is safe to say that Toronto-based Wind Mobile is expecting Nexus 5 shipments too. Some suspect that this 30,000-unit inventory does not include supplies, which will be purchased through the Google Play Store.
Other Sightings and Information
The Nexus 5 has also shown up in another inventory leak recently, at UK retailer Carphone Warehouse, whose system indicates 1,500 white Nexus 5 units in stock. There are reportedly also 1,500 black Nexus 5 units in stock at Carphone Warehouse, bringing its total supply to 3,000. There is no indication as to whether the leak is fake, but inventory listings from Carphone Warehouse are nothing new. The Nexus 4 also appeared in its inventory listings in 2012 just weeks before the device's release. However, that leak did not reveal inventory figures.
Currently, rumors indicate that the Nexus 5 may be announced on Oct. 31 and available at the Google Play Store on Nov. 1. The tip was recently shared by tech informant @evleaks, who has a hit-or-miss track record, but as nearly all of the suggested release dates for the Nexus 5 have passed, fans and pundits are getting extremely anxious for more reliable information.
Google also hosted an event Tuesday, which discussed various updates to Google +. There was no word about the Nexus 5, but as the event commenced, Nestle uploaded a video teasing Android KitKat onto Youtube. Fans have deciphered from the video that the Android 4.4, and in turn the Nexus 5 may launch in three days, which would place its release date for Nov. 1.
Thus far Google has done an extremely good job at teasing an ever-anxious public. It will be interesting to see what the coming days unfold.
What do you think of the latest Nexus sightings? Let us know in the comments below.
Follow me on Twitter @FionnaatIBT.
© Copyright IBTimes 2023. All rights reserved.