Ni Yulan Goes on Trial, Third Chinese Activist in Week to be Prosecuted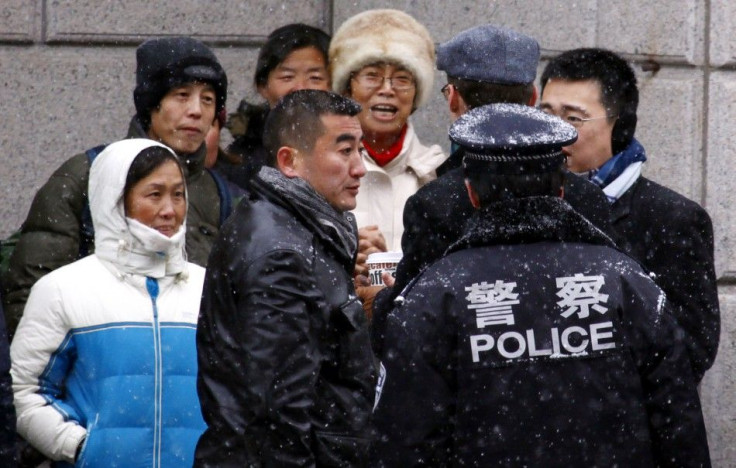 A prominent Chinese human rights activist, known for her fight against government land grabs, went on trial Thursday, the third dissident in a week to be prosecuted in China.
Ni Yulan, who has had run-ins with the police before, had to use a bed and oxygen machine to help her breathe during the hearing, her daughter Dong Xuan said, because of injuries incurred from past police mistreatment that left her disabled, The Associated Press reported.
Amid heavy security, Ni and her husband, Dong Jiqin, faced a trial on charges of fraud, accused of falsifying facts to steal property, and for causing a disturbance at a hotel where they had been detained by police.
The two were detained in April as part of a sweeping crackdown on political dissent in an effort to stop uprisings similar to those in several Arab countries before they started; indeed, anonymous online calls were made for protests in China to mirror the Arab Spring uprisings.
A court spokesman said the trial was open to the public, but foreign journalists, diplomats and Ni supporters - who, with Ni, deny the charges -- have been barred from the proceedings.
In 2002 and 2008, Ni was jailed for obstructing official business and harming public property when she brought attention to the fact that people were being forced from their homes to make way for the real-estate development that remade Beijing for the 2008 Olympics, the AP wrote. Consequently, her own home was requisitioned and razed by Beijing authorities in 2002.
Her supporters say she is being punished for her activism.
This is an example of China going after and stamping out human rights lawyers, Zhu Quiqin, a Ni supporter, said. When they do that, they take away their licenses and disbar them.
Ni has already served two jail terms and is banned from working as a lawyer, though she and her husband continue to advise people whose land has been taken by the government, according to the BBC.
Earlier this week, longtime rights activists, Chen Wei and Chen Xi, were separately sentenced by courts in southern and central China to nine and 10 years in prison, respectively, for inciting subversions through online political essays. Chen Xi's sentence is one of the heaviest for inciting subversion since Liu Xiaobo, the Nobel laureate, was jailed for 11 years on Dec. 25, 2009.
The couple's daughter, Dong, who has not seen her parents for nine months, said she is not optimistic about the outcome of the trial.
You can see by all the police here that this has been a very abnormal legal process, Dong said. I believe there is a very big chance they will be found guilty.
© Copyright IBTimes 2022. All rights reserved.
FOLLOW MORE IBT NEWS ON THE BELOW CHANNELS