Nina Dobrev, Jessica Szohr And Miles Teller Share Special Holiday Greeting Card Amid 'Vampire Diaries' Season 8 Comeback Rumors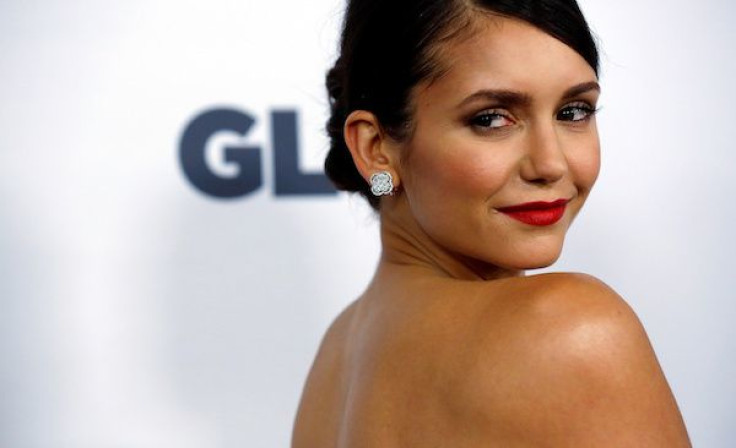 "The Vampire Diaries" Season 8 aired its midseason finale on Friday, but there is still no sign of Nina Dobrev's return to the show. The 27-year-old actress, who played lead role Elena Gilbert for six seasons, is playing coy about her rumored comeback. Instead of addressing the speculations, Dobrev has been focusing on other projects and having cordial get-togethers with her friends.
Speaking of friends, Dobrev got together with her squad this weekend and posed for what could be an epic greeting card this holiday season. Dobrev reunited with "Gossip Girl" alum Jessica Szohr, "Whiplash" star Miles Teller, Teller's model girlfriend Keleigh Sperry and her other friends for a animated greeting card.
On Sunday, Dobrev also decided to go out with some of her friends to watch the Falcons vs Rams game at the L.A. Memorial Coliseum. Dobrev was joined by No Bread restaurant founder Nicole Cogan, hairstylist Riawna Capri, Morgan Beau and Dave Osokow in supporting the Rams, who sadly lost to the Falcons in a 42-14 game.
Dobrev appears to be catching up with her friends after working hard filming for and promoting "xXx: Return of Xander Cage," which stars Vin Diesel, Ruby Rose, Deepika Padukone and Samuel L. Jackson, among many others.
Over Thanksgiving weekend in late November, Dobrev also reunited with her non-showbiz pals and enjoyed the waves in Cabo San Lucas. Ian Somerhalder's ex documented the getaway on Instagram and collectively called the gathering as "friendsgiving 2016."
While Dobrev is enjoying her time with friends, her fans are still left clueless regarding her reported comeback on "The Vampire Diaries." Since the show is wrapping up this season, fans of the show have been asking for Dobrev's appearance as Elena Gilbert for the last time. However, when asked if she is indeed coming back, she said on the American Music Awards red carpet that her return is up to the producers and "the powers that be above," as reported by Digital Spy.
Meanwhile, her on-screen lover and off-screen ex-boyfriend, Somerhalder, also candidly addressed the speculations. Nikki Reed's husband told Variety that he has "zero idea" if Dobrev is returning to the show. "As a producer, I do have a lot of information and then there's a lot of information I don't have," he said.
Do you think Nina Dobrev should return to the show for the finale season to work? Tell us what you think in the comments below.
© Copyright IBTimes 2023. All rights reserved.