Notre Dame Football: Irish Come up Empty, Altenberg Says 'We've Got Work to Do'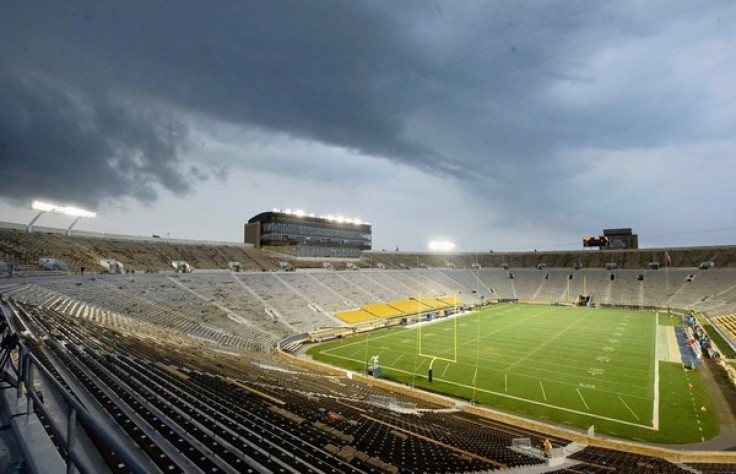 Severe weather forced the evacuation of most of the 80,000 spectators for the the home opener against South Florida at the Notre Dame Stadium on Saturday.
The remaining hundreds, who ignored officials' request and stayed back, were also sent out of the stadium after a loud lightening strike.
The authorities evacuated the stadium because of several lightning strikes nearby at about 5:15 p.m. Officials said it was the first ever weather delay in Notre Dame football history, either home or away.
The play was suspended for the second time at about 8:45 pm for another 40 minutes before the visiting Bulls scored a 23-20 victory, Southbend Tribune reported.
The play was delayed for the first time when South Florida was leading the Irish, 16-0. Hundreds of people mingled outside Notre Dame Stadium with raincoats, hats and umbrellas, hoping to get in.
The Irish weren't supposed to be so easily broken and weak. Despite being doubled South Florida's offensive production, 508 yards to 254, Notre Dame still came up empty, WSBT reported.
We've got work to do, said Altenberg, whose team returned only four starters from last year's CIF champ. I thought we'd struggle and we did, but (Notre Dame) is a good football team. We need to rebound and know that there are a lot of games left.
Below is the complete Notre Dame Football schedule for the 2011 season, including the team's opponents and game venues.
09/10/11 at Michigan - Ann Arbor, Mich. 8:00 p.m. ET
09/17/11 vs. Michigan State - Notre Dame, Ind. 3:30 p.m. ET
09/24/11 at Pittsburgh - Pittsburgh, Pa. 12:00 p.m. ET
10/01/11 at Purdue - West Lafayette, Ind. 8:00 p.m. ET
10/08/11 vs. Air Force - Notre Dame, Ind. 3:30 p.m. ET
10/22/11 vs. USC - Notre Dame, Ind. 7:30 p.m. ET
10/29/11 vs. Navy - Notre Dame, Ind. 3:30 p.m. ET
11/05/11 at Wake Forest - Winston-Salem, N.C. TBA
11/12/11 vs. Maryland - Landover, Md. 7:30 p.m. ET
11/19/11 vs. Boston College - Notre Dame, Ind. 4:00 p.m. ET
11/26/11 at Stanford - Stanford, Calif. 5:00 p.m. PT
© Copyright IBTimes 2023. All rights reserved.