Obama 'Committed' To Two-State Solution, No Matter Outcome Of Israeli Election, Kerry Says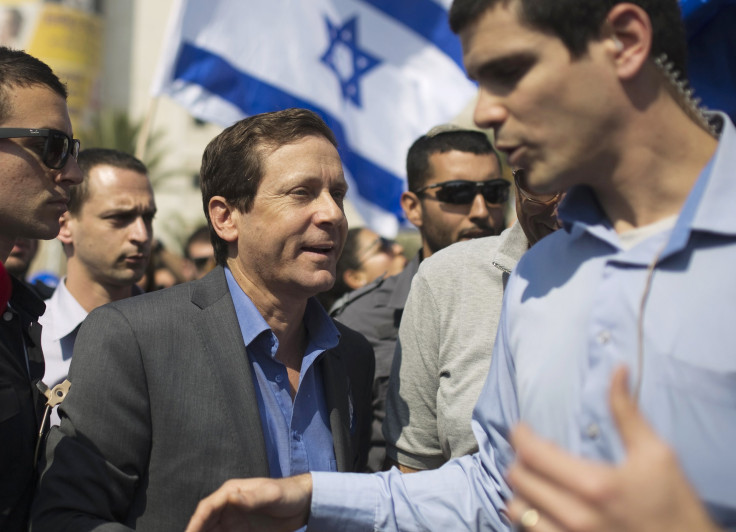 U.S. President Barack Obama continues to be dedicated to finding a two-state solution in the Israeli-Palestinian conflict, Secretary of State John Kerry said Saturday. Kerry spoke to reporters at a news conference in Egypt amid delayed peace talks and on the eve of elections that could push Israeli Prime Minister Benjamin Netanyahu out of power.
"The position of the United States with respect to our long-expressed hope, [among] the Republicans and the Democrats alike [and] many presidents of the last 50 years or more, has always been for peace, and President Obama remains committed to a two-state solution," Agence France-Presse quoted Kerry as saying.
Kerry engaged in discussions about the peace process with Palestinian, Jordanian and Egyptian leaders Friday. He attempted to broker a deal between the Israelis and the Palestinians last year, before the negotiations broke down, with bitter accusations on both sides.
Final polls published before Israel's elections Tuesday indicate the center-left Zionist Union alliance, headed by Isaac Herzog, may replace the center-right Likud party, headed by Netanyahu, in governing the country. Palestinians have been disdainful of Netanyahu, saying another prime minister could help the peace process.
Kerry told reporters Obama is "hopeful that whatever choice the people of Israel make ... [they] will be able to move forward on those efforts," AFP reported.
If Israeli voters have become disillusioned with fruitless peace talks, experts have suggested they might be more receptive to Netanyahu's possible replacement.
"Herzog is in many ways the antithesis of Netanyahu," Leslie Susser, the political editor at the Jerusalem Report magazine, told the Independent in the U.K. "He is low-profile and has a different socioeconomic approach. A lot of what he supports fits with the anti-Netanyahu tide ... People who see Netanyahu turning away from a two-state solution with the Palestinians and worry about the implications, like Herzog's approach better. People who want a fairer distribution of the national pie favor Herzog."
Netanyahu is also a divisive figure in American politics. Since delivering a March 3 speech to Congress blasting a proposed U.S. nuclear deal with Iran, Netanyahu has watched his favorability rating drop to 38 percent from 45 percent among American Democratic voters, although it has remained largely unchanged among American Republican voters.
© Copyright IBTimes 2023. All rights reserved.
FOLLOW MORE IBT NEWS ON THE BELOW CHANNELS