Obama Housing Recovery Plan Is Meager Step Toward Post-Recession Recovery, Economists Say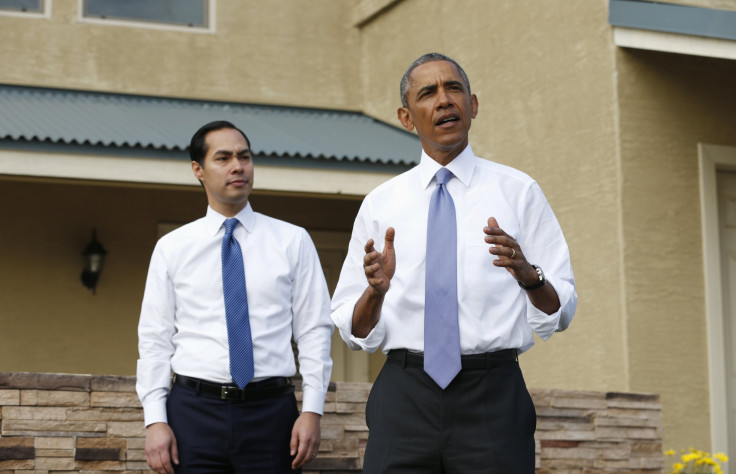 The Obama administration's latest proposal to boost the sluggish U.S. housing market is a positive but meager step toward recovery, economists say. President Barack Obama outlined his plan Thursday during a stop in Phoenix, where he said the strategy would make it easier for more Americans to purchase homes.
"We want to make sure that everybody has that access to that piece of the American Dream," Obama said in his remarks outside a single-family housing development.
The initiative comes as the housing sector struggles to rebound from its 2008 bust, when home prices across the country swiftly crashed and foreclosure rates soared. Now, property prices are rising again and foreclosures are falling, but homeownership rates continue to drop compared to a decade ago. Tighter lending standards and higher insurance rates make it harder for hundreds of thousands of Americans to purchase homes.
Obama's announcement builds on his signature housing program, the Home Affordable Modification Program, which has struggled with complications and low participation levels since its launch in 2009. A 2013 U.S. Treasury Department report found the foreclosure relief program failed to keep nearly half of participants from re-defaulting on their loans, and a fourth-quarter 2014 report said the program was receiving hundreds of complaints from homeowners.
The president's new proposal targets the Americans who have had the most trouble securing financing: first-time owners, minorities and cash-strapped families. The plan would lower the premium on federally issued mortgages by 0.5 percent, from 1.35 percent to 0.85 percent per year of the loan value, allowing home buyers to each pocket roughly $900 a year, according to the administration. Obama's initiative would also cut loan program "red tape" for qualified borrowers and proposes to help more middle-class homeowners by improving the government's mortgage-finance program.
"In and of itself, it's marginally beneficial, but it's not going to create the robust housing market we're hoping for," Michael Gregory, head of U.S. economics at BMO Capital Marks in Chicago, said about the plan. Still, "I'm encouraged by what the government is doing."
He said the key ingredient to the housing market's recovery is the return of first-time buyers, who not only purchase newly constructed homes but also fill their dwellings with new furniture, appliances and other fixtures, sending a ripple throughout the economy. Only about 20 percent of homeowners today are first-timers, compared to about 40 percent in the pre-bubble years.
"Everyone wants to see more first-time buyers get active in the market," Gregory said. "I'd like to see that 40 percent coming back."
The White House estimates its plan will help 250,000 people to purchase their homes over the next three years, a drop in the bucket compared with the roughly 2 million homes that first-time homebuyers purchase each year during healthier times. The measure will also lower refinancing costs for about 800,000 homeowners.
Kurt Karl, chief economist and head of Swiss Re Economic Research & Consulting, said a more effective plan to boost U.S. housing would take greater strides to increase access to privately issued mortgage credit. He pointed to the stringent requirements that average home buyers face in securing private loans through Fannie Mae and Freddie Mac, the lending institutions taken over by the U.S. Treasury in the wake of the financial crisis. Private banks could similarly ease their credit standards, which is slowly happening, he said.
Under the White House plan, if a couple million loans are switched to the lower mortgage rate each year, new home purchases and refinancing could add about $2 billion to the U.S. economy each year, Karl said. "It's not much in a $17.5 trillion [U.S.] economy, but it should provide a mild boost to home sales, new and used," he said.
In pockets of the country, signs of housing recovery are already being felt, thanks in part to a growing segment of millennials who are taking the home-buying plunge.
Jennifer Evans, 28, and her husband recently bought a 1,200-square-foot home outside Washington, D.C., after renting apartments and houses for more than five years. "We were ready to stop paying rent to a management company and have a home of our own," she said. "Low interest rates also helped."
Jim Barnes, a 29-year-old realtor with Howard Hanna in Cleveland, Ohio, said he has seen the local market grow rapidly over the past year. "Currently, there are a lot more buyers than inventory, which is a big shift," he said. "I've worked with a number of first-time homeowners, usually in their late twenties or early thirties, who have decided to settle down and start investing. People recognize that if they plan to stay in the same place, it's advantageous to buy."
© Copyright IBTimes 2023. All rights reserved.
FOLLOW MORE IBT NEWS ON THE BELOW CHANNELS