Obama's Climate Action Plan Makes Progress In Reducing Carbon Emissions But Keystone XL Pipeline Is Not Dead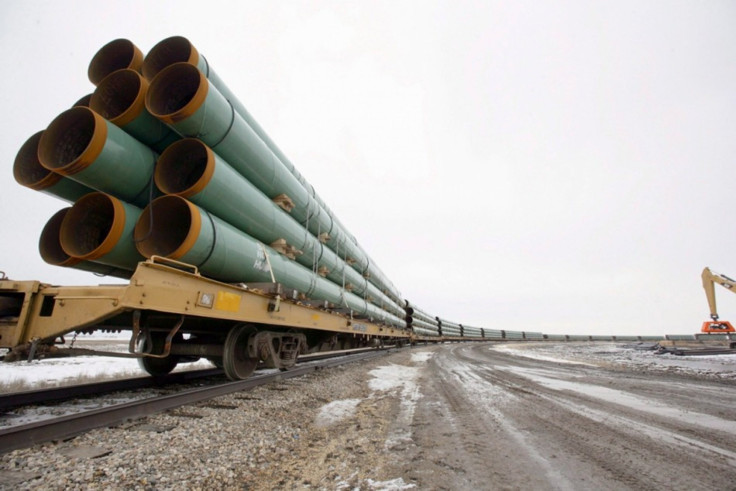 President Barack Obama's climate action plan may achieve a 17 percent reduction of greenhouse gases by 2020 from 2005 levels, according to a White House report released Thursday.
The U.S. Biennial Report, as part of the 2014 Climate Action Report, outlines how U.S. action on climate change puts the country on a path to reach an ambitious goal in reducing U.S. greenhouse gas emissions in the range of 17 percent. The report is in its draft form and is now open for public comment until Oct. 24.
For 2009 through 2011, average U.S. emissions dropped to their lowest level for any three-year period since 1994 to 1996. This can be attributed in part to Obama's ambitious plan to reduce carbon pollution with stringent long-term standards for vehicle emissions and efficiency, increased building and appliance efficiency, and doubling electricity generation from wind and solar, the report stated.
The President's Climate Action Plan released in June, builds on the 2009-11 progress to reduce carbon emissions. The administration also has put in place the country's first ever national carbon pollution standards for new and existing power plants.
The administration cited progress on several fronts.
To meet the 2020 goal, the Department of Interior installed 10-gigawatts of renewables on public lands, which was ahead of schedule. The president then directed the DOI to add another 10-gigawatts. Since 2009, the DOI has approved 25 utility-scale facilities, nine wind farms and 11 geothermal plants, enough electricity to power 4.4 million homes.
A key component of the action plan is to expand and modernize the electric grid to save consumers money on energy bills while promoting cleaner sources of energy. In pushing these goals, Obama signed a memorandum this month to direct federal agencies to "streamline the siting, permitting and review process for transmission projects across federal, state and tribal governments."
TransCanada Corporation (NYSE:TRP), the Canadian company seeking approval from the U.S. to start construction of the much-debated Keystone XL pipeline that would bring crude oil from Alberta to refineries in the U.S. Gulf Coast, is watching closely.
The energy giant has been waiting for Obama to make a decision since this summer, but approval has yet to be given. Currently Obama has delegated the State Department to determine whether the project is in the U.S. "national interest."
Obama, however, in a much-anticipated climate change speech, said his decision would be based on whether Keystone would produce more carbon emissions if completed. The Keystone XL would bring tar sands oil from Alberta to U.S. Gulf Coast refineries. Opponents say extracting tar sands is extremely energy-intensive because it involves a solid rather than liquid material.
"The net effects of the pipeline's impact on our climate will be absolutely critical to determining whether this project is allowed to go forward," Obama said.
The next few months will go far to tell how Obama balances exploiting strategic and lucrative commodities with ensuring environmental protection.
© Copyright IBTimes 2022. All rights reserved.
FOLLOW MORE IBT NEWS ON THE BELOW CHANNELS