Occupy Wall Street Denounced By Cain, Romney as 'Class Warfare'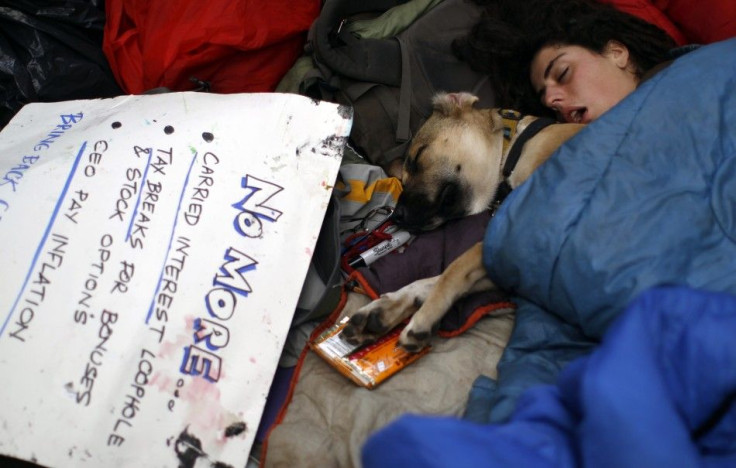 Republican presidential candidates Mitt Romney and Herman Cain showed themselves to be no fans of the burgeoning Occupy Wall Street movement, dismissing the critique of corporate power and economic inequity as class warfare.
Fortified by the support and participation of labor unions, the protests swelled to their largest size yet on Wednesday night with a march and rally in downtown Manhattan. The demonstrators have a range of grievances but their overall message is encapsulated by the frequent chant of We are the 99 percent, a reference to what they see as the disproportionate wealth held by the top one percent of society. Several of the union leaders addressing the crowd at Wednesday night's protest suggested raising taxes on the rich, producing roars of approval.
Romney Believes Occupy Wall Street Movement is 'Dangerous'
Romney is having none of it. Speaking to an audience in Florida, he fell back on the same label Republicans affixed to President Barack Obama's plan to pay for his jobs bill by raising taxes on the wealthy.
I think it's dangerous, this class warfare, Romney said. Romney is worth as much as $264 million, according to recently filed disclosure documents.
Cain also invoked class warfare and suggested that the protestors could be wealthy, too, if they had tried harder. The former CEO of Godfather's Pizza is worth between $2.9 million and $6.6 million.
Cain: If You Don't Have A Job, You Are Reason You're Unemployed
Don't blame Wall Street, don't blame the big banks, if you don't have a job and you're not rich, blame yourself! Cain said. It is not a person's fault because they succeeded, it is a person's fault if they failed. And so this is why I don't understand these demonstrations and what is it that they're looking for.
Conversely, congressional Democrats have been broadcasting their support for the movement. Rep. Raúl M. Grijalva, D-Ari., and Rep. Keith Ellison, D-Minn., co-chairs of the Congressional Progressive Caucus, issued a statement praising the growing grassroots movements on Wall Street and across the country.
We share the anger and frustration of so many Americans who have seen the enormous toll that an unchecked Wall Street has taken on the overwhelming majority of Americans while benefitting the super wealthy, the statement read. We join the calls for corporate accountability and expanded middle-class opportunity.

© Copyright IBTimes 2023. All rights reserved.