Occupy Wall Street Latest Target of Controversial NYPD Surveillance Units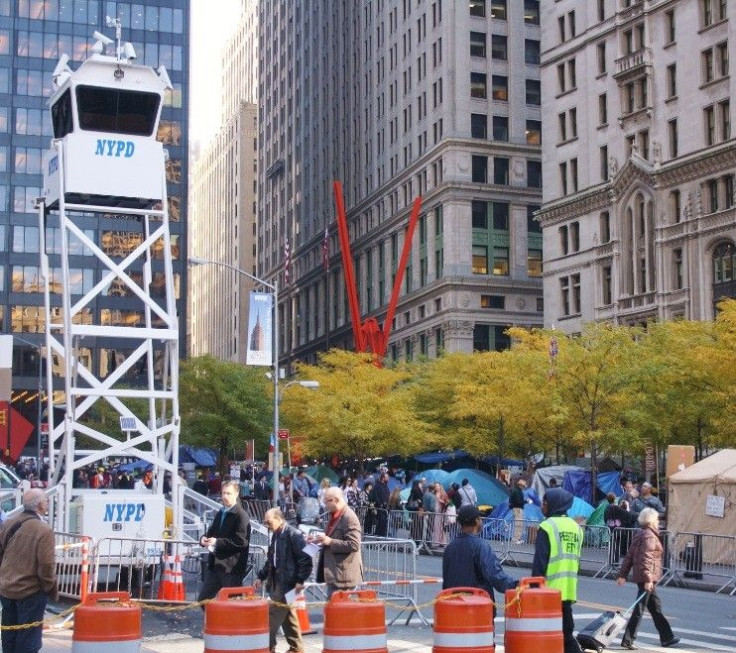 Anyone who has visited Zuccotti Park since its occupation by Occupy Wall Street began will likely recall the constant, silent sentinels that have watched over the grounds 24 hours a day for the past month.
Tall, white-metal behemoths, they look like space-age cherry-pickers, but they're some of the most visible high-tech crime-fighting machines the NYPD has at its disposal. Dubbed SkyWatch, the controversial surveillance program began in 2006, and has kept an eye on the populace from high in the sky ever since.
Eye on Occupy Wall Street
Occupy Wall Street may be one of the program's key targets today, but Skywatch units are regularly posted at crime hotspots and large-scale events across the five boroughs, and they've slowly become a familiar yet vaguely unsettling sight for many New Yorkers.
As of Wednesday afternoon, two SkyWatch units were posted in the immediate vicinity of Zuccotti -- one at the intersection of Liberty Street and Trinity Place, directly across from the park's northeast corner, and another two blocks away at the intersection of Greenwich Street and Albany Street.
Protester Mark Webb had been living with the Occupy Wall Street movement at Zuccotti Park for about five weeks as of Wednesday, and he said the SkyWatch units have become a disconcerting part of life for the occupiers. He and many of his fellow protesters worry that the units are being used for Big Brother-style surveillance.
"They went up after we marched on Wall Street a month ago and it was a pretty rowdy march," he said, while sitting in the heart of the park smoking a hand-rolled cigarette. "I don't see any reason why they would need to have the cherry-pickers other than to electronically monitor us. They can control and contain the crowd just with street cops. They can walk through here at any point, so I don't see why it's needed."
Each unit includes a boxy, climate-controlled pod affixed to the end of a collapsible hydraulic arm that can raise it more than 25 feet above the street, where one officer assisted by a spotlight and four rotating video cameras can spot crime as it occurs, according to Virginia-based ICX Technologies, which builds them.
SkyWatch units are built on wheeled platforms so the machines, which weigh in at nearly four tons and cost upwards of $90,000 each, can be easily towed between locations.
Keeping Crime Low From High Above Brooklyn
For the first half of 2010, vicious crime plagued the corner of Franklin Avenue and Lincoln Place in Crown Heights, an intersection that an NYPD flatfoot walking the beat there last December called one of the worst spots in Brooklyn.
Two attackers stabbed Shaquina Grant, 15, and slashed 16-year-old Shantayah Lewis's face during a brazen early-evening attack on March 19, 2010, police said, over what Lewis's relatives described as a drug beef involving her cousin.
Ronald Glover, 34, was shot in the head over drugs at about 11 a.m. May 19 of last year in one of at least four shootings within a couple blocks of the corner in the first seven months of 2010, according to police.
The NYPD responded in August 2009 as it often does in its high-crime impact zone neighborhoods by posting a mobile SkyWatch unit in front of the intersection's 788 Grocery Store.
Crime quickly abated in the neighborhood, and police said there have been no shootings, stabbings or homicides nearby since the crime-fighting station was posted there.
Abraham Alsiaid, a worker at the grocery, said the unit's presence had a positive effect on the neighborhood.
"While it was here you didn't see anyone on the streets," he said. "That's safer for the community."
Is SkyWatch Effective?
A SkyWatch unit is a strong deterrent and a key tool for cutting off spikes in crime before they become full-fledged waves, a Brooklyn NYPD source attests. But the department doesn't keep records regarding the impact its SkyWatch units have on crime, according to an NYPD spokesman.
"How would we know if SkyWatch stopped crimes? There's no way we could have statistics on that," the department spokesman said, declining to answer specific questions about the program.
But police officers on the street and in the precincts have their own opinions on the units' effectiveness, describing them as useful but flawed.
A uniformed beat officer manning the corner of Franklin and Lincoln on Dec. 7, 2010 -- the day after the SkyWatch unit there was relocated to the crime-ridden corner of Ralph Avenue and Dean Street -- said the units help stop crime, but they're often not in top working order.
"They're good where they are, people are scared to commit crimes around them, but a lot of the time the cameras don't work," he said.
A study of SkyWatch by the Loss Prevention Research Council seconded his contention that the main purpose of the towers, which are deployed by law enforcement agencies worldwide, is averting crime in targeted areas.
"Convincing potential criminals through surveillance programs their crime attempts will be quickly detected and result in swift and severe punishment is critical to protecting open spaces," the study said. "Surveillance towers provide obvious 360-degree surveillance of open spaces to support the crime reduction mission."
The study, which surveyed 12 law enforcement agencies that use the technology across the country, indicated that the units are highly effective at reducing crime.
Eighty percent of the survey's respondents said the units are at least somewhat effective at reducing murders, 83 percent said they're at least somewhat effective at reducing armed robberies and 86 percent of respondents said they're at least somewhat effective at reducing sexual attacks.
Skepticism Among Officers
The Crown Heights beat officer said that despite the short-term usefulness of SkyWatch units, they've had little lasting impact on neighborhoods, as crime often returns shortly after the crime-fighting machines are relocated.
"Those things just push people to the next block," he said. "Watch, in a week they'll be back."
A police source from a Queens NYPD precinct said that as of December 2010 the city owned eight SkyWatch units, and that they're generally assigned to areas experiencing significant crime waves.
"Based on their assessments of the crime-fighting needs of individual locations, precincts can also request a unit, generally from the patrol borough with jurisdiction where the precinct is located, like Brooklyn North," the Queens police source added. "The patrol borough then decides, in conjunction with NYPD higher-ups, whether the area is deserving of a SkyWatch deployment."
© Copyright IBTimes 2023. All rights reserved.