Office For Windows 10 'Final Version' Leaves Mouse-And-Keyboard Users Out In Cold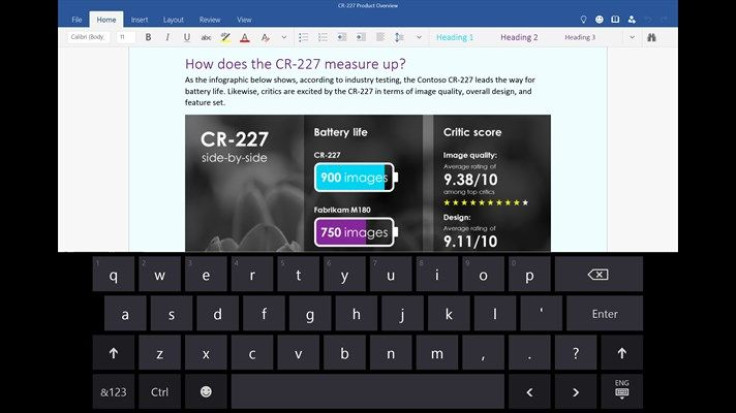 Microsoft has started sending final versions of Office for Windows 10 out to beta testers ahead of the operating system's July 29 launch. But despite the apps' billing as software that can work on any Windows 10 device, Microsoft is urging keyboard and mouse users to look elsewhere.
Word, Excel and Powerpoint are all receiving the "universal app" treatment, meaning they will be compatible with Windows 10 running anywhere. While the current versions still say "preview," PCWorld is reporting beta testers have had that designation removed in a new update. However, Microsoft has posted the products on the app store with the word "mobile" in the title, and is pushing mouse-and-keyboard to instead go to the Office website to buy a different version.
The universal app concept was designed to ensure that developers could write a single app and use it on desktop, tablet or laptop. Office for Windows 10 can technically be used on a non-touch desktop, but Microsoft suggests this is not a preferred use.
Microsoft does not consider the final versions as fully complete. Instead, they represent the first of a constantly-upgraded software package that will improve over time. Redmond is taking a similar approach with Windows 10, describing it as "the last version of Windows ever."
Microsoft is planning to release Office 2016 for Windows in the fall. This version will be distinct from the universal version finalized today and will focus on keyboard-and-mouse compatibility. However, Office 2016 will work on older versions of Windows, unlike the universal version, which will only run on Windows 10.
© Copyright IBTimes 2023. All rights reserved.