OnLive Desktop Plus Service Brings iPad Ultra-Fast Web Browser with Full Adobe Flash Support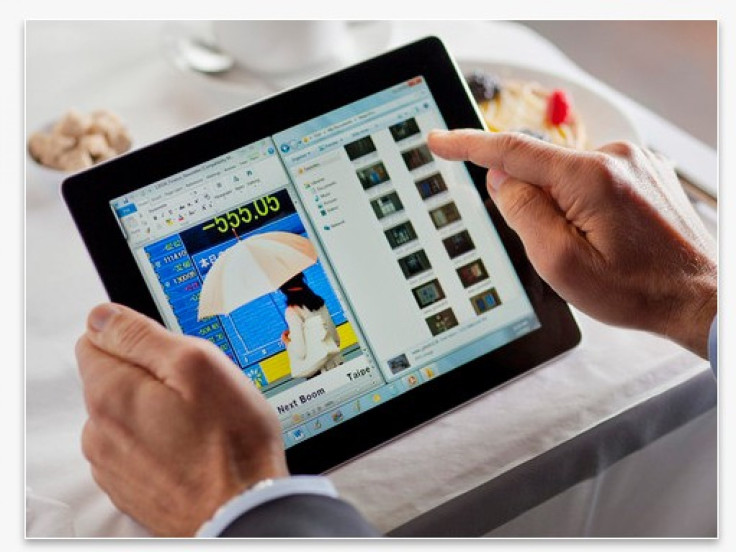 OnLive, which was in the news recently for bringing Microsoft Windows to iPad, has now succeeded in delighting iPad users once again – this time by introducing OnLive Desktop Plus, which offers full-blown Windows applications and an ultra-fast Web browser with full Adobe Flash support.
The founder of OnLive, Steve Perlman, is an ex-Apple programmer, who has worked in QuickTime team. No wonder, OnLive knows how much the iPad users want the inclusion of Flash support and quick browsing experience. To make the life of iPad users easier, OnLive made Microsoft Office available on iPad via OnLive Desktop app that was launched last month. The app gives you access to Microsoft Word, Excel, PowerPoint, and Adobe Reader as well as 2 GB of secure cloud storage for your files and data. And, on Feb. 22, the company announced a newer version of OnLive Desktop. The upgrade version of OnLive Desktop Standard, or OnLive Desktop Plus, includes an ultra-fast cloud-accelerated Web browser equipped with full-Abode Flash support and Acrobat PDF plug-ins.
Basically, iOS is a very tight operating system leaving users with limited means of modifying how they use their device. It has also stopped Flash Player from being installed on the iPad. But, cloud-service experts OnLive, which is best known for its video game streaming service, has found a way around the problem.
OnLive Desktop Plus app is just amazing. The app is just 5 MB in size and offers a lot of features in a small package. When opening the app, the first thing we notice is Windows 7 desktop right on the iPad. And all this happens without any Windows install on iPad. The app also features the latest version of Microsoft Office – Word/Excel/PowerPoint, along with MS-Paint, Adobe Reader and Internet Explorer. There are also rumors that Microsoft Office will be released for iPad soon, but Microsoft has discarded all the rumors.
Now, you must be wondering why use Internet Explorer, when Safari comes pre-installed on iPad? Well, there is an answer for that. Internet Explorer supports Flash-based sites and games better than Safari. Also, Safari can never attain the speed that OnLine Desktop Plus' Internet Explorer offers. We can also browse at a speed of 1 Gbps. It means a speed over a 500 or 1000 times faster than the general broadband speed. But, how can you get this blazing fast speed through a slow Internet connection? This is made possible by using the app as a streaming service. OnLive has a "farm" of computers at one of three data centers thousands of miles away where the virtual Windows desktop and Windows applications are housed. So, every time you tap the screen, scroll a list or type on the on-screen keyboard, you're sending signals to those distant computers. The screen image is then blasted back to your iPad with astonishingly little lag time.
And, the icing on the cake is that it only requires an Internet speed capable of running HD video online. So, to get a virtual speed of 1 Gbps, your Internet connection should be at least 2 Mbps or the same Internet speed to run Hi-Definition video. On a 3G connection, the users will find it choppy.
And, the best thing about OnLive Desktop Plus is that you can get all these features for a measly monthly subscription price of $5 per month. You also will get 2 GB of online storage (it means you get to store your data and files in the cloud and can access it from any PC or Mac) for that price and priority access to OnLive servers (under the free plan, be prepared to wait in line as you'll be competing with fellow users for access during peak times).
OnLive Desktop Plus has a few downsides though. For instance, the simulated PC is lacking the Control Panel, which you would find in a real Windows PC (it means you'll have a hard time trying to tap precisely many of the Windows controls). Moreover, there's no printing option and it will show in landscape mode even when you're hold your iPad in portrait mode.
OnLive is also going to release another app for iPad named OnLive Desktop Pro, which will bring almost all the Windows programs like Photoshop and AutoCAD to iPad, along with support to run any Windows-based game, and ability to customize your virtual desktop. Pro's storage option runs up to 50 GB (plus priority access to OnLive servers) at a price of $10 per month.
OnLive Desktops will soon be available for Android tablets and smartphones, PCs, Macs, and even TVs. Get your copy of OnLive Desktop here
(Reported by Johnny Wills, Edited by Surojit Chatterjee)
© Copyright IBTimes 2023. All rights reserved.
FOLLOW MORE IBT NEWS ON THE BELOW CHANNELS