'Orange Is The New Black' Season 3 Spoilers: What Happened In The Premiere? Red And Alex Return To Litchfield In Episode 1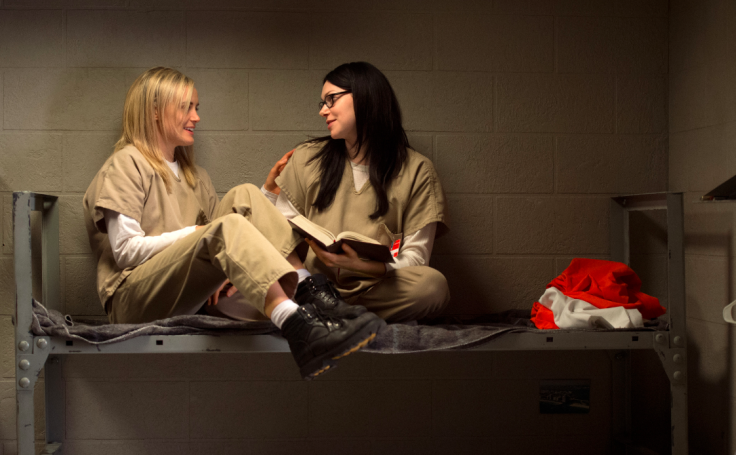 Let the binge-watching begin! Netflix released the third season of "Orange Is the New Black" six hours earlier than scheduled Thursday, causing fans of the Jenji Kohan-created prison dramedy to break out the handcuffs and shackle themselves to their nearest streaming device.
So, what went down in the very first episode of Season 3? The premiere, "Mother's Day," kicked off on a heartfelt note, with characters paying tribute to inmate Miss Rosa (Barbara Rosenblat).
"I'll give it to the baldie: She had some set of balls," correction officer Wanda (Catherine Curtin) says of the terminal inmate who busted out of Litchfield Penitentiary in the Season 2 finale. Rosa, who was given three weeks to live, refused to die behind bars. So, with a little help from Morello (Yael Stone), she stole a van and broke out of the New York prison, while the Blue Oyster Cult tune "(Don't Fear) The Reaper" played in the background.
The correction officers thanked Rosa for her thieving ways because this allowed the prison to purchase a new ride -- one with cup holders. With Pennsatucky (Taryn Manning) in the driver seat, the ladies hit the road to purchase Mother's Day decorations for the prison -- a holiday they were celebrating in order to remember what life outside of prison looks like, Caputo (Nick Sandow) explained to new counselor Berdie (Marsha Stephanie Blake).
"Look at this sale stuff," Pennsatucky says in the store, pointing at the Cinco de Mayo decor. The inmate then finds a festive banner that she thought would be fitting for the event. "Fiesta like there's no ma-na-na," she says. "You know most of the kids are going to be Mexican, so make them feel at home."
But not even a large chili pepper piñata could make the families of our beloved inmates feel welcome. Mother's Day at Litchfield goes awry when a member of Daya's (Dascha Polanco) family goes missing, causing the prison to go into lockdown. A booming alarm goes off, alerting inmates -- and visitors -- to hit the ground while authorities search for the little girl, who is revealed to be hiding under Daya's bed.
This puts a damper on a day that was supposed to be celebratory. "It's y'all's day," Poussey (Samira Wiley) says to Mendoza (Selenis Leyva) before the event begins. "Must be hard as f--- when you had kids on the outside."
That statement couldn't be more true. At the end of the episode, Maria (Jessica Pimentel) learns that her boyfriend won't be bringing their daughter for visitation any more. "She's getting bigger -- starting to understand things. I don't want her to see her mother in prison thinking this is normal. It's best we cut this off right now," he says to her.
"What, I don't have a choice in this?" Maria screams helplessly in the heartbreaking scene, unable to fight for her baby as her boyfriend walks out of the prison.
Other Major Moments From Season 3, Episode 1:
Flashbacks
With the premiere focusing on the theme of Mother's Day, viewers were able to see flashbacks of all their favorite "OITNB" characters from Pennsatucky to Nicky (Natasha Lyonne) -- and even Healy (Michael Harney) -- interacting with their mothers.
While some of the flashbacks made our skin crawl, others had us clutching our hearts -- like the sweet scene between Poussey and her mother, who was revealed to be dead. The two were reading comics together in bed, when a young Poussey stopped to tell her mother that she loved her.
The Return Of Red & Alex
Both Red (Kate Mulgrew) and Alex (Laura Prepon) returned to Litchfield bruised and battered in the premiere episode. Although Red was excited to be back with her people, Alex was humiliated to be behind bars once again.
"I had a chance to make a life," Alex says in tears. "I'm such an idiot."
For a moment, we thought Piper (Taylor Schilling) was going to confess to her crying girlfriend that the real reason her beau was back in Litchfield was because of her. Piper had Alex's parole officer sent to Alex's house in the Season 2 finale, which is when he caught her with a gun. However, Piper couldn't bring herself to admit the truth and instead blamed it on "the system."
Grandmother Drama
While snooping through Daya's things, Aleida (Elizabeth Rodriguez) comes across a letter from Greenwich, Connecticut.
"I heard I'm about to have a grandchild. I'd like to see you," Aleida reads the note. "Holy s---! This is Pornstache's (Pablo Schreiber) mother? I smell money here."
Although Daya claims she wasn't planning on reaching out to her, Aleida steals the letter, which means fans might get to meet the woman who raised Pornstache sooner than we thought.
To Keep, Or Not To Keep The Heroin
While Big Boo (Lea DeLaria) has every desire to sell Vee's (Lorraine Toussaint) stash, Nicky wants to keep it around. "So pretty. I like looking at it!" the former addict says. And it looks like Nicky might get to look at it a little longer, because the tunnel they plan on sending the drugs through has been closed up by Red.
Caputo vs. Bennett
In the Season 2 finale, Bennett (Matt McGorry) confessed to Caputo that he was the one who got Daya pregnant. But the executive assistant to the warden didn't want to start off his new position with this kind of drama, so Caputo swept the scandal under the rug. "And you go around lifting up the corners," Caputo says to Bennett in episode 1 after catching him talking to Daya's family during the Mother's Day bash.
That's when Caputo shared a bit of advice with Bennett: "When those feelings come over me, you know what I do? I spank it out, Bennett. And for the love of Pete, I suggest you do the same," he says, before warning his employee to stay away from her.
What did you think of the Season 3 premiere of "Orange Is the New Black"?
FOR FREE to continue reading
✔️ Unlock the full content of International Business Times UK for free
offer available for a limited time only
✔️ Easily manage your Newsletters subscriptions and save your favourite articles
✔️ No payment method required
Already have an account?
Log in
© Copyright IBTimes 2023. All rights reserved.