Orbital Rocket Explosion Explained: Cargo Ship's 'Catastrophic Failure' Is Really Just a Setback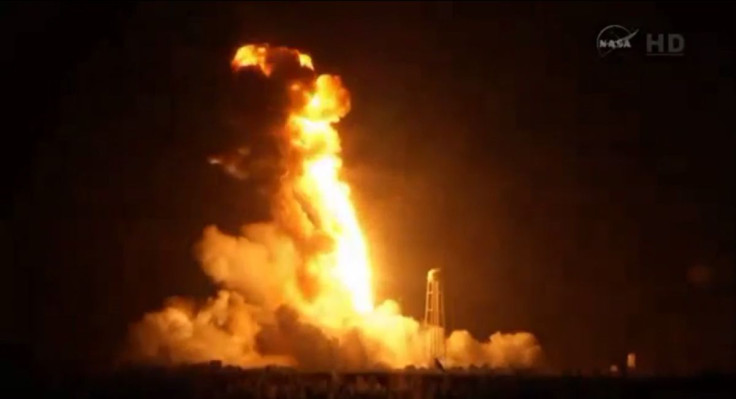 "Uh-oh, that didn't look good." That's what tens of thousands of people were thinking when video of the Antares rocket explosion went viral Tuesday evening.
Other than the obvious, though, most people viewing images of the bright explosion probably had no idea a rocket was scheduled to take off, much less what it was supposed to do once it left Earth's atmosphere.
Wait A Minute, What Happened?
An unmanned Antares rocket and Cygnus cargo spacecraft exploded over Wallops Island, Virginia, six seconds after takeoff at 6:22 p.m. EDT Tuesday. The spacecraft was built and operated by Orbital Sciences Corporation, one of two private corporations under contract with NASA to build vessels capable of delivering essential equipment to the International Space Station (ISS).
No one was hurt in the incident, which Orbital described as a "catastrophic failure," though officials warned onlookers to avoid sifting through the wreckage because of concerns about the presence of hazardous material. An investigation into the cause of the accident is ongoing.
What Was The Cargo Ship Carrying?
The Cygnus cargo ship was carrying nearly 5,000 pounds of equipment and supplies meant for the six astronauts stationed on the ISS. Along with food, books, computer technology and flight equipment, the ship was ferrying material that would have helped astronauts conduct maintenance spacewalks, which occur when small teams of astronauts fix the outside of the aging ISS by donning a spacesuit and repairing things such as faulty cooling systems.
Also on board were 18 science experiments submitted by groups of middle school students from across the U.S. The now-vaporized experiments were selected from thousands of entries to the national Student Spaceflight Experiments Program, with students aiming to discover how entering zero gravity might affect bacteria and plant life.
What Does This Mean For ISS?
Not much, according to NASA. The space and aerospace research agency issued a statement, saying it's "disappointed" in the unsuccessful mission but promised to "move forward to the next attempt once we fully understand today's mishap. The crew of the International Space Station is in no danger of running out of food or other critical supplies."
Crewmembers currently have enough food, water and other supplies to last into March, NASA said. Orbital's explosion only cost the ISS one of three immediate supply missions. In fact, a Russian Soyuz resupply spacecraft was scheduled to take off from Kazakhstan Wednesday, carrying 5,200 pounds of food, fuel, supplies and mail for both Russian and American crewmembers onboard.
SpaceX, the California-based company founded by Elon Musk, is also scheduled to launch a cargo vessel in December. Tuesday's crash heightens the already high pressure on the private space company, though, after a test rocket accidentally exploded in midair in August. SpaceX stands as NASA's sole commercial cargo company until an investigation determines what caused the Orbital explosion.
What About Orbital?
Well, highly publicized rocket explosions are never good. Along with spending $200 million on a rocket that proved unable to leave Earth's atmosphere, Orbital's standing on the New York Stock Exchange also dropped. The stock price had climbed by nearly 30 percent over the past year, but shares had fallen by 16.57 percent, to $25.34, at press time Wednesday, continuing the spiral that began with a 12.74 percent drop after hours Tuesday.
Orbital and SpaceX were each awarded their own highly coveted Commercial Resupply Services, CRS, contracts in 2008, a lucrative deal ensuring that each company will continue to send cargo ships to the ISS in the coming years. NASA awarded Orbital eight flights worth $1.9 billion as part of the CRS deal. SpaceX, a relative newcomer compared with Orbital, won 12 flights worth a total of $1.6 billion.
A successful Orbital launch Tuesday would have cleared three of the eight required as part of the CRS deal. Instead, the company is still on the hook for six flights to the ISS while also watching its market share drop.
Whether this will affect Orbital's position at the bargaining table remains to be seen, but it doesn't look promising. Orbital executives were hoping to extend the company's contract with NASA by the halfway point of the current CRS, according to Time magazine, though a NASA statement praised the company's past work.
"Orbital has demonstrated extraordinary capabilities in its first two missions to the station earlier this year, and we know they can replicate that success," NASA said. "Launching rockets is an incredibly difficult undertaking, and we learn from each success and each setback."
© Copyright IBTimes 2023. All rights reserved.
FOLLOW MORE IBT NEWS ON THE BELOW CHANNELS