'Orphan Black' Season 5 Finale Hints At Possible Cosima-Delphine Movie?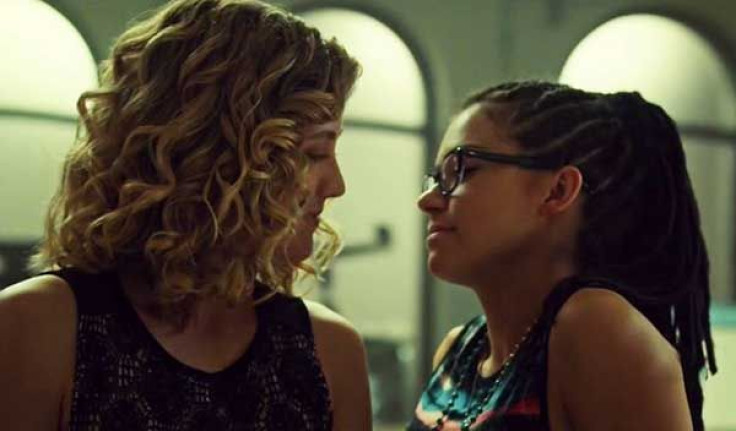 "Orphan Black" Season 5 ended on a light and much happier note on Saturday.
Helena (Tatiana Maslany) gave birth to her twin sons, Arthur and Donnie. Sarah (Maslany) and Felix (Jordan Gavaris) decided to not sell Mrs. S' (Maria Doyle Kennedy) house. The final scene from episode 10 also showed Sarah and Felix taking Kira (Skyler Wexler) to the beach.
Villainous characters P.T. Westmoreland (Stephen McHattie) and Coady (Kyra Harper) were also killed off, and their deaths finally put an end to the Neolution. But one of the most crucial scenes from "To Right the Many Wrongs" centered on Cosima (Maslany) and Delphine's (Evelyne Brochu) decision to set off a cure for the 274 clones around the world.
While speaking with TV Line, series co-creators Graeme Manson and John Fawcett said that if they were to come up with a movie, it will most likely focus on Cosima and Delphine. "If I was going to imagine another season for 'Orphan Black,' following Cosima and Delphine was where I wanted to go. I wanted to go with them and to find these other women. I wanted to see what these other women were like. I wanted to hear these stories that these other women had. That, to me, felt like there was certainly more to imagine there," Fawcett said.
However, Manson stressed the importance of giving the characters a break in the meantime. "But obviously, there's tales to be told there, even if they're told in the comic books or something. I do believe that someday we'll come back to these characters. We're still interested in a movie. I'd be interested in returning if Tatiana was in it," he said.
Lead star Maslany seconded Fawcett and Manson's statements. While speaking with The Hollywood Reporter, the actress said that she would be on board if there's a really good story to be told. "But we finished this before it trailed on too long so hopefully it left people wanting more as opposed to being like, 'Thank God that's over,'" she said.
"Orphan Black" Season 5 aired its final episode on Aug. 12 at 10 p.m. EDT on BBC America.
© Copyright IBTimes 2023. All rights reserved.