Oscars 2022: Jessica Chastain Talks About Discrimination, Hate Crimes After Best Actress Win [Watch]
Jessica Chastain, who won the Best Actress Award at Oscars 2022, gave a powerful speech about discrimination and hate crimes while accepting the honor Sunday night.
She won the award for her performance in the romantic drama-comedy biopic "The Eyes of Tammy Faye." The award was presented by actor Anthony Hopkins.
"We're faced with discriminatory and bigoted legislation that is sweeping our country, with the only goal of further dividing us," she said. "There's violence and hate crimes being perpetrated on innocent civilians all over the world."
The 45-year-old actress further shared how her onscreen character Tammy, which is based on the life of evangelist Tammy Faye Bakker, inspired her in real life. "And in times like this, I think of Tammy, and I'm inspired by her radical acts of love," Chastain said.
"I'm inspired by her passion," she added. "I see it as a guiding principle that leads us forward, and it connects us all in the desire that we want to be accepted for who we are, accepted for who we love, and to live a life without the fear of violence or terror."
Chastain went on to share that no one is alone or hopeless as they are unconditionally loved.
"And for any of you out there who do, in fact, feel hopeless or alone, I just want you to know that you are unconditionally loved for the uniqueness that is you," she said. "She always made it her mission that everyone understood she was grateful that they were alive. That's a beautiful gift to give."
"The Eyes of Tammy Faye" is set in the 1970s and revolves around Tammy and her husband, Jim Bakker, who build their empire from a humble beginning. The biopic shows how they went through financial struggles and dealt with their rivals.
The movie is helmed by director Michael Showalter and it also stars Andrew Garfield, Mark Wystrach, Joe Ando-Hirsh, Sam Jaeger and Randy Havens.
Chastain will be next seen in the movie "The Good Nurse," which is helmed by director Tobias Lindholm. Its screenplay is penned by Krysty Wilson-Cairns. She will also feature in another movie, "The Division," which is under pre-production.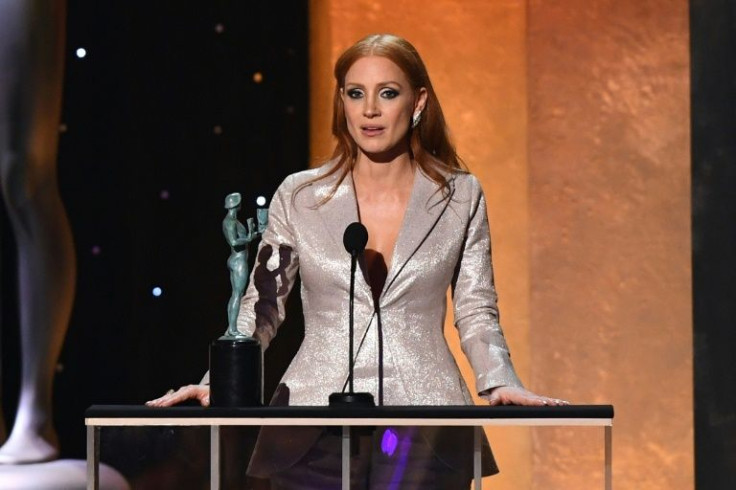 © Copyright IBTimes 2023. All rights reserved.