'Outlander' Star Sam Heughan Congratulates 'Wifey' Caitriona Balfe On Scottish BAFTA Win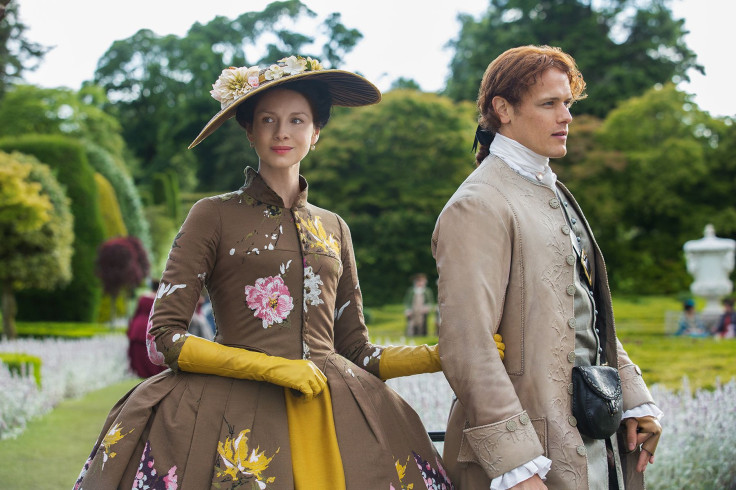 Sam Heughan is not a sore loser. He didn't win the Best TV Actor statue at the Scottish BAFTA Awards on Sunday, but his "Outlander" co-star Caitriona Balfe ousted the competition in her category. Heughan was sure to publically congratulate his onscreen wife and told her the Best TV Actress award was well-deserved.
The feeling is mutual. When Balfe was onstage at the British Academy Scotland Awards, which were held at the Radisson Blu hotel in Glasgow, she thanked both of her TV husbands: Heughan and Tobias Menzies.
"I'm also very lucky that I have not one, but two amazing husbands on this show. So Sam thank you for being the most amazing co-star," the 37-year-old said in her acceptance speech. "You're only as good as your scene partner so I feel very lucky to have you as a partner every day, and Tobias as well."
Watch her acceptance speech below:
Starz's time travel drama "Outlander" follows Claire (Balfe), a woman from the 1940s who suddenly finds herself in 18th century. It's then that she falls in love with Scottish highlander Jamie (Heughan), despite being married to Frank (Menzies) in the future. Though Jamie and Claire are married, they'll be separated by a couple centuries when the show returns in Season 3.
Balfe and Heughan were likely happy to spend an evening together at the Scottish BAFTAs. They have admitted that it's odd for them to be working separately as they film the beginning of Season 3. "It's always hard when we're apart, actually, because she's a great person, great to come to work with, and a very good actress," Heughan told Vanity Fair. "But I think it all adds to the reunion — if there's a reunion, or when there's a reunion — well you know there's one in the books. It should be very special."
The show is based on Diana Gabaldon's bestselling novels, and the author reached out to congratulate her actors on social media as well. "Congratulations to our lovely Caitriona!" Gabaldon wrote on Facebook. "A huge honor, as is Sam's BAFTA nomination (yay,Sam!) and OUTLANDER's nomination for Best Drama!"
Heughan lost Best TV actor to Douglas Henshall from "Shetland," and the drama bested "Outlander" in the TV Drama category as well.
"Outlander" Season 3 returns to Starz in spring 2017.
© Copyright IBTimes 2023. All rights reserved.