'Oz The Great And Powerful' Review Roundup: Should Fans Return To The Land of Oz?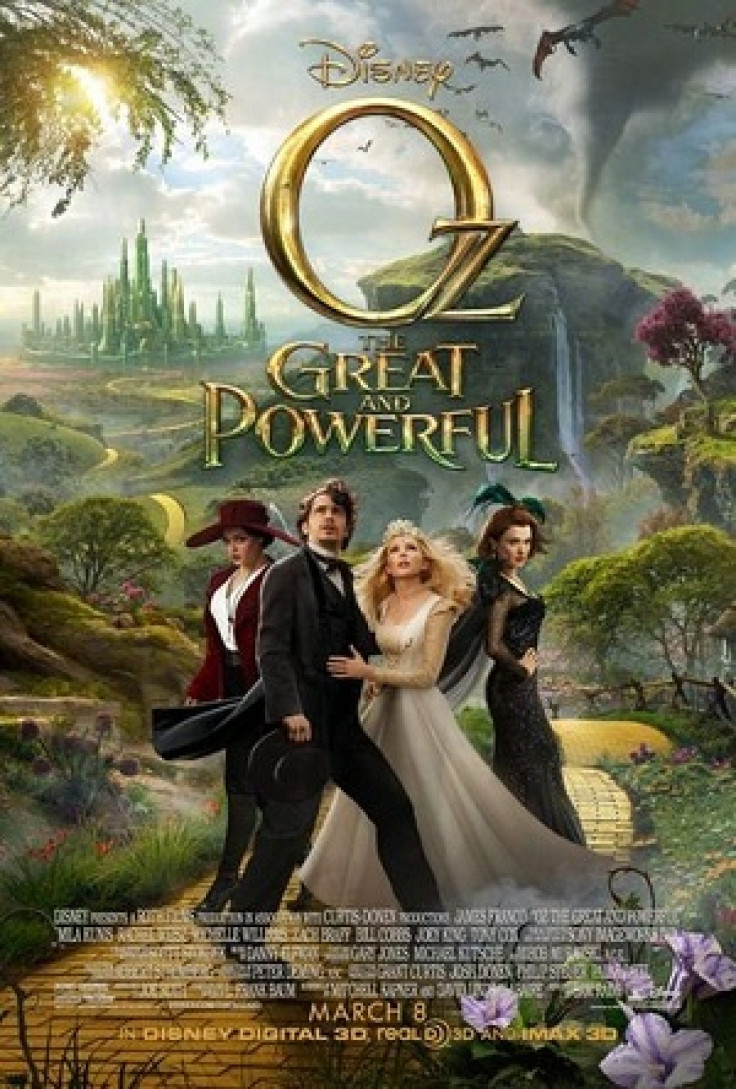 Disney's "Oz the Great and Powerful" was released on March 8 and the sort-of-prequel to 1939's "The Wizard of Oz" has received mixed reviews. Some critics appreciate the nods to the classic film starring Judy Garland while others feel "Oz the Great and Powerful" suffers from a poor story.
Most of the reviews for "Oz the Great and Powerful" -- directed by Sam Raimi ("Spider-Man" and "Evil Dead") and starring James Franco, Mila Kunis, Rachel Weisz, Michelle Williams and Zach Braff -- have been negative. Franco plays Oscar Diggs, a magician and a womanizer, who gets into trouble before being swept away to the Land of Oz. Kunis, Weisz and Williams play witches: Theodora, Evanora and Glinda, respectively. And Braff provides the voice of Flynn, a flying monkey who accompanies Diggs throughout his journey.
The movie is based on L. Frank Baum's novel rather than the classic Warner Brothers movie, but Raimi provides plenty of callbacks to the film. However, don't expect to see any ruby slippers as they were not a part of Baum's novel.
Kenneth Turran from the Los Angeles Times says the biggest problem with "Oz the Great and Powerful" is that it's confused thematically and unsure of what direction to take. But Turran still believes the film is "partially effective." Another positive element of "Oz" is the way it implements 3-D. At times, the plot is a chore to get through but there are some moments to be enjoyed in the film.
Dana Stevens from Slate is a little harsher on "Oz" saying the film is "a visually over-crammed, emotionally empty mega-spectacle on the model of Tim Burton's 'Alice in Wonderland.'" Stevens does soften the blow a little by saying "Oz" is not as bad as "Alice," noting better usage of 3-D, strong performances by the actors and better production skills. Ann Hornaday from the Washington Post is even harsher on the film, giving it just one star out of a possible four, saying, "'Oz the Great and Powerful' qualifies as a cautionary tale, not about the perils of ambition and selfishness, but about the movie industry's misguided belief that it can distract the audience from a film's narrative weaknesses with little more than flash and spectacle."
The New York Daily News' is even harsher on "Oz" and gives the film zero stars saying, "Don't be fooled by the smoke and mirrors. There is nothing here that is great, or powerful. Worst of all, there's nothing here that even feels like Oz."
On Metacritic, based on 32 reviews from critics, "Oz" has received a score of 44 out of 100. Rotten Tomatoes sits at 59 percent but does have more positive reviews than negative ones, 74 to 52, respectively. One positive review, from Mick LaSalle from the San Francisco Chronicle, says, "That's why the more you like the Judy Garland film, the more you might appreciate "Oz the Great and Powerful." Appreciate. Enjoy. Admire. Be glad to see. Have fun with ... But as for love -- well, love will be harder to come by." LaSalle does admit "Oz" is a long movie, clocking in at 130 minutes, which could test the patience of family and children.
Although "Oz" has been receiving mediocre reviews, it's on track to being a big hit for Disney, with many projecting the film to bring in between $80 and $90 million in its opening weekend. According to The Hollywood Reporter, Disney is gearing up for a sequel to "Oz the Great and Powerful."
© Copyright IBTimes 2023. All rights reserved.