Paris Attacks: What Did A Charlie Hebdo Cartoonist Draw After Recent Terror Attacks?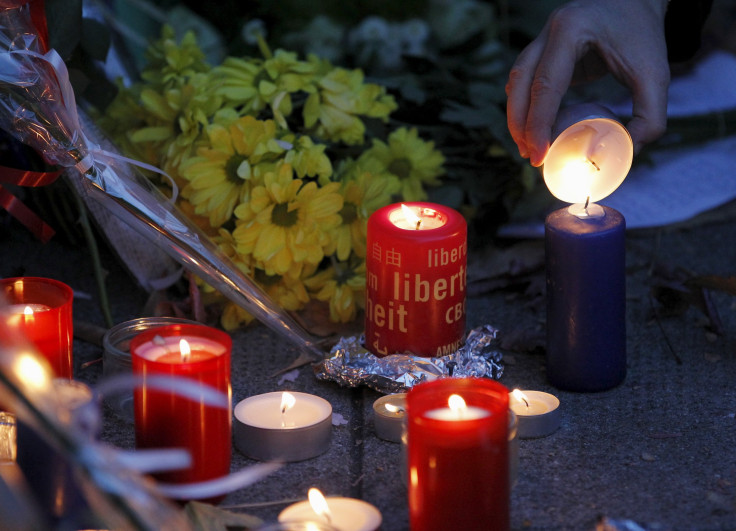 In the aftermath of the latest terror attacks in Paris, with 129 people dead and 352 wounded, a cartoonist for Charlie Hebdo, the French magazine targeted by a similar terror attack in January, is using his art to remind the world that Paris is about celebrating life. Cartoonist Joann Sfar has been posting images of cartoons related to the attacks since the news broke Friday night.
In January, the Paris offices of Charlie Hebdo were stormed by two gunmen because the magazine published satirical images of the Prophet Muhammad. The attackers, who yelled at "Allah akbar," meaning, "God is great," eventually killed 11 people, USA Today reported.
One of Sfar's comics written in English -- most of the comics are in French -- addressed the nature of the Twitter hashtag #prayforparis.
"Friends from the whole world, thank you for #prayforparis, but we don't need more religion! Our faith goes to music! Kisses! Life! Champagne and Joy! #parisisaboutlife," the post read.
The Islamic State group, also known as ISIS, has claimed responsibility for the attacks, CNN reported. Some of the cartoons addressed the French people, and reminded them of what is important.
"Instead of dividing us, you have reminded us of everything that is precious: our way of life," another cartoon read.
"The people who died tonight were outside to live, to drink, to sing. The didn't know someone had declared war on them," another cartoon read.
As of Saturday, 129 people were reported dead from the attacks, with 352 wounded, 99 of them critically, Paris Prosecutor Francois Molins told a news conference. Investigators are still examining the crime scenes. It is believed some Americans are among the wounded.
"Those who love. Those who love life. In the end, it is always they who win," another cartoon of Sfar's read.
© Copyright IBTimes 2022. All rights reserved.
FOLLOW MORE IBT NEWS ON THE BELOW CHANNELS