With Pavel Durov Out, Users Of VKontake React To Kremlin Control Of 'Russia's Facebook'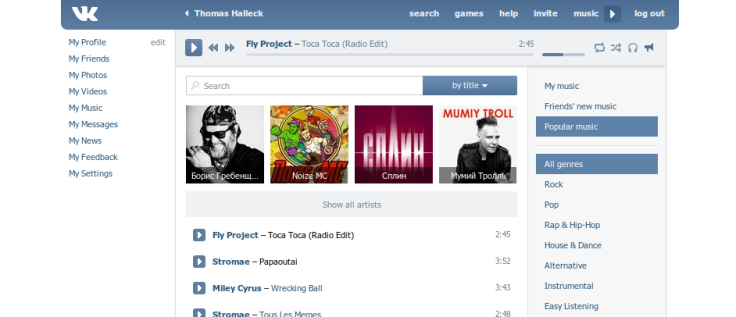 Users of Russia's most popular social network are raising concerns about censorship and government requests for user data following the sudden replacement of the website's libertarian-leaning creator by two Putin-friendly oligarchs.
VKontakte, popularly known as VK, offers users a profile page with a wall where they and "friends" can create and "like" posts on a white page with a familiar-looking blue border at the top. For obvious reasons, many call it the Russian Facebook.
The site's founder and CEO, Pavel Durov announced his removal as CEO on Monday in a post on his VK profile page, noting he had found out about it through the press. He says he had denied Moscow's requests for user data and refused to censor posts critical of United Russia, the country's ruling party, which is why Moscow wanted him out. Durov had previously announced he would step down on April 1, later retracting the statement, and says he was fired over a technicality about how he came back. VK is now run by Igor Sechin, CEO of a state-owned oil company and Alisher Usmanov, the richest man in Russia and CEO of the popular Mail.ru service. Both are reportedly close Putin allies.
Russian users of the site say that they are concerned about the Russian government now having free reign over user data on the site, and the ability to silence critics.
"Taking into account the present political situation in Russia, I think that government requests will now be targeting the opposition leaders and political activists," Sergey Grischyov, a 22-year-old Russian VK user, told the International Business Times. "Durov was a very brave man to resist government claims but now when he's gone it's just a matter of weeks before VK will surrender to all kinds of requests. This is what troubles me most."
Grischyov graduated from Saint Petersburg State University and studied with the same faculty that taught Durov, a few years after he graduated. He told IBTimes that while he will continue to use VK for now, he is concerned about the government's access to his own personal data, and that of his fellow Russians.
"I, like 99 percent of my friends and colleagues, use VK on a daily basis, more than any other social network," Grischyov said.
Durov as CEO publicly announced April 16 that he had declined requests from Russian prosecutors to shut down groups where users criticized President Putin's ruling party, United Russia. What follows is an IBTimes translation of his post:
On March 13, 2014, prosecutors demanded that I shut down the anti-corruption group of Alexey Navalniy under threat of blocking VKontakte. But I didn't shut down that group [back in] December of 2011 and of course, I didn't do it this time.

In the past weeks I have been under pressure from multiple sides. With a variety of methods I was able to win more than a month, but now the time has come to say – neither I, nor my team are going to engage in political censorship. We will not remove Navalniy's anti-corruption community, nor the other hundreds of groups which we're being pressured [to] block. The freedom to disseminate information is an inalienable right of a post-industrial society. It is a right without which VK's existence is meaningless.
Users say that several of VK's communities have already been closed since Durov's departure, and they expect more censorship is on the way.
"I think censorship is definitely going to become more of an issue, or Durov wouldn't have lost his share in the company and then his job for no reason," Danila Hiding, a 25-year-old Russian VK user, told IBTimes. "The government-friendly oligarchs wouldn't be trying to get it under their control" if the Kremlin was not planning a social media clampdown.
Duval also announced on April 16 that late in 2013, he had been asked by the FSB, Russia's security and intelligence agency and successor to the KGB, for personal information about Ukrainian protest groups.
On December 13th, 2013, the FSB demanded that we give them personal information on the organizers of Euromaidan groups. Our response was and remains a categorical denial - Ukrainian users are not under Russian jurisdiction. Providing the personal details of the Ukrainians to Russian authorities would be not only illegal, but a betrayal of the millions of Ukrainian citizens who have place their trust in us.
Putin recently responded to a live, on-air question from Edward Snowden about whether Russia conducted the kind of surveillance practiced by the NSA. Putin denied it, and said "We don't have a mass system of such interception, and according to our law it cannot exist." Some VK users don't buy the denial.
"I think this is sheer lie, and as most of the things Putin says, this is PR-related," Grischyov said. "I think that Edward Snowden knows that too – no one believes that Russian government doesn't spy on its citizens. The quality of the surveillance is different from that in the US, but this is mainly due to the level of corruption and poor… quality of their technologies and spying techniques."
Russian millennials, for now, are still using TK. But they appear to have more faith in Durov than the Kremlin.
"I trust what Durov said about the FSB intimidating him," Hiding said. "If closing anti-government communities becomes a widespread issue I'll strongly consider leaving VK for good."
An earlier version of this story erroneously referred to the ruling party of Russia as Russia Today in one instance. Russia Today is a subsidary of the nation's state-owned news organization, RIA Novosti. That reference has been changed to correctly refer to United Russia, the party founded and led by President Vladimir Putin.
© Copyright IBTimes 2023. All rights reserved.