Phil Collins Evicting Ex-Wife Orianne From Home After Her Alleged Secret Wedding, Report Says
KEY POINTS
Phil Collins' ex-wife Orianne Cevey allegedly married 31-year-old businessman Thomas Bates in August, a report said
Collins and Cevey got back together in 2016 after divorcing in 2008
Collins plans to file an eviction lawsuit to remove her from his $33 million Florida mansion, according to reports
Phil Collins has broken up with ex-wife Orianne Cevey once again after she allegedly married another man in August, reports said.
TMZ reported, citing unnamed sources close to the musician, that Collins also plans to file an eviction lawsuit to remove her from his $33 million Florida mansion after she refused to vacate the property. They had gotten back together in 2016 after divorcing in 2008.
According to the sources, Collins and Cevey's relationship hit a roadblock after it emerged that she secretly married 31-year-old businessman Thomas Bates in August. She reportedly told the musician at the time that she was going to Las Vegas for a business trip.
When Collins asked his former wife to vacate his property, she refused to comply unless he renegotiates their 2008 divorce settlement.
Collins does not believe he has any financial commitment to his ex-wife and has refused to give in to her demands, TMZ reported.
Collins' representative told People they had no comment on the matter. Cevey's lawyer, Frank Maister, told Vanity Fair, "We will deal with Mr. Collins in the courthouse, not the gossip column."
Collins and Cevey have a wild history dating back to the early '90s.
They met in 1994 while Cevey was working as his translator during his 1994 tour of Switzerland and wed in 1999. However, their relationship went south seven years later, and they ultimately divorced in 2008.
Cevey and Collins, who share two teenage sons, reunited after she ended her marriage to investment banker Charles Mejjati in 2016.
At the time, Collins explained to People that his reconciliation with Cevey, who is also a successful jewelry designer, "wasn't something we wanted to make a song and dance about."
"But obviously when you have children, there's two ways you can go. You can go the nasty way or you can go the nice way, and we always went the nice way … and we realized we missed each other," he added.
As for whether they would tie the knot again, Collins said it was "not impossible, it just hasn't been discussed."
"We are still enjoying living in a house together and changing light bulbs," he said, while Cevey added, "We are back together, we are very happy and time will tell as far as the future – who knows?"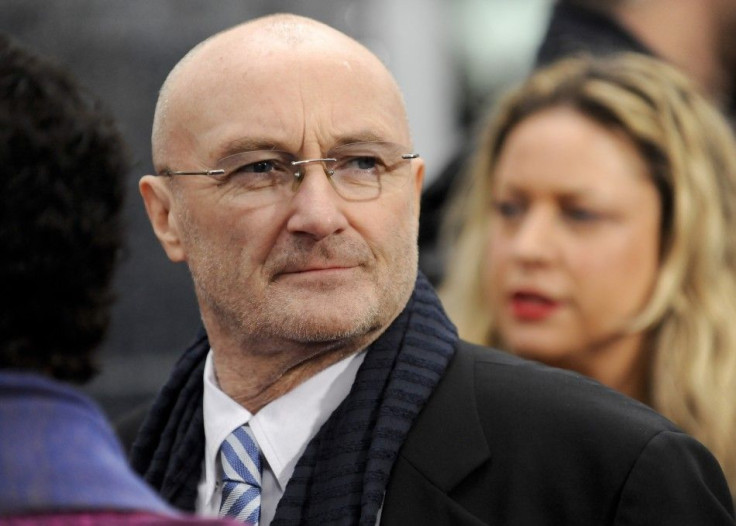 © Copyright IBTimes 2023. All rights reserved.