Philippine GDP Growth Forecast Cut For 2013, Typhoon Haiyan Rebuilding Efforts To Give 2014 An Economic Boost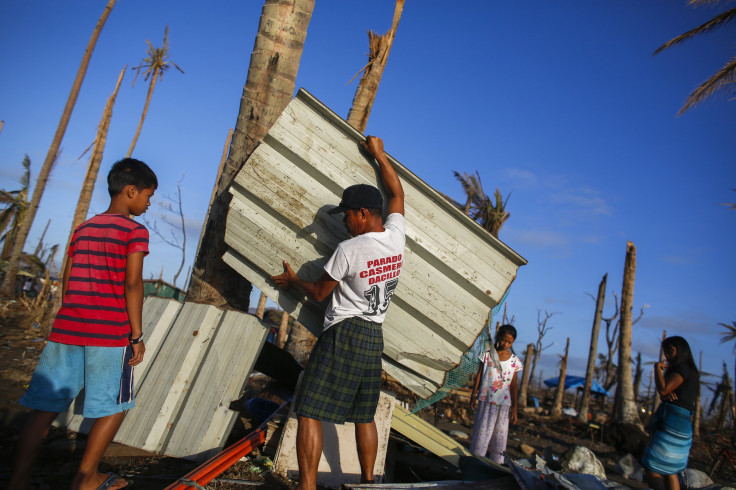 Economists are starting to cut their 2013 growth forecast for the Philippines after seeing more details of the damage Typhoon Haiyan caused when it swept through the center of the country more than two weeks ago. However, economic impact will likely be manageable and the Southeast Asia's rising economic star will enjoy a V-shaped recovery when restriction efforts begin in earnest in 2014.
The Philippines is scheduled to release third-quarter gross domestic product data on Wednesday, Nov. 27. The latest monthly activity data suggest that the Philippines economy was in fairly good shape before Typhoon Haiyan hit in early November. Capital Economics predicts third-quarter GDP growth of around 7.5 percent.
Super Typhoon Haiyan is the strongest recorded storm ever to make landfall, and the deadliest typhoon to hit the Philippines in recent history. The official death toll stands at 5,235, according to the National Disaster Risk Reduction and Management Council (NDRRMC). More than 4.2 million people have been displaced by the typhoon, and 347,426 are living in shelters. Haiyan surpassed Tropical Storm Thelma, which killed 5,100 people in 1991 in Ormoc City, in Leyte province.
There are a number of channels through which natural disasters can affect GDP growth. In the short term, the main impact will be through disruption of production, commerce and supply chains. As the worst of the disruption passes, there is usually a rebound, helped by the release of pent-up demand. Reconstruction efforts normally follow, which can provide a medium-term boost to GDP growth, according to Daniel Martin of Capital Economics.
"While this latest disaster in the Philippines affected a wide area, it did miss the country's main commercial and industrial centers. The regions affected by the typhoon account for only 18 percent of GDP," Martin said in a note. "This provides some hope that the overall economic impact will not be too severe."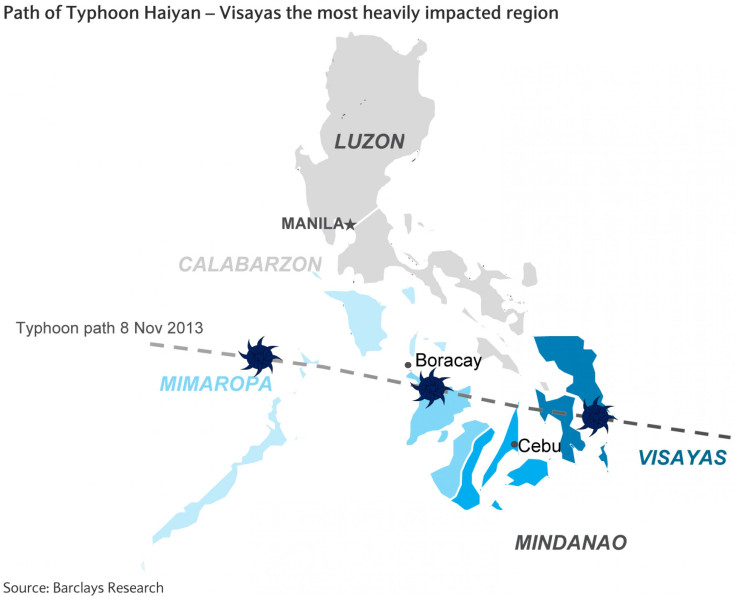 The Philippine government estimated Monday that the Nov. 8-9 storm caused some 24.54 Philippine pesos ($559 million) in damages, nearly evenly split between infrastructure and agriculture. The cost of rebuilding houses, schools, roads and bridges in typhoon-devastated central Philippines could reach $6-7 billion, or some 2.3 percent of GDP.
Barclays' economists believe the bulk of the typhoon's impact will occur in the fourth quarter and have lowered their GDP forecast for this year to 6.8 percent from 7.2 percent.
JP Morgan Chase on Monday cut its expectations for Philippines GDP growth for a second time since the storm, to 6.9 percent this year from a previous estimate of 7.1 percent. Reconstruction spending should drive GDP growth to 6.0 percent in 2014, up from a previous estimate of 5.6 percent.
That means the Philippines, which grew 7.6 percent in the first half of the year driven by a red-hot business-processing outsourcing industry and strong remittance flows, should remain one of the world's fastest-growing emerging economies.
There is reason to believe that the medium-term boost to GDP expansion will be strong. "After all, the government has a strong fiscal position from which to fund reconstruction spending, while Filipinos working overseas are likely to increase remittances home to help relatives," Martin said.
Credit Suisse published a note with a chart showing the impact of past typhoons on remittances:

© Copyright IBTimes 2023. All rights reserved.